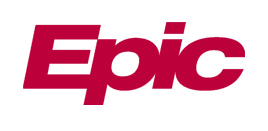 Many of you may be wondering about the recent announcement of the Epic project, a major new Johns Hopkins Medicine (JHM) initiative to deploy a comprehensive integrated electronic medical record (EMR) system across all of Johns Hopkins Medicine. This Pathology Blog posting briefly describes the new Epic EMR system and how it relates to the roll-out of Pathology's new Soft laboratory information system (LIS), and to the future of laboratory services, blood bank services, and anatomic pathology services across Johns Hopkins Medicine.
The Epic EMR package, from Epic Systems Corporation, will eventually replace virtually all clinical and financial computer systems at all Johns Hopkins Medicine hospitals and outpatient facilities, including Johns Hopkins Community Physicians' sites located throughout the state. The Epic EMR will allow seamless access to JHM patient data across the continuum of care, permitting physicians, nurses and others to see all JHM inpatient, outpatient, emergency department and other patient data only using a single system.
Epic's highly-integrated EMR system, which was selected after an 18-month process involving many hundreds of individuals across JHM, will allow Johns Hopkins Medicine to maintain a leadership position in quality and safety of care, and clinical research. Furthermore, Epic's powerful financial and data analytics capabilities will permit JHM to respond to the inevitable pressures to further improve the efficiency and cost-effectiveness of the care we provide.
The initial deployment of the Epic EMR will be "Ambulatory First," with Epic's outpatient functions scheduled for the Johns Hopkins Outpatient Center (JHOC), Green Spring and White Marsh in the spring of 2013, and for JHCP sites in early 2014. The schedule for inpatient deployment of Epic is currently being finalized.
The JHM Epic EMR deployment has little immediate impact on the plans to roll-out the new Soft LIS to support clinical laboratory services at The Johns Hopkins Hospital and across Johns Hopkins Medicine. Epic's 230 large customers all have their Epic EMRs interfaced to reference laboratory systems such as Quest Diagnostics, and most also interface to their internal LISs — including two-dozen Epic sites with LIS interfaces to Soft's LIS. Epic's internal LIS modules still lack the functionality needed by high-volume sophisticated clinical laboratories, making it prudent to deploy the Soft LIS at JHH and across JHM.
Epic has no plans to market a blood bank computer system, so an alternative solution will be needed for blood services across JHM. Epic's anatomic pathology functions, which are tightly coupled to Epic's operating room and procedure room modules, may offer advantages for specimen tracking, especially with metropolitan or regional consolidation of histology services.
Epic Systems Corporation, which was founded in 1979 and is a privately-held, is located in Verona, Wisconsin where all 5,000-plus Epic employees are located. Epic has more than 230 customers, mostly large delivery networks, health plans such as Kaiser Permanente, and academic health centers, including many Hopkins' peer institutions. The medical records for more than 110 million Americans are managed on the Epic EMR, and more than 220,000 physicians nationwide use Epic every day.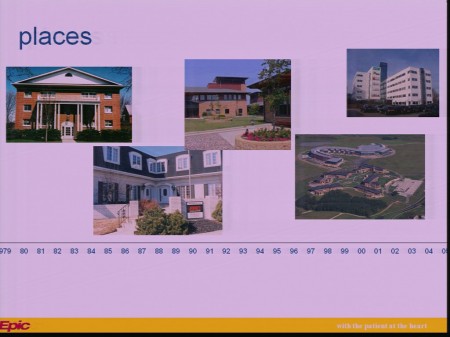 Epic Headquarters in Verona, Wisconsin
Recruitment is currently underway at Johns Hopkins for the Epic project staff to assist with deployment of Epic's outpatient functions, and existing Pathology staff will be involved with the Epic laboratory test ordering and reporting functions for the outpatient areas.
If you wish to learn more about Epic, you can request an ID and password from Epic's user web site, http://userweb.epic.com which contains literally thousands of documents, online courses, and other materials, including contributed materials from other Epic customers, and even CME for physicians in conjunction with the University of Wisconsin.
Robert E. Miller, M.D.
Director, Pathology Informatics