Like most great inventions, the Pathology Symposium was born out of a need. In the case of the symposium, the need was for a better way to educate our staff. Prior to 2013, the Pathology Department would send as many as 200 employees out to various workshops. This was both costly and disruptive to the team.
In late 2012, Al said, I think we can do better! He tasked Barbara Parsons and Lorraine Blagg, Pathology's education and development team, to create a unique educational program here at Johns Hopkins Hospital. A continuing education program was developed based on our needs, and the first Pathology Education Symposium took place in the Turner Auditorium in September 2013. There were over 450 pathology staff in attendance! The symposium allowed our faculty and staff to participate in teaching and in learning, and, in the end, it provided a much better education for our team. Today, the symposium provides 18-40 educational sessions presented by residents, fellows, faculty and laboratory staff. These sessions cover everything from viral sequencing to personal well-being. And, the overall cost of the program was reduced substantially! Now, the symposium averages about 650 attendees each year and includes live broadcasting, poster sessions and even breakfast and lunch!
Al has always provided the leadership, guidance, and support for the symposium. He encourages leadership's participation, helping to highlight the impact pathology has on patient care as well as providing an enriching education environment empowering our staff in learning, networking and developing leadership skills.
As the Pathology Education Symposium celebrates its 10th anniversary, we are grateful for the opportunity to recognize Al and his many contributions! Therefore, the Pathology Education Symposium will be henceforth named THE ALLEN VALENTINE PATHOLOGY EDUCATION SYMPOSIUM!
Congratulations Al!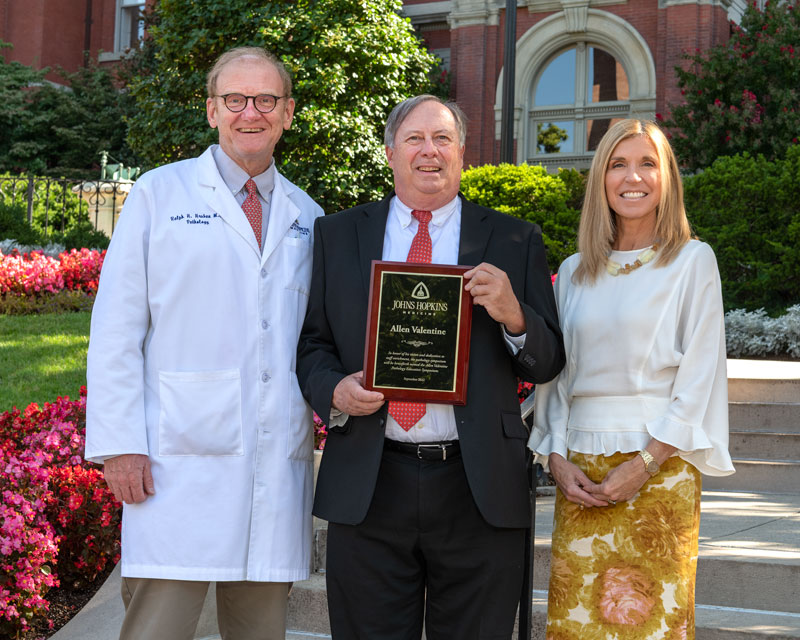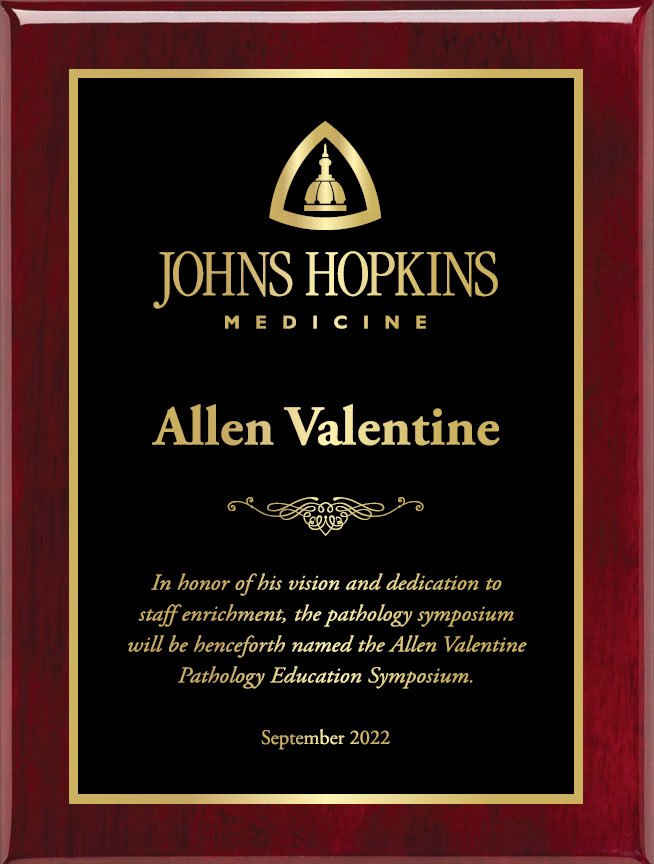 Barbara Thompson, Lorraine Blagg, & Dr. Ralph Hruban
Johns Hopkins Pathology