Happy Halloween from Microbiology for the kids at the Johns Hopkins Children's Center!
The department of medical microbiology participated in the annual Halloween trick or treat event, organized by Child Life, for the Children's Center on Friday, October 30, 2020.
Due to the pandemic, this year there was a twist:   "reverse trick or treating." Instead of a table in the Great Room with goodies to give out to a streaming parade of children, a few of our staff members (in costume and proper PPE) donated treats to children directly on the floors.
Our wonderful staff provided treat bags containing candy, small toys and prizes for over 150 children. We also had extra bags for children coming to the ED, and larger items such as stuffed animals, and coloring books and crayons. A HUGE THANK YOU for your generosity-it happens every year!
Special thanks to micro staff Melissa Amy, Ayo Adebayo, Anita Tembo, Jennie Dodd, Marissa Totten, Abby Dimling, and Jackie Burris, who spent over an hour assembling treat bags; and Marissa, Jackie, Brandon Ellis, and Carrie Holdren-Serrell, who gave of their time to personally hand out the treats.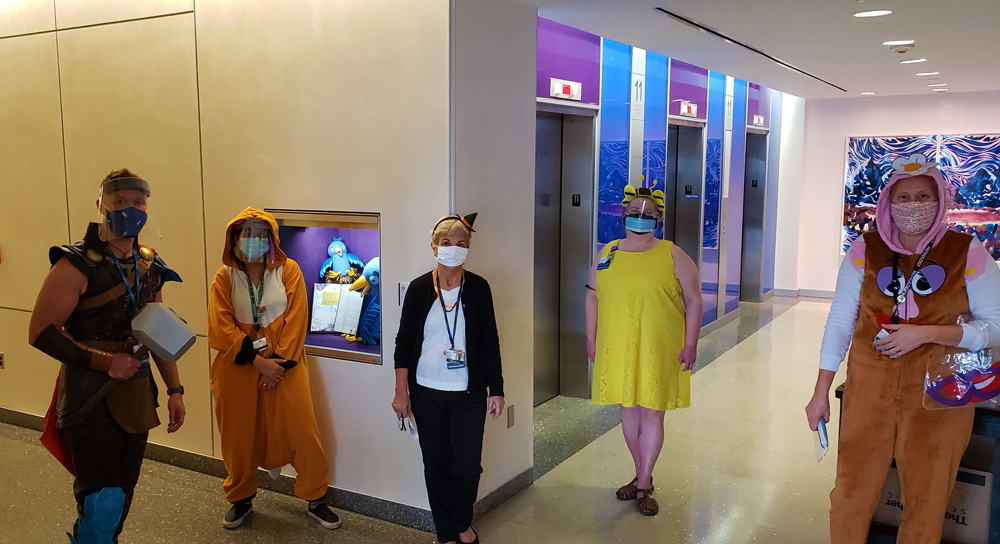 Paula Mister
Educational Coordinator
Microbiology Division