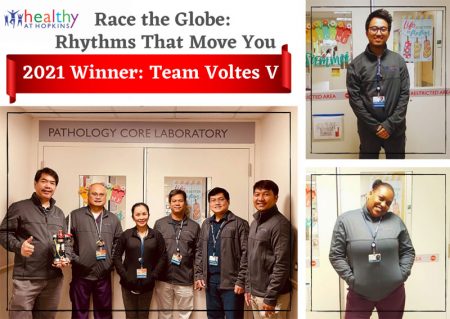 "Let's Volt In!" is the famous line from the Japanese anime Voltes V (pronounced as Voltes Five) – and this is precisely what the Voltes V VP team did to win this year's Race the Globe challenge. They worked together, encouraged, and inspired each other every day by sharing what they were doing and asking to do more to move closer and faster towards the finish line.
How was the team formed?
When Debi Celnik, head of the Healthy @ Hopkins program Keep Your Pressure Down (KYPD), asked Lambert for a goal, he chose to create a group for the Race the Globe challenge. A team of eight was formed, seven from the evening shift and one from the overnight shift team (pictured above). The team is wearing their prize: Healthy at Hopkins jackets. Lambert is holding a Voltes V action figure.
What did each person do to earn steps?
Lambert ran on the treadmill for an hour every day, which also helped him lower his blood pressure and manage his weight better.
Jonathan encouraged the team to do other activities aside from walking and sent daily reminders on their Facebook Messenger group to keep on moving. Their mindset is that weekends give them a chance to do more.
Kerri Ann "worked doubles like crazy." She was sore from kickboxing that she followed on YouTube. Even though she is not a gardening person, she mowed and did gardening to earn steps.
Allan achieved his goal by keeping himself busy with work, running, and walking. Reminders from the group to keep moving definitely helped him.
Danny disciplined himself. He set a timer for 45 minutes per day to keep on moving, going with the beat of the music playing in the background. The team encouraged him to do gardening, house cleaning, biking, walking, running at the park, getting enough sleep, and rehydrating.
Armie set the time to wake up early to exercise, dance, speed walk, and garden. Aside from encouraging each other through chat, they also sent updates on what they are doing for the day. They talked about how many more steps they needed to reach the next destination. Her active and competitive team members helped divert her morning sickness by motivating her to walk outside under the sunlight and breathe fresh air.
Roger lost weight and trimmed his waistline by gardening, planting seeds, and mowing their 2-acre lot every 10-11 days.
Sandesh enjoyed walking with the team at the parks, in addition to running on his own. The challenge helped him feel fresh and energetic as he was sleeping better.
Despite all the doubts and questions against the team's progress, they succeeded by acting as a team to come in first. Congratulations to the Voltes V VP team!
Race the Globe Top Performers 2021
(2 Teams are from Core Lab)
Golden Apple Award: Suburban Hospital – Entity with the highest average steps taken per participant enrolled (334,719 per participant)
Golden Apple Award: Johns Hopkins Community Physicians – Entity with the highest percentage of participants based on eligibility (31% of eligible participated in the challenge)
Top Team: Voltes V VP – total of 11,858,331 steps, approximate miles = 5,929 miles walked based on 2,000 steps/mile

Lambert Arcellana
Kerri Ann Henry
Danilo Ilagan
Roger Maranan
Jonathan Martin
Armie Myers
Allan Salazar
Sandesh Shrestha

Enterprisewide Team #2: JHH Pathology, CORELAB – total of 8,841,743 steps, approximate miles = 4,421 miles walked based on 2,000 steps/mile

Chidinma Elezie
Genevieve Gaano
Tewodros Gemechis
Rakita Goodman
Eva Jeremias
Mary Ann Martinez
Anna Patricia Nemenzo
Hulda Wiredu

Enterprisewide Team #3: Step Up or Step Out!!!! – total of 6,065,043 steps, approximate miles = 3,033 miles walked based on 2,000 steps/mile
Top Team with a participating executive – EPICway to Explore the World, with Dan Dunkers, Vice President Information Technology, JHHC
Source:
https://intranet.insidehopkinsmedicine.org/news-and-communications/news-events/race-the-globe-top-performers
Ruth Umali, MLS(ASCP), MT(AMT)
Education and Staff Development Coordinator
Core and Specialty Laboratories