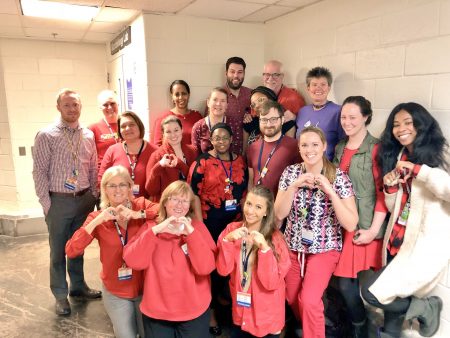 After 42 years of devoted service to the Johns Hopkins Hospital, Amelia (Ame') Maters will officially retire as the manager of the Microbiology and Immunology Laboratories on May 11, 2018.   Ame's career included many roles – bench technologist, research technologist, laboratory specialist, lead technologist, supervisor, and finally manager for the past 22 years. Additionally, she taught immunology to MLT and CLS students at Stevenson University for many years.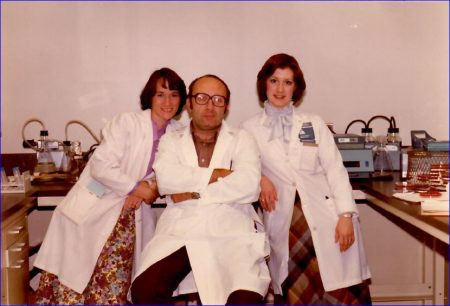 Ame shared, "I started in the Micro lab as a bench technologist. My passion was working with rapid diagnostic testing to determine the cause of infections much more quickly than it took for the organisms to grow out in culture. The first techniques available were immunologically-based. We have since moved onto include molecular techniques."

Ame' told us that working in the Microbiology Lab was her first job after college and she met her husband Richard on her first day of work! Both of her children, Ryan and Alex, were born here at JHH and she is the very happy and proud grandmother of Lily and Langdon, her son Ryan's children.

And what made her pursue a career as a med tech? Ame's high school physical education teacher Mrs. Fromm thought Ame' would really enjoy the field of medical technology and told her that James Madison University had a great program. Ame' attended JMU and earned a BS in medical technology. She followed with a one-year internship for medical technology at the Medical Center of Princeton in New Jersey before coming to Johns Hopkins.

While working here at Hopkins, Ame' earned an ScM in immunology and infectious diseases from the Johns Hopkins School of Public Health, and an MA in business administration with an HR concentration from Notre Dame University of Maryland.
She says, "The greatest successes have been watching the staff grow in their roles and careers. We have had many staff go on to earn their MLT and CLS certifications, masters, PhD and MD degrees, physician assistant and pathology assistant certifications. On the technical side, the greatest success was to bring the Microbiology and Immunology Labs into the 21st century. More changes have occurred in the last 5-7 years than in the first 35 years of my career!
Dr. Patricia Charache was my first scientific mentor here in the Microbiology Lab. She encouraged my desire to work with rapid diagnostic testing and to bring this testing into a classical microbiologic laboratory. I had so much fun doing this! Jim Creech and Ed Pigo were awesome mentors in the financial management of the laboratory. Dr. Karen Carroll has been another great mentor in moving the Microbiology lab forward."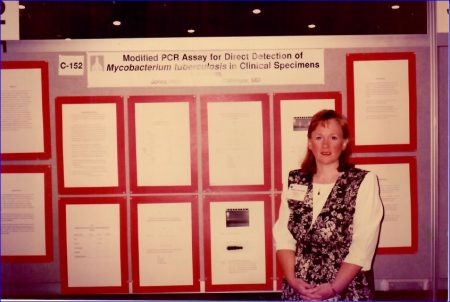 Brandon Ellis, Micro supervisor who was recently named as the new manager – Ame's replacement, states, "Over my ten years in the laboratory, the field of microbiology has undergone a tremendous amount of change.  Transitioning from a primarily manual discipline to utilizing the latest available technologies has had a positive impact on both patient care and our laboratory. 
Amelia is at the heart of driving these changes and placing our laboratory at the forefront of microbiologic testing.  In addition, I must thank her for mentoring me through the years.  She has guided me through the ups and downs and helped develop my leadership skills.  Her impact on patient care, the laboratory, our staff, and myself cannot be understated."
Supervisor Renee Harris adds, "Amelia Maters has been a fundamental part of the Microbiology laboratory for quite some time! Since I have been here, she has been in the manager role and I am honored to have worked with and for her. She has always made patient care her priority and that is obvious in the way she has operated our laboratory. Amelia has been a great mentor over the last few years in helping to build my leadership skills and for that, I am forever grateful."
Dr. Karen Carroll, the Division of Microbiology's medical director, comments, "When I first met Ame' more than 15 years ago now, her personable demeanor and friendliness reassured me as a newcomer to Hopkins that we would be able to work well together. This prediction held true and we have collaborated on many projects from LIS implementation, to space planning and capital acquisition. Her support fostered Microbiology laboratory advancement into the 21st century and I have watched her mentor many technologists into other healthcare careers or leadership roles in laboratory medicine. It has been a wonderful partnership, for which I am very grateful."
In spite of the many responsibilities and challenges of running two complex laboratories and overseeing a large staff, Ame' states, "I have a very positive outlook on life. I am an optimist. It does not pay to be grumpy!" Her advice is, "Enjoy today. Tomorrow comes awfully fast." She admits she never anticipated working here for 42 years, "I'm glad I did. I love my job. I have enjoyed coming to work every day. I am honored to work with such a dedicated, fun-loving group – employees, faculty and leadership!"
And when asked about retirement plans, Ame' tells us, "I am very much an early morning person. My first plan is to work on not getting up at 3:00 or 3:30 every morning! In the meantime, Richard and I have a lot of travel plans that include trips up and down the Eastern seaboard and across the country to the West Coast. I am definitely looking forward to spending a lot of time with my grandchildren. I am very blessed that they live close to us. I also plan on having a little baking business on the side! Yum!"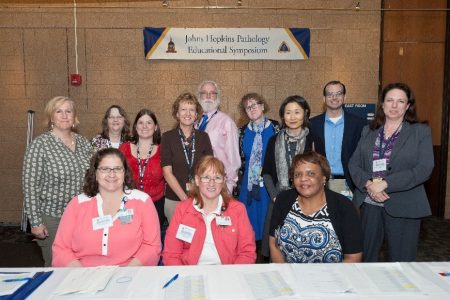 From all of us in the Department of Pathology, we wish Ame' a long and wonderful next chapter in her life and are grateful for having worked with and for her for such a long time.