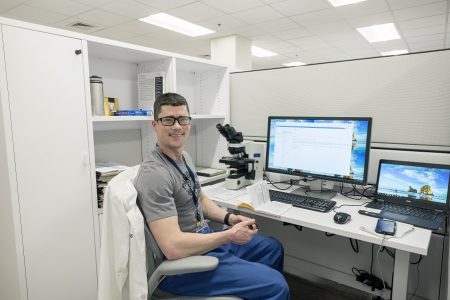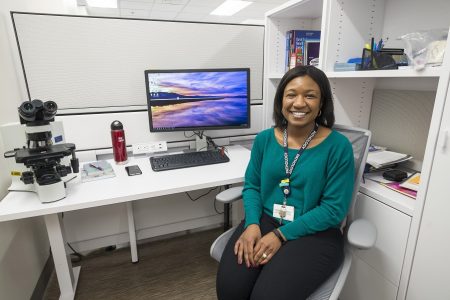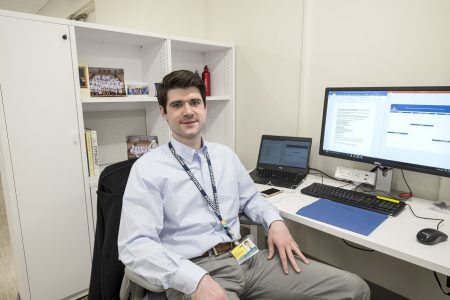 Drs. Daniel Miller, Alisha Gordy, and Derek Allison are among our thirty-five Pathology residents who have moved or soon will move into their newly renovated space in the Carnegie Building.
See photos below for a glimpse of the scope of the project: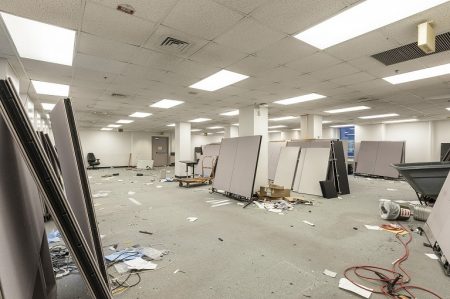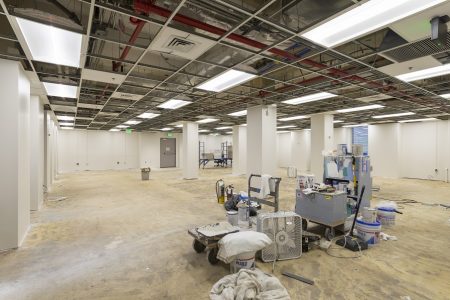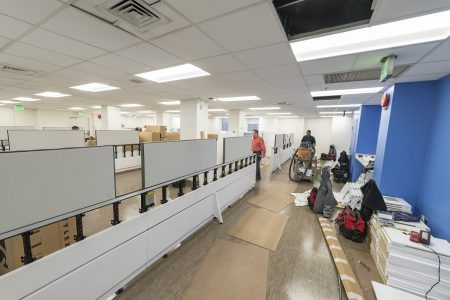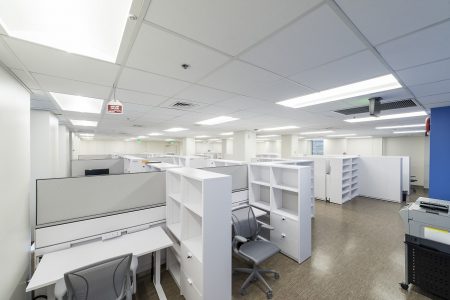 Carnegie 400 has been the home base of our residents since the early 90s and was in need of an upgrade and some sprucing up. Frankly, it was a rather dark and drab room, almost gloomy.  Today it is brightly lit and has a contemporary look.
The renovation was completed in mid-February. The project took nearly four months from beginning to end, however, discussions about the project were launched in December 2014.   Two key factors were essential to the design – to maintain privacy (tall panels allow privacy for each resident), and to uncover the windows to fully allow the use of natural light.
The design is very similar to what was in place originally.  But the new configuration allows for a better flow of the space, better use of natural light, and additional cubicles for medical students were added.  The furniture, colors, and flooring materials were chosen for improved light and easy cleaning of surfaces and floor, and a "Hopkins blue" accent wall was added to provide energy to the room.  The room is so much brighter with the new LED motion-sensored lighting and the complete use of the windows.   The new furniture meets ergonomics standards, and one cubicle is planned as a "lactation room" to accommodate the needs of new mothers. Cubicles were designed with a different flow, with storage of two drawers and a coat closet, and shelf space for books and other learning materials. Additionally, there are large main counters to hold telephones, printers, etc., and there are bookcases for pathology books and other medical reference books.
Artwork for the Residents Room will be chosen soon, as well.  It is hoped that all the residents will enjoy their new work area.
Special acknowledgement and thanks to Vanessa Rodas-Eral for her direction of the project and assistance in writing this post, and to Fred Dubs for the photos he provided.
Renata Karlos
Staff Assistant
Department of Pathology
Johns Hopkins Hospital