Laboratory medicine has long been my professional passion, and has provided me with a career in which I can meaningfully contribute to the provision of high quality healthcare services for patients. Ten years ago, when I was starting my MLS internship year with Fairview Health Services in Minneapolis, Minnesota, the trajectory of my career was only a vague dream. I knew the growth opportunities were endless; but I have since learned there are also countless ways I can share my passion and knowledge, and further our profession.
For example, did you know that one of the areas where Medical Laboratory Scientists can work outside of a traditional laboratory setting is in the Point-of-Care Testing (POCT) Office? Before starting my POCT career at The Johns Hopkins Hospital, I did not. Although not necessarily what many laboratory professionals may think of when asked to describe laboratory testing, POCT has become a necessary extension of the laboratory as the provision of healthcare continues to improve and evolve.
Why does this matter? The COVID-19 pandemic is a recent example demonstrating the need for Point-of-Care Testing. As the pandemic progressed, the importance of laboratory medicine became a focus in the national, and even global, spotlight. Although the largest bulk of testing will always be performed in a traditional laboratory setting by MLTs and MLSs, there has also been a push for SARS-CoV-2 testing at the point-of-care. At JHH, the POCT Office has been involved in projects supporting implementation of three types of SARS-CoV-2 tests at the point-of-care. In each of these instances, the projects were conceptualized, approved, and implemented very rapidly. Ongoing success post go-live has required a high level of QA oversight with weekly, and sometimes daily, review of testing and metrics to ensure all regulatory standards are being met. Positive outcomes from these projects include decreased usage of scarce resources, quicker TAT in high acuity locations, and faster bedding of patients, to name just a few.
The Zayed 8 Labor and Delivery unit was the first to go live with SARS-CoV-2 testing at the Point-of-Care, in May of 2020. The Accula SARS-CoV-2 test is a molecular POCT that provides manually-interpreted test results within approximately 30 minutes, and was identified as the best fit at that time based on the testing needs identified by leadership. To this day, all patients being admitted to the unit are tested via this method, regardless of symptomology. Nurses were the only trained testing personnel originally; this decision was multi-faceted, but due in large part to the high level of uncertainty that existed in the early months of the pandemic. In the 20 months this testing has been live, approximately 5550 patient test results have been reported in Epic. Additional locations, including several JHCP sites, Homewood Student Health, and All Children's Hospital also use Accula at the point-of-care.
In December of 2020, the Adult Emergency Department Point-of-Care Testing Lab (version 1.0) opened. In this project, two 4-module Cepheid GeneXpert Xpress analyzers were installed to allow for symptomatic stat testing for patients from both the Adult and Pediatric Emergency Departments. The "Fluvid"/4Plex cartridge, providing results within 35 minutes, was used during Flu season (from December 2020 through early May 2021), with results being manually documented on the EMR. Concurrently in early May, the AED Cepheids went live with connectivity via Telcor and the SARS-CoV-2 only cartridge was placed into use, with results available within 45 minutes. This project has required constant coordination with the Microbiology laboratory to manage inventory and address testing issues, and has resulted in a plethora of QA issues. Unlike the decision to limit testing to RNs in Labor and Delivery, Certified Nurse Assistants were identified as the sole testing personnel for this project. In the 12 months this testing has been live, just over 21,000 patient test results have been reported in Epic.
The final test system – LumiraDx – has been implemented widely throughout the health system. The first phase began in January 2021 with the Rubenstein Adolescent and Pediatric Specialty Clinics and the Wilmer Bendann Surgical Pavilion using the LumiraDx SARS-CoV-2 Antigen test. This testing is performed for children presenting with a single symptom prior to an appointment in the Rubenstein building, and for patients unable to be tested prior to undergoing a procedure requiring general anesthesia. In the fall of 2021, Occupational Health piloted the use of LumiraDx at the Green Spring Station COVID Tent to help return employees to work quicker. The pilot was a success, and this project has expanded to include five additional locations (BMC, Phipps, SMH, SH, and HCGH). In January of 2022, Park Sickle Cell and Oncology Urgent Care also expanded their point-of-care test menus to include LumiraDx testing for symptomatic patients visiting their clinics. The LumiraDx device processes specimens and interprets results within 12 minutes of test start; all results are manually documented on patient charts. Over 5,000 patient test results have been reported in Epic in the last year.
Lessons I have learned while preparing for, implementing, and managing the quality of each of these projects are endless. What I do know with absolute certainty? Without Medical Laboratory Scientists, the successes would not have been possible. Our professional world has expanded outside of the walls of the laboratory, and maybe that is not such a bad thing.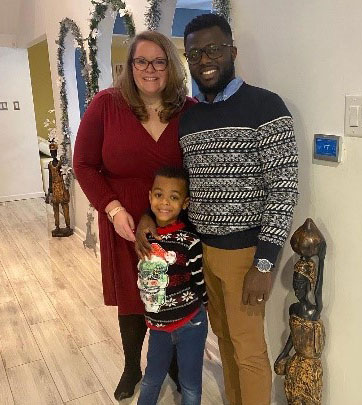 Mickayla Karikari, MHA, MLS(ASCP)CM
QA Technologist/POCC