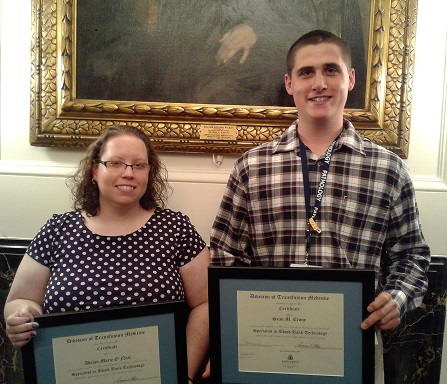 With the graduation of two great students, Adrian O'Neal and Sean Erony, on September 8, 2017, our AABB and Commission on Accreditation of Allied Health Education Programs (CAAHEP) accredited Specialist in Blood Banking (SBB) program ended another successful year!
Along with Adrian's father and Sean's fiancé,  many Transfusion Medicine staff and faculty, including Dr. Hruban, celebrated the graduation ceremony which was held in the stately Wilmer Portrait Room.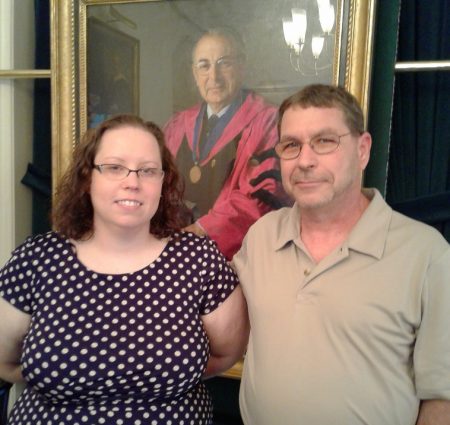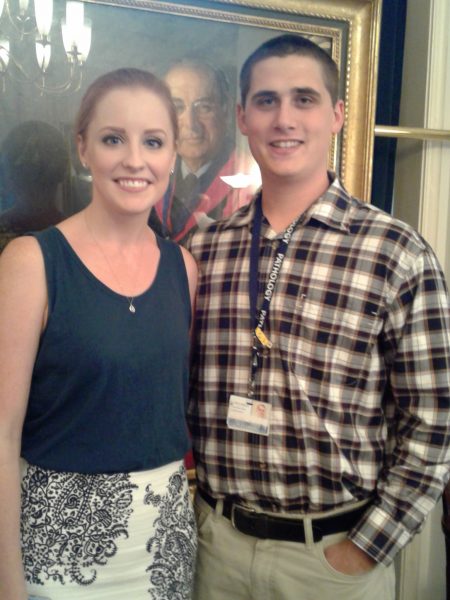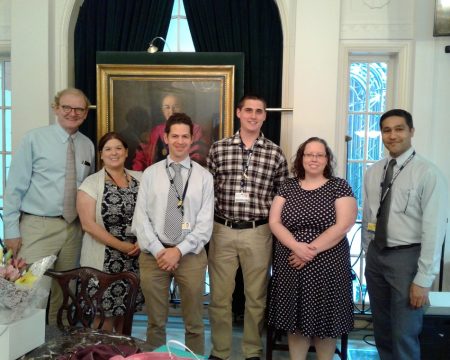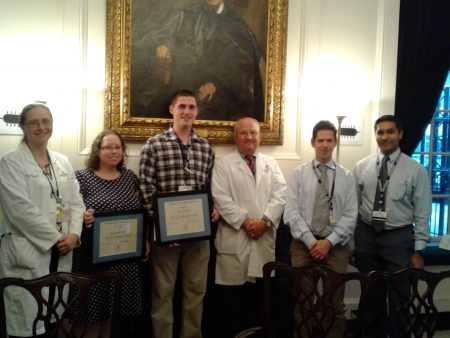 Sean Erony came to the Johns Hopkins Hospital Transfusion Medicine Division in June of 2014 upon his graduation from the University of Delaware with a bachelor's degree in medical laboratory sciences. Sean recently passed the SBB certification exam through American Society for Clinical Pathologists (ASCP) and was selected to present his SBB research as an oral presentation at the AABB National Meeting in San Diego in October, where he also received recognition for one of the top ten abstracts for trainees in the field of transfusion medicine.  See the photo below.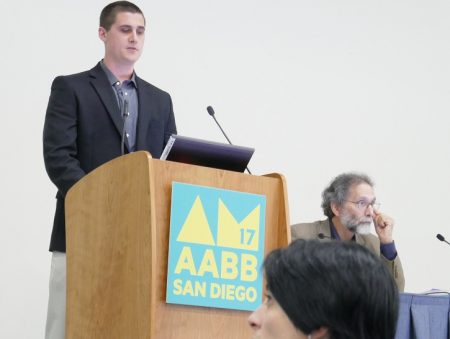 Adrian O'Neal came to the Johns Hopkins Hospital Transfusion Medicine Division in April of 2016. Adrian is a 2009 graduate of the University of Delaware where she earned a bachelor's degree in medical laboratory sciences. She has worked at the University of Maryland Upper Chesapeake Medical Center in Bel Air as a laboratory generalist, and within the Johns Hopkins Medical System and The University of Maryland Medical System.
Adrian shared with us some of her thoughts about her SBB experience and her future plans:
"This past year has been a busy, challenging, stressful rollercoaster. I am certainly glad it's over, but I'm also glad I pushed myself to finish and didn't give up. I originally decided to pursue the SBB program at Hopkins because I am passionate about learning and education. My ultimate goal is to keep moving up into management positions, but I am also interested in teaching, so hopefully teaching opportunities will present themselves along the way as well. 
 For the near future, I have accepted a position in Philadelphia at the American Red Cross (ARC) National Reference Laboratory. I am nervous to move to a new city, but I am excited for a new beginning and to continue learning more about immunohematology. We spent a lot of time in the reference lab during our SBB program, which I loved; I want to continue doing more hands-on serologic cases, which I will get to work with on a daily basis at the ARC. I will miss my Hopkins family, but I have to follow my passion, and I think the ARC will be the perfect place for me to grow in my career and expand my knowledge in immunohematology."
We are so proud of Sean and Adrian and look forward to their future growth and impact in the field.
In addition, our new SBB student, Kathy Haddaway began on September 5, 2017. Kathy came to the Johns Hopkins Hospital Transfusion Medicine Division in June 2014 upon her graduation from Salisbury University with a bachelor's degree in medical laboratory sciences. We look forward to another successful SBB year with Kathy!
+   +   +   +   +   +   +
The Johns Hopkins SBB Program is a 52-week work-study program where the employed MT or BB certified technologist works in the Transfusion Medicine Laboratory gaining experience. The program consists of immunohematology reference lab training, didactic lectures, student presentations, a research project, and student rotations.
The requirements for acceptance into The Johns Hopkins SBB Program are ASCP certification as a Medical Technologist or Technologist in Blood Banking and a minimum of two years of full time Blood Bank experience. The application deadline is November 30 for consideration in the class beginning in September of the next year. There is no tuition for the program; students are full time employees (with benefits) of The Johns Hopkins Hospital who work 40 hours per week in the Transfusion Medicine Laboratory.
This past year our website has gotten a facelift with pictures, and we've added a section to list our graduates and where they are now. If you are a graduate of our program and do not see your name listed, please contact me at lblagg1@jhmi.edu to update your information.
Lorraine N. Blagg, MA, MLS(ASCP)CM SBB
Education and Development Coordinator
Transfusion Medicine Division
Department of Pathology
Johns Hopkins Hospital