Thank you to everyone who participated in Pathology's 2015 Help the Less Fortunate Campaign.
We again collected for the Happy Helpers for the Homeless, an all-volunteer organization that serves the needy of Baltimore City, Glen Burnie, Annapolis, and the Eastern Shore, http://www.happyhelpersforthehomeless.com.  Did you know that Johns Hopkins Pathology is their largest contributor in the winter season?  For 14 consecutive years, Pathology has supported the needy during the holiday season with a charity drive, and the Happy Helpers for the past five years.
The Happy Helpers are very grateful for the generous donations that Hopkins Pathology employees make each year.  Schoolchildren who are truly in great need are selected by teachers.   Some of the stories we heard have been heartbreaking.
In mid-November we dropped off collection tote boxes to about a dozen areas in Pathology and left them to be filled with new backpacks, nutritious food, gently used clothing, and blankets.   We asked for specific groceries (including peanut butter, jelly, tuna, chili, soups, canned fruits and vegetables, and cereal) to be put inside of new backpacks for needy school children.
By Monday, December 14, the following items had been collected:
65 new backpacks filled with specific groceries
10 additional new backpacks
Over $500 worth of oatmeal, pancake mix, crackers, raisins, syrup, canned chili, stew, soup, and canned vegetables and fruit
12 boxes of extra groceries
A large bin of warm gently used clothes
Two bags of new warm clothes and blankets
The large pick-up truck used to transport the goods was completely full!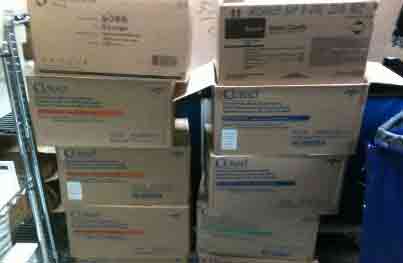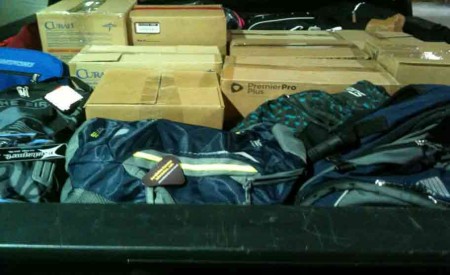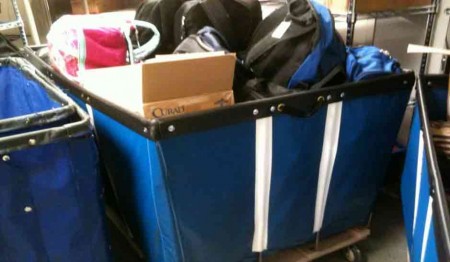 The best part about our food gifts is that they keep on giving for 4-5 months after we deliver the boxes/bags.   We are also grateful that most of the canned goods had future expiration dates. This makes the job of going through each item quicker and easier for us.  Many great high protein foods were purchased. These gifts are above the average food bank donation.
Also, the clothing donated this year was warm and thoughtful and will come in handy when the weather turns cold.
Pathology has a very large staff and this charity drive shows what can be accomplished when we all work together.  We made a huge difference in more than 20 young people's lives.  Happy Helpers feeds many of these kids weekly for as long as needed. The extra backpacks are used as Christmas presents.
On behalf of the Happy Helpers for the Homeless, Lydia Nelson and Rhonda Cole of the Core Lab, thank you for helping us with this project.
Judy Frazier
Coordinator, Happy Helpers for the Homeless Drive