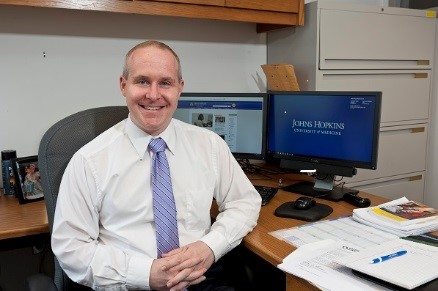 As many people already know, Chris Ruley officially joined the Department of Pathology in September as our new director of finance.   Chris is the successor to Rosemary Hines who retired in August after 47 years of faithful service.
Chris started in the Hospital accounting department in 2004. After a move to the Hospital's budget office, he began to work regularly with the Pathology finance team to establish the Department's budget.  In July 2013, Chris was promoted to assistant director of finance for Anesthesia, and in 2015 Chris was promoted to director of finance of Pathology, Pharmacy, and Radiology.  He wears three hats every day!
Chris was enthusiastic about joining the Pathology team because of some interesting and exciting projects he'll be working on.   Many of you may also remember Chris's father-in-law, Mike Baldwin, who worked in Transfusion Medicine for 30 years.  Because of Mike, Chris said he had some familiarity with the inner workings of Pathology.
Chris is a graduate of Elizabethtown College with an accounting degree and earned his MBA from Loyola University.  In his spare time, Chris enjoys spending time with his family, bowling, and watching the Ravens and Orioles. Chris looks forward to meeting many more people in Pathology and working with everyone.
Welcome aboard, Chris!