Hear ye, hear ye! On Monday, July 11, 2011, the Johns Hopkins Medical Laboratories (JHML) Outreach Division of the Pathology Department opened its doors for the first time to a phlebotomy patient service center outside of Maryland. Our new location is located in Northwest Washington, D.C. and is only 8 miles (or 23 minutes in D.C. traffic) from the U.S. Capitol Building.
Johns Hopkins Medical Laboratory @
The Sibley Medical Office Building
5215 Loughboro Road, NW / Suite # 160
Washington, D.C. 20016
Phone: 202-244-5805
Fax: 202-244-5803
The Sibley Memorial Hospital, a member of Johns Hopkins Medicine since November 1, 2010, is expanding the healthcare options available to its patients by adding new facilities and services to its ever-changing medical campus. You can view the construction plans for the "New Sibley" @ http://www.sibley.org/general_info/new_sibley.aspx.
One of the most recent constructions is the new Sibley Medical Office Building (MOB).
This five-story, 156,000 square foot building and its adjacent parking garage were designed to integrate seamlessly into the existing medical campus, featuring a character consistent with pre-existing campus structures.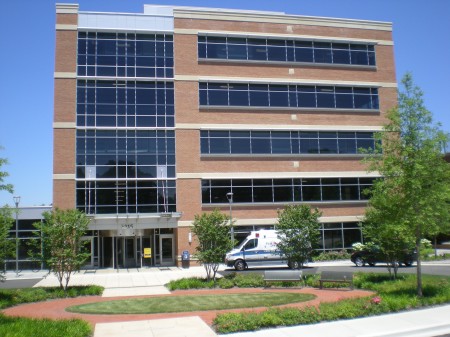 Amenities in this new medical office building include a 240-seat auditorium for community education and meetings, credit union, outpatient surgery center, commercial pharmacy, café (Au Bon Pain), medical spa, several private physician offices including Johns Hopkins Community Physicians (CPSIB) on the third floor (Suite 300), and a phlebotomy patient service center staffed by JHML.
Our newly hired JHML staff, Valerie Mathis (Lead Tech) and Esi Grant (LT II) currently provide customer-focused phlebotomy services for JHML and Quest, Monday through Friday, 8:00 a.m. – 5:00 p.m.
Esi Grant & Valerie Mathis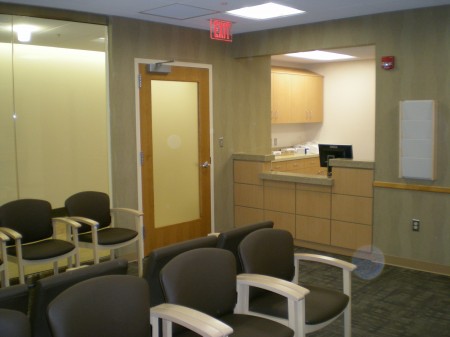 Reception/Waiting Room (19 chairs)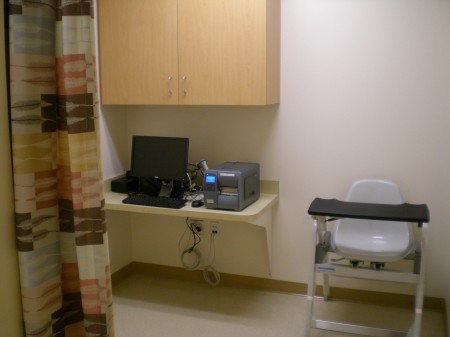 One of three Phlebotomy bays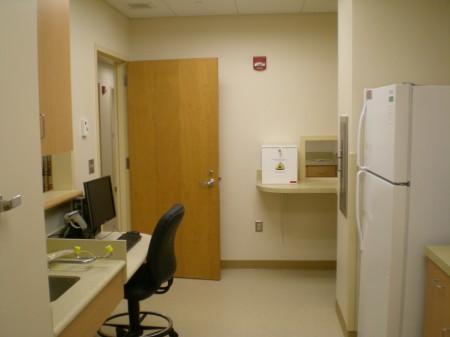 Our Specimen Receiving Room
We're truly excited about our new and historically significant location and the long-term relationships we hope to build with the nearby community, with the tenants of the new medical office building, and the Sibley Memorial Hospital team.
Current list of JHML patient service centers:
Spring Station
White Marsh
Odenton
East Baltimore Medical Center
Wyman Park
Medical Pavilion @ Howard County
JHU Vasculitis @ Bayview
Baltimore Medical System – Highlandtown Healthy Living Center
Baltimore Medical System – Belair-Edison Family Health Center
Baltimore Medical System at Orleans Square
Sibley Medical Office Building
William Hartlove
Laboratory Manager
Johns Hopkins Outreach
Department of Pathology