On Wednesday May 18, 2011, the Department of Pathology's Staff Diversity Committee held our Spring workshop, "Ouch! That Stereotype Hurts!" Over 40 departmental managers, supervisors and leads attended the morning activities designed to explore communication skills for promoting inclusion and respect in the workplace. Janet Harding, the Coordinator of Diversity and Inclusion Programs at Johns Hopkins Bayview Medical Center was our presenter. Her interactive approach with lecture, video, and small groups made the subject come alive.
We learned to understand the impact of stereotypes and biased statements, even when casually said. Everyone had examples they could share from their own experiences! We identified the most common reasons people sit silent in the face of bias and stereotypes and learned some skills for speaking up against stereotypes without blame or guilt.
Staying silent in the face of demeaning comments, stereotypes, or bias allows these attitudes and behaviors to thrive. This undermines our ability to create an inclusive workplace where all are welcomed and treated with respect and able to do their best work. Yet, some of us want to speak up but don't know how, so we say nothing. Janet helped us understand that reality and gave us the tools to make changes to that scenario. So, don't be surprised to hear "OUCH" around the Pathology Department in the near future!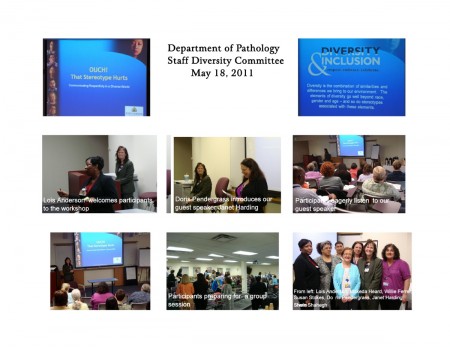 Susan Stokes
Sr. Human Resources Coordinator
Department of Pathology