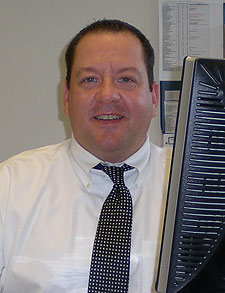 Three years ago, when I became the Lab Outreach Manager, the Johns Hopkins Medical Laboratories serviced 19 outreach locations all over the State of Maryland.   There were 12 Johns Hopkins Community Physicians' (JHCP) client sites, 6 Baltimore Medical Systems' (BMS) client sites, and Vasculitis at Bayview.  Today we service 16 JHCP client sites (with another to open in Glen Burnie later this year) and we recently added the Comprehensive Care Practice at Bayview to our growing roster of lab outreach clients. Below is a list of our current lab outreach customers:
JHCP at East Baltimore Medical Center (CPEBM)
JHCP at Canton Crossing (CPCAN)
JHCP at Wyman Park (CPWYM)
JHCP at Annapolis (CPANN)
JHCP at Odenton (CPODE)
JHCP at Green Spring Station (CPGSS)
JHCP at Dundalk Medical Center (CPDUN)
JHCP at White Marsh (CPWHI)
JHCP at Westminster (CPWES)
JHCP at Charles County (CPCHA)
JHCP at Frederick (CPFRE)
JHCP at Waters Edge (CPWAT)
JHCP at Howard County (CPHOW)
JHCP at Montgomery Grove (CPMON)
JHCP at Laurel (CPLAU)
JHCP at Hager Park (CPHAG)
BMS Highlandtown (BMSHI)
BMS Highlandtown Specialty (BMSSP)
BMS Orleans Square (BMSOS)
BMS Bel Air (BMSBA)
BMS Annapolis Road (BMSAR)
BMS Middlesex (BMSMX)
Vasculitis at Bayview (JHVAS)
Comprehensive Care Practice at Bayview (CCPBV)
The Medical Pavilion at Howard County (opens July 2009)
It is with much anticipation and excitement that I announce our newest lab outreach client draw site in Columbia, Maryland. The Medical Pavilion at Howard County is slated to open the end of July 2009.  This five-story, 166,800 square foot, state-of-the-art, environmentally responsible medical office building will provide Howard County's largest and most progressive subspecialty medical groups a place to care for their patients.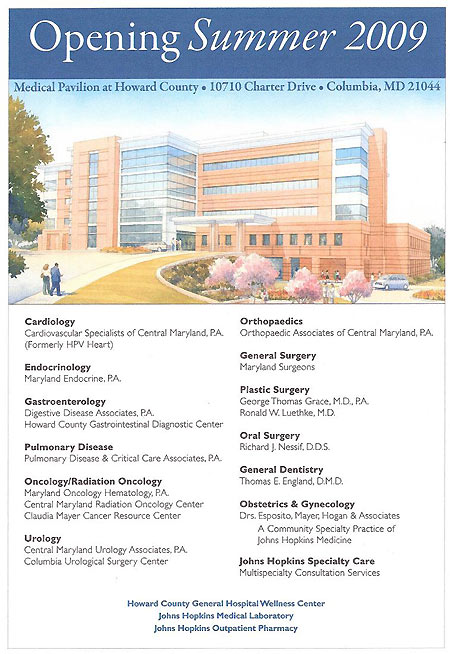 The Medical Pavilion at Howard County
The Johns Hopkins Medical Laboratories, strictly a phlebotomy draw site, will be located on the terrace level (G040) of the Medical Pavilion and will be staffed by three  employees.  Our team will provide excellent phlebotomy and customer services, including Quest Diagnostics and LabCorp contracted phlebotomies, to the myriad of patients that visit this facility.
Our continued growth in the lab outreach arena demonstrates our desire and willingness to provide quality and convenient laboratory testing to patients all over Maryland, while still providing the personal service not always attainable from a larger commercial laboratory vendor.
Bill Hartlove, MT(ASCP)
Pathology Manager
Lab Division (Outreach)