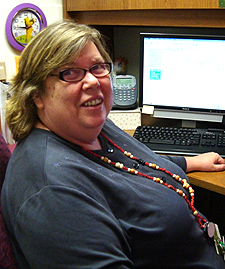 Last summer I was approached by the Department of Pathology Administrator, Al Valentine, and the Core Laboratory Manager, Lydia Nelson, to attend Lean Sigma training – what an opportunity!   For a Quality  assurance Specialist this was like being offered a snowball on a hot summer's day.  So off I went for training and came back ready to be Lean and mean.
My first Lean Sigma project focused on the Core Laboratory chemistry automation system which was not being utilized to its optimum efficiency.  It was decided that we would use improved turnaround-time (TAT) for our measure of success since we had been monitoring this  for many years and had tons of baseline data.
DATA … DATA… DATA … hours were spent observing, timing, and documenting the process — a daunting task when you realize we are a 24/7 operation with three shifts with over 90 staff members involved in the process.  It became clear very early in the observation process that each shift and sometimes individual staff members were performing duties in unique and sometimes creative ways.  This information showed that in order to have a successful Lean project outcome, the members of the Lean project team would be a key factor.  Another key factor was having a champion who is actively involved in the design, creation of interventions, and implementation of the Lean project.  I was able to build a great team that included Supervisors, Lead Medical Technologists and Lead Laboratory Technicians, Clinical Laboratory Scientists, Laboratory Technicians, and a Laboratory Director as Champion. This team included staff from each of our three shifts, some of whom had many years experience and others who were fairly new.  This well-rounded team was able to bring diverse and often unique ideas to the project.
EARLY SUCCESS: Our Lean project began in September 2008 and we were able to meet and sustain our improved TAT goal by January 2009.  Throughout this Lean Sigma process I have learned that BIG changes are few and far between.  Lean Sigma identifies many little things that accumulate to become big obstacles and create hours of wasted effort in meeting user's needs.  It has also become clear that Lean Sigma is a never-ending process; each change opens up an opportunity to identify and change another step in the process and even initial changes are subject to later modification.  Another important concept to understand is that you can only affect change in the areas that you can control, for example our Lean team could not improve TAT by reducing the number of specimen collection errors, transportation delays, or control the work volumes. In the eight months of working on this Lean project we have made over 20 significant changes and too numerous to count little changes, such as changing the look of quick guides posted in the laboratory for staff.  And, of course, I learned what not to do and what I would do differently for the next project.  Some perils include NEVER assuming that all leadership within the  Lean project area are "on-board" with the changes, not developing a strong communication plan prior to implementing any changes, and not empowering the staff who will have to implement and incorporate the changes.
The Core Laboratory is ready to start "Leaning" in other areas of our division.  In fact, I have staff from other areas of the lab approach me on a regular basis asking how they, too, can start a Lean project in their area.
I cannot conclude my Blog post without recognizing the team that made our success possible:
Dr. Lori Sokoll, Laboratory Director
Greg Gerhardt, Chemistry Supervisor, day shift
Rhonda Cole, Processing Supervisor, day shift
Cenella Harris, Technical Support Supervisor, overnight shift
Judith Frazier, Core Automation Technical Specialist
Kelly DeCarlo, Lead Medical Technologist, evening shift
Kate Florendo, Lead Medical Technologist, overnight shift
Edgar Calderon, Lead Laboratory Technician, evening shift
Mary Jane Swearer, Clinical Laboratory Scientist, day shift
Faye Pagal, Clinical Laboratory Scientist, evening shift
Tora Ruffin, Clinical Laboratory Scientist, day shift
Alison Jones, Laboratory Technician II, day shift
Roger Maranan, Laboratory Technician II, evening shift
Christina Cortes, Laboratory Technician II, day shift
James Conway, Laboratory Technician II, overnight shift
Ronetta Cole, Laboratory Technician II, overnight shift
Special thanks to Richard Hill, Johns Hopkins Senior Quality and Innovation Coach, our Lean Sigma Black Belt.
*  Finally, why the Blog post title, Believe in Change?    "Believe in Change" is the title that the Lean team and staff gave to our Lean project as a clear demonstration of their commitment to the project.
Juanita Stem, MT(ASCP)
Quality Assurance Specialist
Core Laboratory