Hopkins Dome
THE NATIONAL WEATHER SERVICE DEFINITION OF A BLIZZARD IS A WINTERSTORM WHICH PRODUCES THE FOLLOWING CONDITIONS FOR 3 HOURS OR LONGER:   SUSTAINED WINDS OR FREQUENT GUSTS 35 MPH OR GREATER … AND FALLING AND/OR BLOWING SNOW, REDUCING VISIBILITY FREQUENTLY TO LESS THAN ONE-QUARTER MILE ON A WIDESPREAD OR LOCAL BASIS.
A NEVER-TO-BE-FORGOTTEN MARYLAND BLIZZARD BEGAN ON FRIDAY, FEBRUARY 5, AND ENDED SATURDAY, FEBRUARY 6, 2010, SHUTTING DOWN THE CITY, BUT JOHNS HOPKINS PATHOLOGY  SUPERBLY CONTINUED  ITS EXCELLENT PATIENT CARE!  THEN, ONLY A FEW DAYS LATER, ON TUESDAY, FEBRUARY 9, A SECOND BLIZZARD SYSTEM ENGULFED THE MID-ATLANTIC REGION, AND AGAIN DEDICATED PATHOLOGY STAFF AND FACULTY WERE PREPARED TO PROVIDE FOR THE NEEDS OF OUR PATIENTS.

Part I, the first Blizzard:
According to Frank Roylance, Baltimore Sun reporter, on Wednesday, February 3, 2010, the National Weather Service announced a Winter Storm Watch for Saturday for Maryland west of the bay for more than a foot of snow with more than 20" in places.
On Thursday, February 4, the Winter Storm Warning was up — the prediction being 16-24" of snow.
Early Friday morning, February 5, the NWS had bumped its Baltimore snow numbers to 20-28" by 10 p.m. Saturday.
About 11:00 a.m. on Friday, February 5, it started to snow lightly and later that day the NWS upped the number of inches to 20-30 plus".   It snowed throughout the evening and into the morning and finally ended about 6:00 p.m. the following day, February 6th.    The storm was declared an official blizzard.    The  BWI Airport record showed 24.8" of snowfall, the second highest  two-day storm in history, the first being 26.3" which fell on January 27-28, 1922.   Of course, various areas in the City and surrounding counties got more and everywhere there were huge snowdrifts!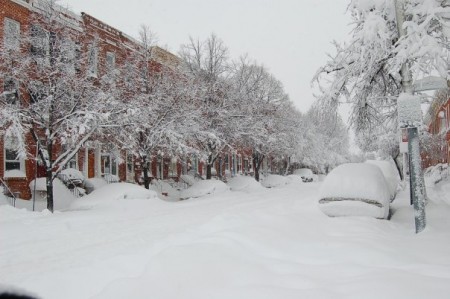 Federal Hill
Part II, the second Blizzard:
People were barely digging out of the first storm, when another winter storm blasted the area on Tuesday and Wednesday, February 9-10.  This one left an official total of 19.5" at BWI, 26" in Westminster, and drifts up to six feet in some areas.  The road conditions were so bad on February 9 that the City of Baltimore banned drivers from the streets because of the dangerous conditions.  Only snow plows, police, fire and emergency and medical personnel were allowed out.
The vast majority of people in our area probably stayed home and watching the weather news on TV and/or and shoveling, but Johns Hopkins Pathology is a 24/7 operation and we have to serve our patients.
These blizzards were a real test of the many hours Barbara Parsons' Emergency Preparedness Team had invested in organizing us for just such an event.   We knew the basics but as they say, "It's all in the details."  When the Department first heard about the first blizzard, there were skeptics, but the managers and supervisors started preparing their staff for the great event.   Plans were made and volunteers recruited, offices were converted to sleeping areas, air mattresses purchased, and treats were left for the snow angels who would brave the event.   Approximately 125 dedicated employees stayed overnight for each blizzard.
Core Lab Customer Service served as the "Pathology Command Center."   Over half their staff remained during both blizzards to handle phone calls, coordinate staff requests, hand out air mattresses and personal care items, recommend sleeping and shower areas, and take information for transportation requests to and from work during the blizzards.  Greg Rex of PDS served as our Department's driver with some support from Edgar Calderon and Kevin Martin.  Greg transported 30 people to and from the Hospital in his 2003 Dodge Dakota over the four-day period and drove 262 miles total.   He, Edgar and Kevin were critical to the Department's ability to coordinate operations and provide critically needed personnel for all of Pathology.  Greg has been dubbed our future "snow driver" based on his excellent performance!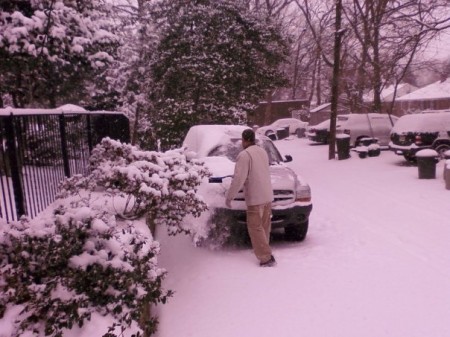 Greg Rex cleaning his truck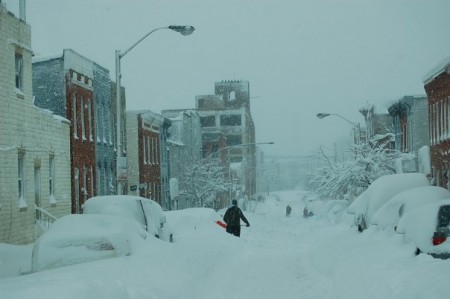 South Charles Street from Greg's truck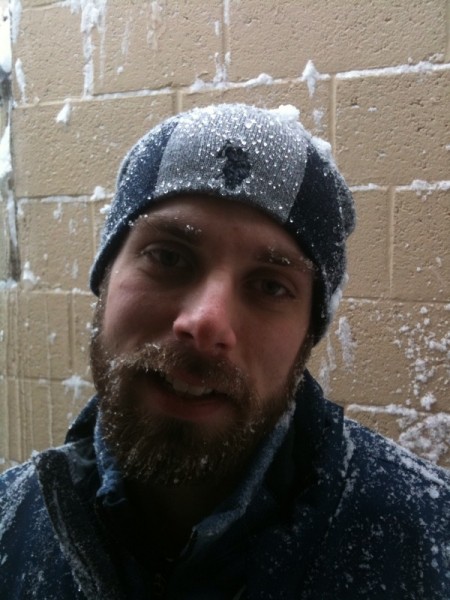 Chris Leach, Micro employee, on way to work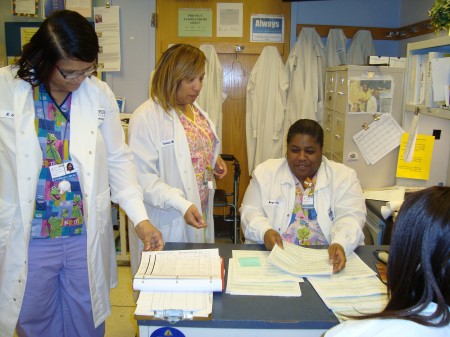 Margo Echols with Lutrondar Lester and Tawanda

Blood Bank was staffed with a core group of dedicated clinical lab scientists and technicians.  They worked their way through a shortage of platelets, a liver transplant with two antibodies and numerous difficulties getting blood products delivered.   Awesome job!
Core Lab maintained full services during the snow emergency with supervisors, leads, technical specialists, clinical lab scientists, lab techs, and phlebotomists on hand to cover their full range of services.  In all, approximately 100 people were on hand 24/7 to support lab services during the two blizzards.  Like all committed staff, phlebotomists often battled fatigue and worked numerous doubles to provide full 24/7 services during the blizzards.   A truly wonderful and dedicated team.   Way to go!
The Hemapheresis Center opened its nine chairs and one bed to members of the Pathology Department for sleeping.  The center maintained inpatient services with Dr. Jackson and two nurses who remained on site 24/7.  Great service!
Microbiology and Immunology maintained services with a dedicated core group of employees who worked double shifts, took turns sleeping in the conference room, and kept in touch with their supervisor and manager to maintain operations until reinforcements arrived.   Blood cultures and other critical services were maintained with no problems.
Debbie Aird told us, "Each team in Micro planned for both snow events by altering workflow and testing schedules. We maximized our efficiency on the good days and could afford to go to "holiday" schedules for the really tough days.   Our staff who live locally opened their residences to staff who otherwise could not make it back to their homes in the suburbs or could not find accommodations in the hospital.  We are incredibly fortunate to have such an amazing and dedicated staff.   I call them the "Snow Storm Micro Olympic Team."
Anatomic Pathology

Transcriptonist Lillian Goldberg and Histology Technician Rebecca Howard volunteered to cover the Surgical Pathology weekend service along with the Dr. Lorraine Racusen, the SP charge resident and the Surgical Pathology Assistant on call. Azin Nozari, cytogenetics technician braved the blizzard conditions to provide operational support to the cytogenetics laboratory. Little did anyone know, blizzard 2 was just around the corner.
62 anatomic pathology staff covered blizzard 2 operations. Manager and staff on site represented  cytopathology, reference histology, cytogenetics, molecular diagnostics, electron microscopy, immunofluorescence, immunopathology and surgical pathology along with a dozen residents, Drs. Westra, Boitnott, Burger, Racusen, Lakey, Cuda, and O'Malley. A special thanks to Frank Barksdale for his willingness to pick up staff during this extraordinary storm!
Staff were entertained by movie night and a Belgian waffle breakfast thanks to Janice Alvarez, Anita Hopkins, and Hazel Richardson.
53 Anatomic Pathology staff spent one or more nights at the hospital. Truly exceptional work by all!
Johns Hopkins Bayview Lab Manager, Suzy Nicol, reported, "Bayview did extraordinarily well.  My morning phlebotomists had a slumber party on Tuesday and Wednesday nights in the Blood Draw area.  They even said it was a great bonding experience!   Our Lab ran 24/7 and there were 25-30 people spending the night at the Hospital."
Bonnie Hammond, the Lab Manager of Howard County General Hospital said that dedicated weekend staff crossed their fingers and wore their pajamas inside out and backwards hoping for good luck and wanting it not to snow over the weekend again!  It worked, at least for the second snow storm of the week.   The snows came and the hospital Emergency Management Team was activated, but the laboratory staff weren't going to depend on them to be sheltered with comforts from home.   Jennifer Black reported to work with enough home cooked chicken noodle casserole, beans and rice and spinach with tomatoes to feed all of the laboratory staff throughout the blizzard.  She even took the time to choose a menu that honored our staff diversity and those with dietary restrictions.   Donna Alexander brought air mattresses, towels, washcloths, toothbrushes and more!   Luckily, she also bought an air pump for the mattresses which the hospital's Emergency Management Team borrowed because it was a purchase they overlooked.  Errick Roberts went above and beyond, picking up and dropping off his weekend co-workers ensuring all arrived and got home safely.   The efforts of many laboratory staff contributed to the Hospital's ability to maintain quality service to our patients during the blizzards.  Many left their families at home to ensure the work team continued.   To all, even those not mentioned above, she sincerely thanks them and said each deserves an Olympic Gold Medal for teamwork and service dedication.
So despite the lack of sleep, the long hours and a few discomforts, the teams that covered our three hospitals were helpful, congenial, and many viewed this as "one big pajama party."  People felt a sense of dedication and accomplishment.  The fact that leadership such as Dr. Jackson and Al Valentine were here did a lot to reinforce the importance of one's commitment to patient care.  Beyond a doubt, we have a very wonderful and dedicated team of "snow angels" who provided exemplary service to the patients and physicians of the Johns Hopkins Hospital.  A special thank you to all of you who stayed and dedicated your time and energy to providing exceptional patient care.    We are very proud of you!
To show our thanks for their tremendous dedication and hard work, there will be a Snow Thank You Luncheon in each division the week of March 1st.
With gratitude,
The Pathology Managers  of JHH, JHB, and HCGH