On September 11, 2015, The Johns Hopkins Hospital Specialist in Blood Banking Technology Program celebrated its graduation ceremony. This year's graduates were Nadjay Hettchen and Mary Madden.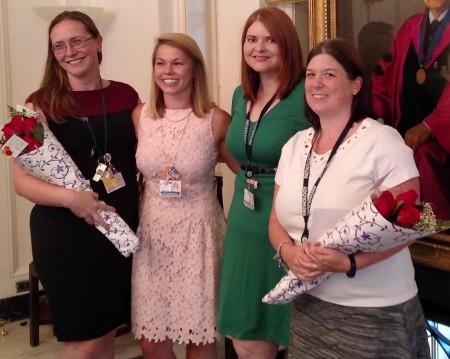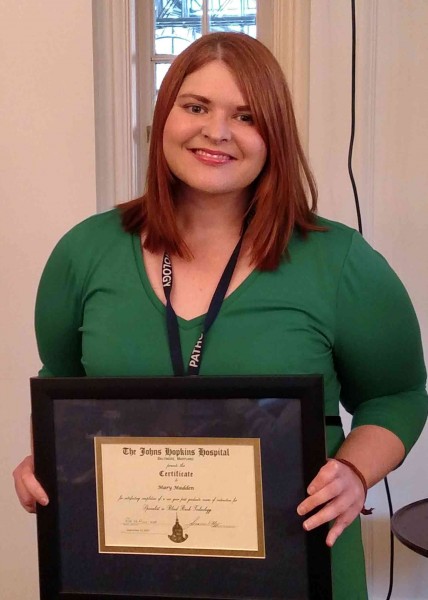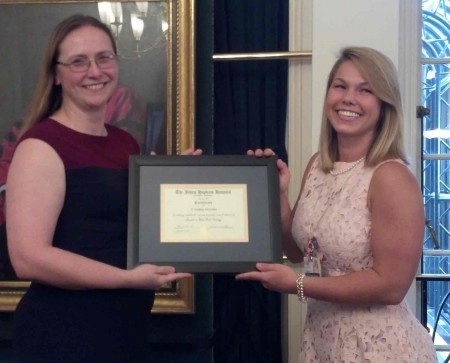 Held in the beautiful and historical Wilmer Portrait Room, the celebration included family members, faculty, administration, and the entire Transfusion Medicine team.  Nadjay and Mary both put forth a strong effort in class, on the job, and in their dedication to complete their research projects.
When asked what brought her to our program, Mary replied,
     "After working in a small pediatric hospital in their Core Lab, I realized how much I missed the challenges and exuberance of blood banking.  I decided to return to my blood banking roots and undergo the Specialist of Blood Banking program at The Johns Hopkins Hospital."
Nadjay explained what she found most surprising during her study,
    "The most surprising thing was learning about the many blood groups and antigens I never knew existed. I knew I would learn a lot, but there were whole blood group systems that were completely new to me, and I found the unique characteristics of each blood group system to be very interesting."
Mary was grateful for the time she spent with Transfusion Medicine and stated,
    "I most enjoyed exploring the many facets of transfusion medicine under the guidance of Sue Shirey, Lorraine Blagg, and Dr. Karen King while working in the Reference Laboratory here.  I further enjoyed working as one of the team members. The staff here is incredible and I could not have asked for a better crew to work with."
Nadjay and Mary have accomplished a lot in the past year, and Nadjay described her accomplishments,
    "I gained knowledge and skills for a field I have passion for.  I had opportunities for research, I met influential individuals, I wrote my first real research paper, and still have more wonderful opportunities to look forward to in the future."
We in Transfusion Medicine look forward to the many accomplishments that our SBB graduates Nadjay and Mary will have in the future and each tells us of their future plans.
Mary will continue her blood banking career with the American Red Cross at the Kansas City Immunohematology Reference Laboratory.
Nadjay plans to remain here at Johns Hopkins Hospital and learn and grow within the Division of Transfusion Medicine.  She also plans to complete the research she started in the program by presenting a poster at the AABB annual meeting in October in Anaheim, California and publishing her research paper.
We are very proud of our graduates Nadjay and Mary and wish them all the best in their future endeavors.   They have shown true dedication by working full time in our busy Blood Bank and completing the strenuous program requirements.  Up next —passing the ASCP certification exam (SBB) and I have no doubt they both will pass with flying colors!

Lorraine N. Blagg, MA, MLS(ASCP)SBB
Program Director, Specialist in Blood Banking Program
Education and Development Coordinator
Transfusion Medicine Division
Department of Pathology
The Johns Hopkins Hospital