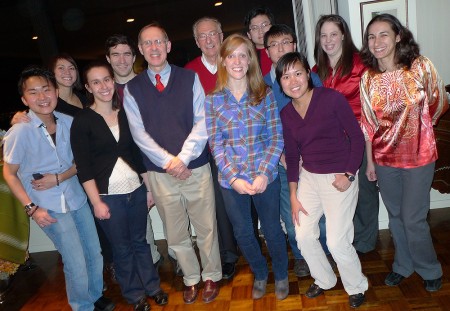 Students with Dr. Jackson and Dr.Rose
The idea of starting a Graduate program in the Department of Pathology was sparked by Dr. Gary Pasternack, and by 1999 the Graduate Program in Pathobiology was started.  Five students entered the program that year led by Dr. Pasternack and Dr. William Merz as Program Co-Directors, Dr. Noel Rose as the Admissions Chair, and over 20 faculty members.
Each year the program has grown steadily, and with its current enrollment of 42 students and 70 faculty members, it is now celebrating its 10th anniversary. The program is incredibly diverse with students from over six countries, including Singapore, Sweden, Korea, Taiwan, China, and Russia.   Some students come to the program with a bachelor's degree, others have a master's degree, others a medical or veterinary degree – students' educational backgrounds are also diverse.   Pathobiology students are generally in the program for 5-6 years, and every year new students begin the program.   The first year the focus is on course work and the students have to complete three laboratory rotations before they choose a thesis lab.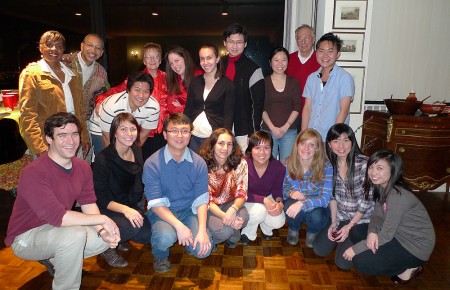 Students with Dr. Rose and Mrs. Rose
The students in the Pathobiology Program do laboratory research with a focus on disease mechanisms in five main areas:  neoplasia; neuropathology; immunopathology; microbiology and infectious disease; and vascular biology and hemostasis.
While each student focuses on one main research area, they are exposed to research topics and news outside their primary area of study through two meetings a week, the Pathobiology Journal Club and the Pathobiology Student Meeting.
Outside of the laboratory this past year, the students have taken a field trip to the Mutter Museum in Philadelphia where they got a guided tour from Dr. Barbara Crain, participated in the Relay for Life on the Johns Hopkins Homewood campus, tried their luck in Baltimore's specialty duckpin bowling, and enjoyed an annual holiday dinner at Dr. Rose's home, our Program Director.
Jessica Lidstrom
Chief Graduate Student
Pathobiology Program
lidstrom@jhmi.edu