Questions & Answers with Marc Halushka, M.D., Ph.D., the Co-Director of the Johns Hopkins Tissue Microarray (TMA) Core Facility
Q:    What exactly is digital slide scanning?
A:    Digital slide scanning is the process of taking any type of glass or histologic slide and having it digitally photographed at high resolution.  The digitally scanned slide can then be viewed using free software on any computer anywhere in the world.
Q:   What is digital slide scanning used for?
A:   At Johns Hopkins, the primary uses for digital slide scanning are for archiving slides from research projects, digitally storing teaching slides, and scanning slides stained with histochemical or immunohistochemical markers for research studies.
Q:   What services does the TMA Core Facility provide?
A:   We have an Aperio ScanScope® CS system that has excellent scanning capabilities, making it possible for us to offer scanning of either traditional histologic slides or TMAs at 20x or 40x resolution. Currently, we do not have high-throughput fluorescence capabilities, but we hope to obtain them in the near future.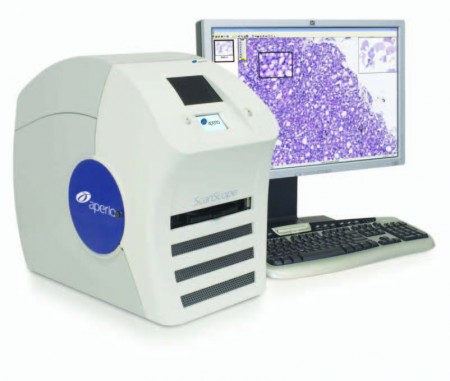 Figure 1.  Aperio ScanScope® CS System
Q:   Who can use the TMA Core Facility?
A:   The Core Facility is designed for the entire Johns Hopkins community of researchers and pathologists.  We also provide services to institutions and companies outside of our Hopkins community, although we charge non-Hopkins groups slightly higher prices.
Q:   Speaking of prices, what is the cost for your services?
A:   Because of the generosity of our Department, we are able to keep prices low.  It really depends on the service needed, but across the board,  our scanning services are highly competitive and an affordable option for all types of uses.
Q:   Do you provide anything beyond slide scanning?
A:   We offer multiple imaging analysis programs free of charge.  The primary tool, FrIDA, was designed internally and developed by Toby Cornish M.D.,  Ph.D.,  along with James Morgan, B.S., from the TMA Core.  It allows users to quantify immunohistochemical staining levels and intensity, allows for cell/nuclear counting, and many other analysis options.  It can be used on any type of image.  We provide some basic free explanation of the software and more in-depth consulting on research projects using these tools.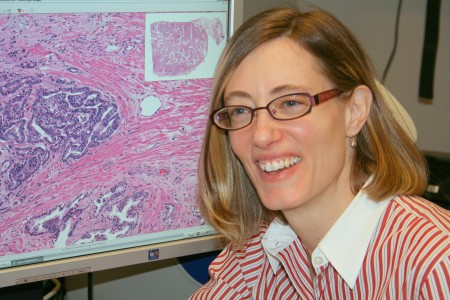 Figure 2.  Kristen Lecksell, Imaging Specialist.  Photo by Roger D. King  © 2009.
Q:   Where are you located?
A:   Our scanning facility is located in the Room 2222 Suite of the Weinberg Building. The inner room is number 2232.  We have a straightforward drop-off service for slides and a quick turnaround time on projects.
Q:    Please tell me more about your faculty and staff.
A:    Our web site provides links and background of our scanning services as well as our TMA services, pricing, and personnel: http://tmalab.jhmi.edu/scanning.html.
TMA Imaging Core Facility Key Facts:
Web Site:        http://tmalab.jhmi.edu/
Location:        Weinberg Room 2222, Surgical Pathology Suite
Telephone number:     410-502-7452
Contact Info:
Kristen Lecksell, Imaging Specialist (kleckse@jhmi.edu )
Angelo DeMarzo, M.D., Ph.D., Director (ademarz@jhmi.edu )
Marc Halushka, M.D., Ph.D., Co-Director (mhalush1@jhmi.edu)
Helen Fedor, Tissue Microarray Lab Manager (hfedor@jhmi.edu)