The American Society of Clinical Pathologists held its annual workshops geared toward the medical laboratory professional on May 11-14, 2010 at the Sheraton in downtown Baltimore. Almost 200 Pathology employees attended, including Johns Hopkins Hospital, Johns Hopkins Bayview, Howard County General Hospital, and our Outreach sites. We asked some of our participants to give us a brief review of their learning experience and here's what they had to say.
MAY 11, 2010
Molecular Diagnostics in Hematology
"I thought the conference was very good learning experience. As a recent med tech graduate, I took a course in molecular diagnostics but I wasn't really aware of how hematology could be related to this until I went to the conference. It was very fascinating and I was very impressed to know that I, as a med tech, can do so much in molecular diagnostics."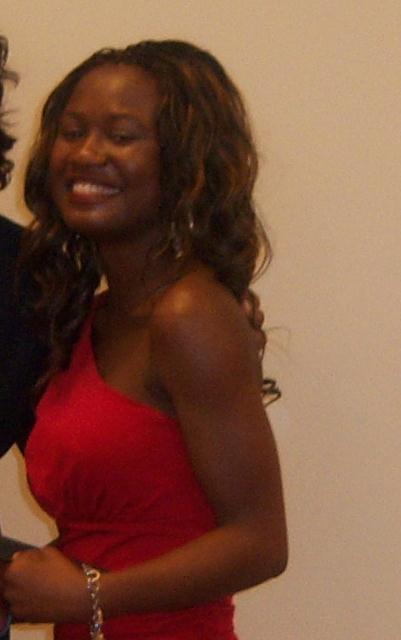 Yayra Amedeka
Lab Technician II
JHH Core Lab
Practical and Daily Applications of Quality Control in the Clinical Laboratory
"I truly enjoyed the QC presentation, it was organized, informative and the speaker was very competent and knowledgeable. The hematology case study presentation was also educational and clinically oriented for most part."
Sudi Soleimanpour
Outreach Supervisor/Technical Operations
Department of Pathology
"I am very grateful for Johns Hopkins Pathology/SMILE for many opportunities to enhance my professional development. The talk was excellent and very much relevant to SMILE's daily operation; it not only covered the principal and overview of the key aspects of the subject but more importantly, included troubleshooting guidance, updated CLSI guidelines, best practices, explored new technologies /methods as well as providing case studies and resources."
Mandana Godard
International QA/QC Coordinator
Patient Safety Monitoring in International Laboratories (SMILE)
"Michael Toyoshima provided a very engaging approach to QC allowing for a fresh look at established practices. This was an especially worthwhile learning experience that all technologists would benefit from hearing."
Heidi Nicewander
QC Technologist, Core Lab – Hematology
Johns Hopkins Hospital
Mastering Phlebotomy Essentials
"Overall this workshop was very good and very interesting. It was a very good refresher course. We learned a few new things such as the correct way to get a full draw of a coag specimen using a butterfly."
Simmerjit Gujral
Phlebotomist
Howard County General Hospital
"I very much enjoyed the seminar. It answered some questions and explained the laboratory necessity of accurately filled samples. I will be relaying some of the "tips" to our nurses information pertaining to how sample accuracy can be influenced by how samples are drawn. This information is not always relayed or has been forgotten. The seminar had a wide range of experience participants I very much enjoyed the interface. The micro seminar was good also, although I felt I needed to be in a space suit after I left (germs!!!!)"
Patricia Kastal
Lead Technologist, Hemapheresis and Transfusion Service (HATS)
Johns Hopkins Hospital
May 12, 2010
Update in Clinical Chemistry: Pregnancy and Women's Health Issues
"This was a new topic at the ASCP. Not only was it enlightening but also disheartening. There was much discussion about the relationship between B-hCG and TSH. I had not realized that during pregnancy, B-hCG mimics TSH, thus causing the appearance of hypothyroidism. Therefore, during the first trimester as B-hCG increases, TSH and FT4 decrease, while TT4 increases. It was stated that it is not necessary to treat the hypothyroidism unless the TSH level is greater than 10."
"Currently most places, including Johns Hopkins, use S/A Ratio and Gestational Age to determine FLM. With the scheduled retirement of the TDX sometime in the near future, much discussion gave rise as to what should be its replacement with regards to FLM. The Foam Stability (obsolete in most places), the L/S ratio via thin-layer chromatography, PG via Agglutination, and Lamellar Body Count via the Coulter Counter have all been tested, with Coulter counter being the preferred methodology. It was stressed upon us that if our institution had not already begun collecting specimens and correlating the results with alternative means, then we are behind the proverbial 8 ball. This is especially true if you have plenty of specimens but if they are frozen, the amount of lamellar bodies decreases since it appears freezing fractionates the lamellar bodies."
"It was also discussed that FFN testing is a useless test. More and more hospitals are discontinuing its usage. Doctors are just utilizing the test as a means of coverage in lawsuit cases."
"The frequency of Edward syndrome and Down's syndrome with regards to a woman's age and race was shocking. For those of us over 35 and childless, this information was like being hit with a baseball going 98 MPH. However, one bright spot is the decreased number of children born with neural tube defects due to the introduction of folic acid into most of our food supply."
Avie Scates
Clinical Laboratory Scientist III
Core/Specialty Labs at Johns Hopkins Hospital
A Case History Approach to a Review of Hematology
"The workshop, A Case History Approach to a Review of Hematology given by Kathleen Finnegan (a very energetic and engaging presenter) was great! The morning was dedicated to normal hematopoiesis and cell maturation, with the afternoon reinforcing this by way of case presentations. Put this on your list to attend next year!"
Alice Fuller
Physician Assistant, Lead Transfusion CoordinatorHATS
Johns Hopkins Hospital
Introduction to Molecular Diagnostics: The How, What, and Why
"It was very interesting to me yet I'm not experienced in that field at all. The speaker spoke in depth about automation which helps keep up with the demand of the laboratory without adding any other people. We learned about DNA testing, PCR testing, and other molecular tests. Our instructor thought was one of the fastest-growing segments of the laboratory and in terms of dollars, the revenue will be even higher than esoteric testing."
Nelson Short
Lead Technologist, Core Lab
Johns Hopkins Bayview
"I appreciated the opportunity to attend an ASCP-sponsored event off campus that will contribute to my continuing education requirement. There was an opportunity for networking with other lab professionals and the workshop provided a good basic knowledge of molecular diagnostic testing. The presenter was extremely knowledgeable on the topic and covered materials from basic genetic concepts, all the way through the various molecular diagnostic testing procedures that are currently available. The case studies were particularly interesting, as that helped me to understand how testing is used to diagnose patients."
Meredith Hurston
QA Technologist/Patient Data Safety Coordinator
CQI Office (Continuous Quality Improvement)
Department of Pathology
MAY 13, 2010
LEAN Boot Camp
"The LEAN Boot Camp for Laboratories was a great introduction to the LEAN concept. Sue Kozlowski led the class. We covered the basic concepts and philosophy behind the LEAN concept and discussed the tools and how we could apply them to the lab. We had an action- packed day and were actively involved doing an exercise different ways to show us how the different concepts of LEAN come into play. We were able to come up with the most efficient way of performing the process with the least stress on the employees. It was a great way to review the concepts and we walked away with many handy tools to take back to our areas. It was also nice to hear a fellow Midwesterner speak – I remember when I moved here and no one knew what POP meant!"
Estelle Piwowar-Manning
Assistant Director
HPTN Central Laboratory
Advances in Laboratory Technology
"It was very informative and interesting workshop, and we learned a lot, especially with all the clinical cases that the speakers presented to us. Those updates gave us additional knowledge that we could apply in our everyday practice of our profession. In addition, all the presenters were great, knowledgeable and and experts in their respective fields.
Hopefully we could attend more workshops like this."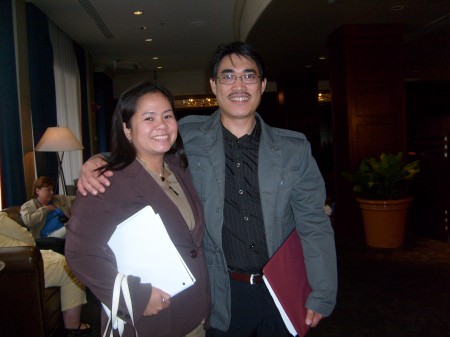 Djoanna and Mario Antonio
Clinical Laboratory Scientists III
JHH Core Laboratory
Down and Dirty Coagulation: Practical Solutions and Answers:
"The course was an excellent review for persons who are not up on the latest techniques or need a review n the latest coagulation pathways that were discovered 20 and 30 years ago. The speaker was enthusiastic and funny and she kept us on our toes. A different aspect to her teaching style was that she interspersed her case studies throughout the course instead of giving them out at the end. That was a different and a good thing to do."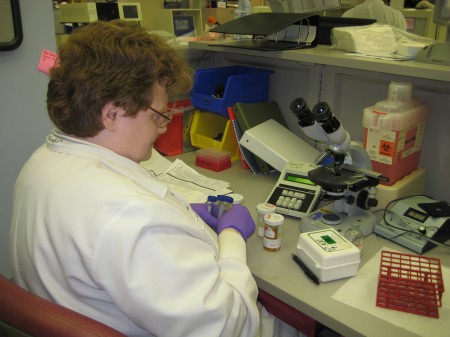 Mary Catherine Cox
Clinical Lab Scientist III
Core Lab Hematology
MAY 14, 2010
Strategies for Success in the Blood Bank
"I really liked this workshop, the teacher was very engaging and very knowledgeable. It gave me more insight into troubleshooting in the Blood Bank, which was very useful to me as generalist."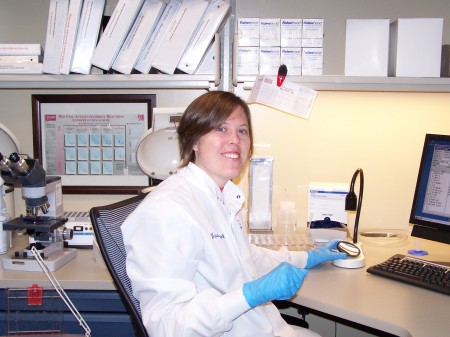 Laura Kissock
Clinical Laboratory Scientist II
Howard County General Hospital
Contemporary Pathogens
"The teacher for the Contemporary Pathogens class was excellent. Not having worked in micro for many years I received a new appreciation for the complexity of the field and the skills of those that work in it. It helped me to better understand the microbiologist's role in working to save and improve lives for many patients. The investigative and involving nature of the field make it exciting."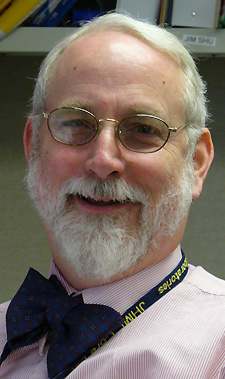 Kurt L. Michael
SMILE Project Manager
Patient Safety Monitoring in International Laboratories
(SMILE)
Body Fluid Analysis: Completely Analyzed
"I attended the ASCP workshop on " Body Fluid Analysis: Completely Analyzed!" The course was divided into four sections:"
Body cavity terminology, fluid formation physiology, collection, stability, rules and testing techniques, and normal cell morphology
Body cavity fluids with case studies
CSF and Synovial fluids with case studies
Quality assurance and challenge cases
"I found all of the material to be very informative. I was especially fascinated with the case studies. The case studies pull all of the information together to give a clearer picture of what is going on with the patient. We used information from hematology, chemistry, microbiology, cytology, biopsies, specialty stains and many other tests. Patient's history, signs and symptoms and other tests performed on the patient, were discussed to give us a clearer understanding of the disease process Too often we don't see the whole picture, only our little part of it. The instructors were very well organized and knowledgeable. The information was very relevant. I will be submitting several suggestions to my supervisor for improving our current procedures. I am very grateful for the experience."
Gwendolyn Artis
Clinical Lab Scientist III
Johns Hopkins Bayview