The Histology Lab is a truly a Green Lab!   Our staff became actively involved with "greening" our Lab in late 2010.   We made lots of changes, reduced hazardous waste by conserving solutions, and saved the Department a lot of money.  The purchase of an automated stainer that produces no hazardous waste was another step in the right direction.   All of our reagent containers are recyclable, but the disposable cover slip containers also looked reusable.    We brainstormed for ideas to re-use them.  Hmmm-m-m-m, seedling starters — now that was a novel idea!
Tomato seeds were planted, and to our amazement and delight the little plants grew strong under our lab lighting.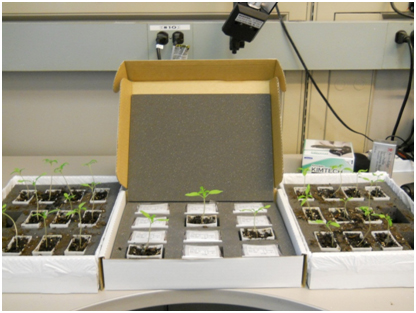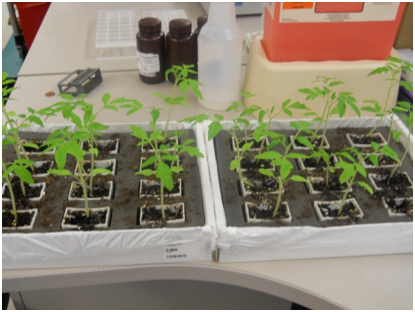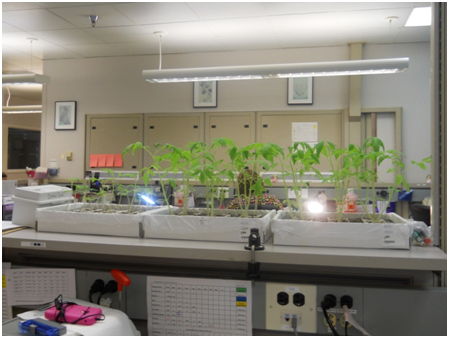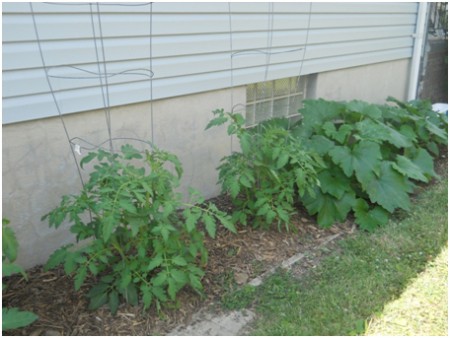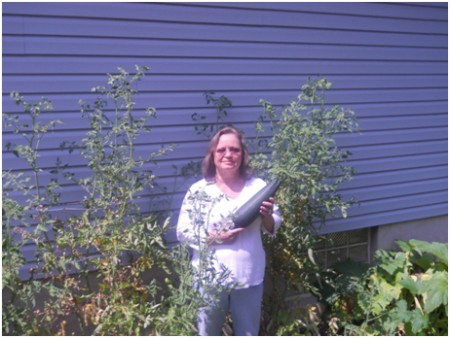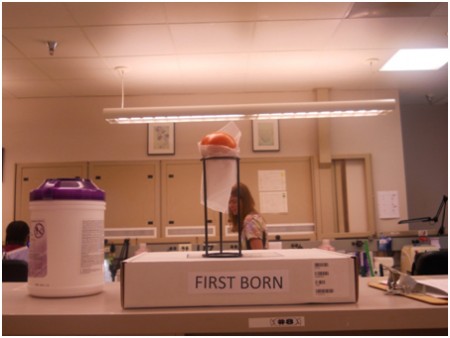 Representatives of the cover slip manufacturer got word of our novel seedling starters and took pictures of our plants which were published in their newsletter under the headline of "Look What They Are Doing at Hopkins."   The manufacturer also used these photographs in their training program.   Last April I included photos of the tomato plans in my presentation, "Going Green: The Journey," at the regional convention of the National Society of Histotechnology in Williamsburg, Virginia.   The plants were still small then, and after the presentation I was asked how would I handle the "adoption" of the tomato plants … after all, they had become national celebrities!
I decided to take pictures of the tomato plants "from lab to garden" and created a PowerPoint presentation which has been shared nationally.  The pictures above were taken from the presentation.    This year our pictures were entered in the Earth Day Photo Contest here at Hopkins.   In May we were notified that the Histology Lab in the Department of Pathology had won the 2013 Sustainability Award for the Most Green Department!   All of us were treated to a free deli lunch, courtesy of the Department of Nutrition.   Our Department provided each of us with a T-shirt screened with an original design by our supervisor Debbie Duckworth that features the tomato plants in the recycled cover slip containers.
In October 2012 in collaboration with Stericycle, JHH rolled out a fully integrated waste management program to introduce recycling and decrease regulated medical waste.  Stericycle trainers visited the Histology Lab and evaluated our waste products – all of which at the time was being disposed of in red medical waste bags.   We were told what could be recycled and were given green bags.  We hauled our recycled trash to the waste room during the time Stericycle was still very busy evaluating the entire Hospital and had not yet trained the EVS staff in our building.  Now that Stericycle has provided us with enough green waste containers and Environmental Services can handle our volume, we recycle 350 gallon-size plastic bottles, 200 paper bags from paraffin, 60 boxes of Kimwipes™, 30 boxes from gloves, all the reagent boxes from our stainer, plus all the boxes these items came in, PER WEEK!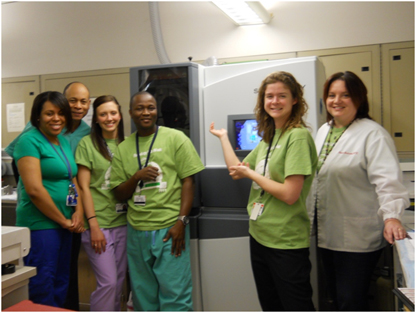 I am so proud of our accomplishments and would like to quote from the article in The Johns Hopkins Hospital Green Newsletter (June 2013):   "Their creativity and commitment to sustainability helped reduce hazardous waste, build teamwork, and set an example for all employees at Johns Hopkins that sustainability can be fun and easy."
IF you are interested in learning more about Going Green and this project, please contact me.
Karen Wittler