2020 has certainly been a unique year requiring everyone to adapt to a new way of life that included conversion to virtual meetings and rotations in record time. Even through a difficult year our Specialist in Blood Banking (SBB) students successfully completed the program and graduated on September 11, 2020. After a moment of silence to remember 9/11 our graduates were able to celebrate with several transfusion medicine staff and faculty, and with their families joining us via Zoom.
We are so proud of our graduates and happy to announce that they all passed the SBB certification exam through the American Society of Clinical Pathology (ASCP).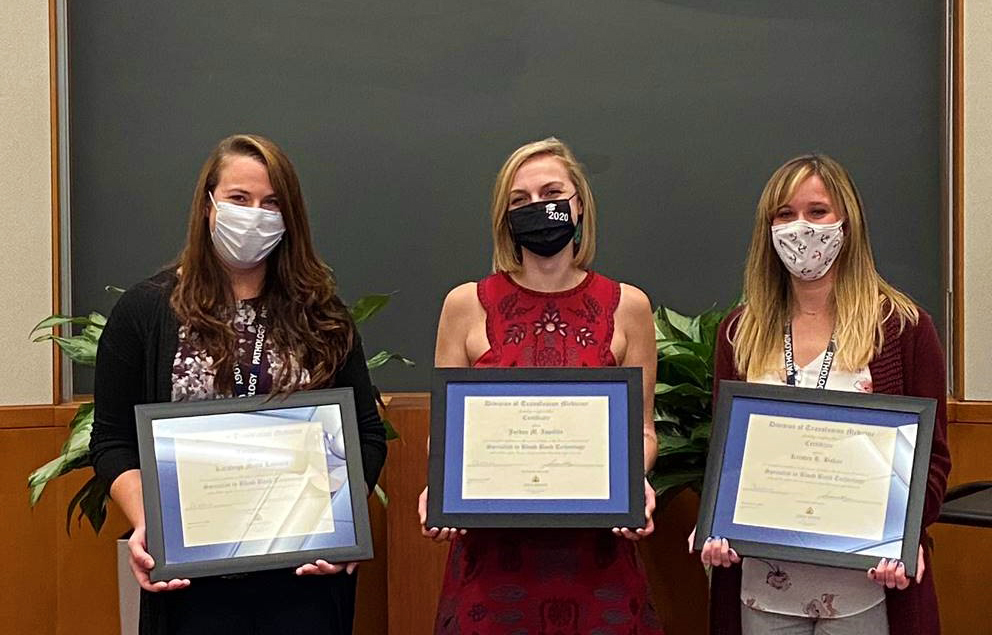 Kristen Buban joined the Johns Hopkins Hospital transfusion medicine laboratory in 2018 after previously working in the blood bank at University of Maryland Medical Center. Kristen graduated with her bachelor's degree in medical laboratory science in 2016 from the University of Delaware. It has been great to see Kristen grow over the last year. Kristen's response to her future goals are:
            "I came to Johns Hopkins for the SBB program because I'm very passionate about transfusion medicine and wanted to expand my knowledge in all things blood banking.  I enjoy learning and am always looking for the next thing.  With my SBB I plan to advance my career by pursuing management and supervisory roles in the future, as well as any technical roles that may open up."
Jordan Ippolito was accepted into the SBB program and began working in the transfusion medicine laboratory in June 2019. She previously worked at Flagstaff Medical Center in Flagstaff, AZ. Jordan received her bachelor's degree in biology in 2013 from Colorado State University and completed her medical laboratory science training in 2015 at University of Nebraska Medical Center. She has shared her passion and has a bright future ahead of her. Jordan's response to her SBB experience is:
            "I pursued the SBB program to advance my knowledge in the field of transfusion medicine. I plan to use what I've learned to improve patient safety, and to spread awareness about the good work the transfusion medicine community does! I'm hoping what I've learned has many different applications, including advancing work being done in cellular and molecular therapy, and one day building a CLS or SBB training program."
Karaleigh Leonard came to the Johns Hopkins Hospital transfusion medicine division in 2016 following graduation from University of Maryland with a bachelor's degree in medical and research technology. She has recently been promoted to Lead Technologist in transfusion medicine and we look forward to her seeing her grow in her new role.
The Johns Hopkins SBB Program is a 52-week work-study program accredited by the Commission on Accreditation of Allied Health Education Programs (CAAHEP). Students are MT, MLS or BB-certified and work in the Transfusion Medicine Laboratory to gain experience. The program consists of immunohematology reference lab training, didactic lectures, student presentations, a research project, and student rotations.
Our program website has additional information about The Johns Hopkins Hospital Specialist in Blood Banking Technology Program. If you are a graduate of our program and do not see your name listed, please contact Lorraine Blagg, lblagg1@jhmi.edu.
Lorraine N. Blagg MA, MLS(ASCP)CM SBB
Pathology Education & Development Lead
The Johns Hopkins Hospital