At the Johns Hopkins Medicine Patient Safety Summit held on March 8, 2019, Angela Roots, a lead med tech in Transfusion Medicine, was recognized for her extraordinary actions to prevent harm to patients.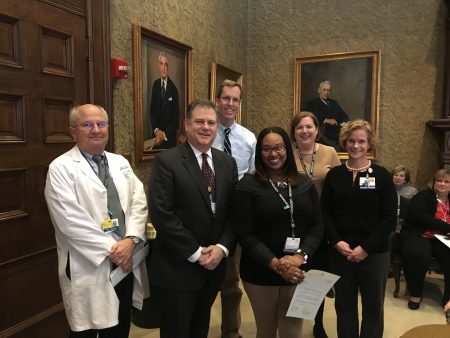 Angie went above and beyond expectations after she received and reviewed a pediatric patient's diagnosis of Ewing's sarcoma on a product-prepare order. Angie brought the need for irradiated blood to the attention of the Blood Bank attending who agreed the patient should receive irradiated products to prevent transfusion-associated graft vs. host disease (TA-GVHD).    The HERO Event Action Team voted unanimously to award Angie a Safety Star.
Each year at the Patient Safety Summit, two Safety Star recipients from each JHM entity receives special recognition for their contributions to patient safety. Angie was again unanimously voted as one of the JHH recipients to be recognized.
Angela adds, "I knew I wanted to be a CLS in high school. I enjoy being an integral part of patient care and patient safety from behind the scenes. I like to believe that I'm making a difference!"
Congratulations, Angie, you certainly do make a difference! Thank you for your commitment to our patients.
Val Strockbine, MSN, RN, CPHQ
Transfusion Safety Officer
The Johns Hopkins Hospital