Our AABB-accredited and CAAHEP-accredited (Commission on Accreditation of Allied Health Education Programs) Specialist in Blood Banking (SBB) program had another successful year.  Our graduates were Keerthana "Keeths" Ravindran and Rebecca "Reba" Perry.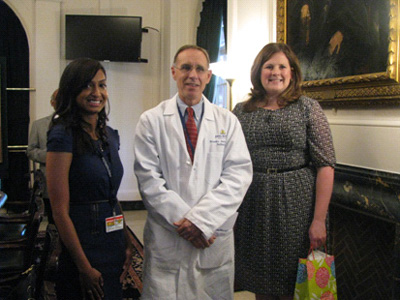 Many staff and faculty attended their graduation ceremony in the Wilmer Portrait Room on September 13, 2013, to celebrate their dedication and accomplishments.  Keeths and Reba did an excellent job.
Keeths Ravindran had a poster presentation of her SBB project at the American Association of Blood Banks (AABB) meeting this October in Denver, Colorado.  Keeths wrote about the program and her future plans:
I was fortunate to have worked with such dedicated and influential personnel during my time at The Johns Hopkins SBB program.  After becoming certified as a Specialist in Blood Banking, I plan to continue my education by obtaining my Quality Auditor Certification.  I hope to use both certifications to pursue a position to help standardize laboratory solutions, implement and develop quality control programs, and enforce compliance with federal regulations.  The training and education from the program has empowered me with the knowledge base and the skill set to achieve these goals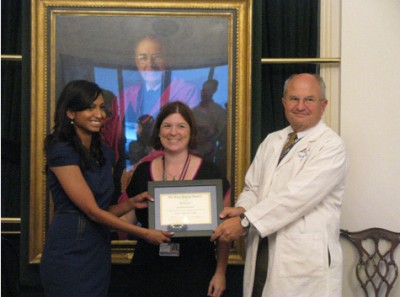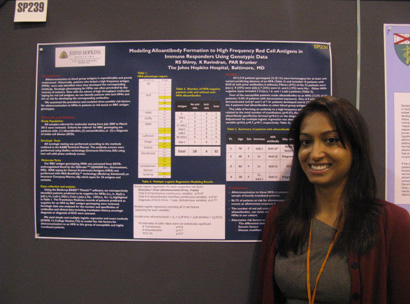 Reba Perry was awarded two scholarships to national meetings. She received a scholarship from the South Central Association of Blood Banks to attend their 2013 Advanced Immunohematology and Molecular Symposium in Baton Rouge, Louisiana. She has also received the AABB Suzanne Ledin Travel Scholarship Award to attend the AABB meeting this October in Denver, Colorado. The Suzanne Ledin Scholarship Award is presented annually to two SBB students for their strong interest in educating and training others in the field of transfusion medicine. Since her graduation, Reba has also been successful in passing the ASCP SBB certification exam. Reba wrote about her experience and future plans:
I am thankful for the opportunity to have been a part of the Johns Hopkins SBB program and a member of the Transfusion Medicine team.  I have learned so much about current blood banking practices from many members of the Hopkins faculty and staff. 

Although I am unsure of the next step in my career, my passion for immunohematology, transfusion safety, and education have remained at the forefront, and I look forward to finding a position that will incorporate and continue to cultivate these areas where I am very excited to make a difference in our field

Reba receives her certificate from Lorraine Blagg and Dr. Paul Ness .

Reba receives the Suzanne Ledin Travel Scholarship Award at the AABB meeting in Denver.
The entire Transfusion Medicine Division congratulates Keeths and Reba on their SBB graduation and their many accomplishments over the past year and wishes them every success in their career paths.
The Johns Hopkins SBB Program is a 52-week work-study program where the employed medical technologist or BB-certified technologist works in the Transfusion Medicine Lab to gain experience. The Program consists of immunohematology reference lab training, didactic lectures, student presentations, a research project, and student rotations.   The requirements for acceptance into The Johns Hopkins SBB Program are ASCP certification as a medical technologist or technologist in blood banking and a minimum of two years full-time blood bank experience. The application deadline is November 30 for consideration in the class that begins in September of the next year. There is no tuition for the program; students are full-time employees (with benefits) of Johns Hopkins Hospital who work 40 hours per week in the Transfusion Medicine Lab.
Lorraine N. Blagg, MA, MLS(ASCP)CM SBB
Education & Development Coordinator
Transfusion Medicine Division
Department of Pathology
Johns Hopkins Hospital