Core Lab and Pathology Administration Attend the American Association of Clinical Chemistry (AACC) Annual Convention
July 25 – 29, 2010, Anaheim, California
A large meeting, as usual, with over 1,700 exhibitors and at least 10,000 attendees.
To get a feel for it, check out the videos posted on YouTube, and see more photos at the AACC's website.  On YouTube, look carefully and you will see Roger Frye, Darryl Palmer-Toy, M.D., Ph.D. and Danni Meany, Ph.D.   Time spent at this meeting is divided between attending lectures and poster sessions, and viewing the exhibits.  At both the poster sessions and exhibits, it is always interesting to talk to other lab staff and company reps about common testing issues.  Vendor charity fundraisers also provided many opportunities to meet with lab professionals from around the world.  During a leukemia and lymphoma fundraiser, we were fortunate to meet  Diane Kracht, the Assistant Lab Director, and Rosetta Hickstein, the Core Lab Supervisor, from All Children's Hospital in St. Petersburg, Florida, the latest potential JHM affiliate hospital.  And, of course, we all know Al Valentine, Lydia Nelson, Mike Huppenthal and Danna Anderson.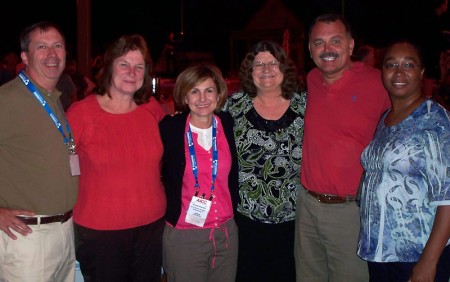 From left to right:  Al Valentine, Diane Kracht,  Rosetta Hickstein, Lydia Nelson, Mike Huppenthal, and Danna Anderson.
Here Are Some of Our Exciting Discoveries:
In a lecture on hCG testing we learned that there is a new diet which involves injecting oneself with hCG everyday for 17 days to lose weight!  This hCG is measurable in our assays and can cause a pregnancy test to read positive when the woman is not pregnant but on this diet. We thought this would be a rare occurrence until some members of the audience stood up to say that they had seen this situation in their patient population.   It is supposed to be very popular in the Southwest U.S. , and there are a number of web sites describing this diet. At the same lecture we also learned that athletes are starting to take hCG as it stimulates testosterone production and would not show up during testing for performance doping.
At one of the poster sessions we talked to lab staff from Huntsville, Alabama who were presenting a poster on their evaluation of an integrated chemistry/immunochemistry instrument.  One of the things they mentioned was checking for sample integrity on each of the samples sent to this instrument's immunoassay module by running indices for hemolysis, lipemia and icterus.  The process involves two sample cups aliquoted:  one goes to the chemistry module for the indices, and the other to the immunoassay module.Integrated software then alerts the operator if the indices exceed limits, so the operator can repeat the immunoassay test after diluting the sample to an acceptable index level.  We thought this was a good idea since we currently cannot spectrophotometrically check the indices on our immunoassay analyzers.
On the exhibit floor we had a meeting regarding lamellar body testing in amniotic fluid on hematology cell counters.  We made some good contacts regarding alternate testing.   Our current fetal lung maturity test is to be discontinued the end of 2011, and lamellar body testing is the strongest replacement candidate.
The diagnostic industry is responding to the need for HIV detection that is more suitable for screening large numbers of patients.   Presently, the manual laminar-flow oral fluid test requires the immediate attention of the Lab to manage testing, one to four patients at a time.  The availability of the HIV Type 1 & 2 Antigen/Antibody immunoassay, supported on an automated analyzer, may better serve this growing need.
Many manufacturers offer robots for specimen transport.  The typical capability of this technology is the ability to open doors, auto-navigate, detect and avoid obstacles, and auto alert with a calming voice when making a delivery.  Check this link to see this technology in action. Turn speakers on, the music is up-beat ambient.
Note: JHMI does not endorse this product.
A challenge the Core Processing staff manage many times daily is aliquoting micro-specimen  serum into tubes suitable for analysis on the Core Labs' various analyzers.  We searched for an automatic aliquoting instrument, however, none exists specifically for the challenge.  However, we did find one manufacturer that has an automated workstation that utilizes disposable liquid-level detection pipettes, clot detection, and flexible software capable of describing a possible solution for micro-specimen aliquoting.  We described a possible solution on-site with the vendor.   Unfortunately, it was cumbersome.
Osmolality testing that use systems supportive of micro-specimen volumes has been the standard for many years in our Lab.  The bad news is that the system requires a manual, precise deposit of 20uL of specimen perfectly into the bottom of the tiny cuvette — no small task.  The good news is that manufacturers will release a new model next year that completely automates pipetting.
Clean keyboard and mouse – wouldn't it be great if these were designed to be cleaned with bleach while scrubbing vigorously?  Thanks to one innovative company, there is a solution.  They offer disinfectable, waterproof keyboards and mice.  The keyboards and mice have off-switches to allow vigorous cleaning without worry of PC activity.  The devices are truly waterproof.  A unit was on display and working fine underwater.
Of Special Note: AACC Proteomics Division – Award for Outstanding Research in Proteomics
"Optimizing analytical assay performance for biomarker discovery and validation: A study of autoantibody biomarkers for the early detection of colorectal cancer"
Congratulations to Joely Straseski, Ph.D., our Clinical Chemistry fellow
Hot Topics in Point of Care Testing
Full day short course by William Clarke, Ph.D., M.B.A., DABCC, our Director of Point of Care Testing
And Finally:
The AACC exhibits, weeklong scientific education sessions, and exchange of ideas with other lab professionals make this one of the world's premiere opportunities for learning and exchanging information  with leaders in the scientific community.   It is  opportunities such as these, not only in chemistry, but all areas of the  laboratory,  that  have  helped advance the ideas and state-of-the-art technologies currently utilized in our  Core Laboratories.
Next year's Annual Meeting and Clinical Expo is in Atlanta, Georgia, July 24-28, 2011.
Mary Jo Bill, C(ASCP)
Supervisor, Special Chemistry
Core Laboratories
Greg Gerhardt, MT(ASCP), M.S.
Supervisor, General Chemistry
Core Laboratories