Congratulations to the Pathology Continuous Quality Improvement (CQI) Office for achieving Green Office Certification. The certification, awarded by the Johns Hopkins Hospital Sustainability Network, provides any office or department an opportunity to become more sustainable and be recognized for their efforts. As a member of the Green Team, Natalie Wallace led her co-workers through a program checklist that provides strategies to reduce energy consumption, modify waste management practices, make smart purchasing decisions, and engage staff on sustainability. After reviewing the checklist for current practices and initiating new strategies, the CQI Office was audited by the Office of Sustainability and received points that qualified the office to become Green Certified.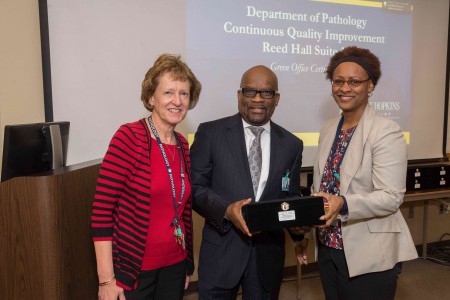 Natalie Wallace, along with Barbara Parsons, attended an America Recycles Day celebration with the JHH Green Team on Nov. 18th where Kenneth Grant, vice president of general services for The Johns Hopkins Hospital, awarded certificates to the newest Certified Green departments and offices. The CQI Office was one of 14 Johns Hopkins Hospital offices and departments receiving certification.
The celebration also included guest speakers Laura Armstrong with Maryland Department of the Environment (MDE) and Sabrina Harder from U.S. Green Building Council's Baltimore Office. They explained how The Johns Hopkins Hospital's diverse sustainable initiatives assist in reducing negative environmental impacts locally, nationally and globally.
America Recycles Day, a national initiative of Keep America Beautiful, is the only nationally-recognized day dedicated to promoting environmental citizenship, encouraging individuals to reduce, reuse and recycle. This past year at The Johns Hopkins Hospital recycled over 2.5 million pounds of materials.
The next Green Office Certificates will be awarded Spring 2016.
For questions about recycling or sustainable programs at Johns Hopkins, please email Sustainable@jhmi.edu. More information about the Johns Hopkins Sustainability Network and Green Office Certification can be found at: http://sustainability.jhu.edu/.
Barbara Parsons, MA, MT(ASCP)
Assistant Director, Quality Management
Department of Pathology
The Johns Hopkins Hospital