Anyone who ever worked with the late Dr. Patricia Charache knew of her great devotion and contributions to the field of microbiology and infectious diseases and to the medical profession as a whole, her deep and abiding commitment to patients and patient safety, her leadership and accomplishments not only within the Department of Pathology but throughout Johns Hopkins Medicine and the world, and how she served as a role model to women physicians and scientists.
On June 9 during the 38th Biennial Meeting and Reunion Weekend, Dr. Charache's husband Samuel Charache, M.D. (Professor Emeritus of Pathology and Medicine), daughter Barbara Charache Coleman, R.N. (Senior Oncology Research Nurse), and several grandchildren were present for Dr. Charache's induction to the Johns Hopkins Women's Medical Alumnae Hall of Fame.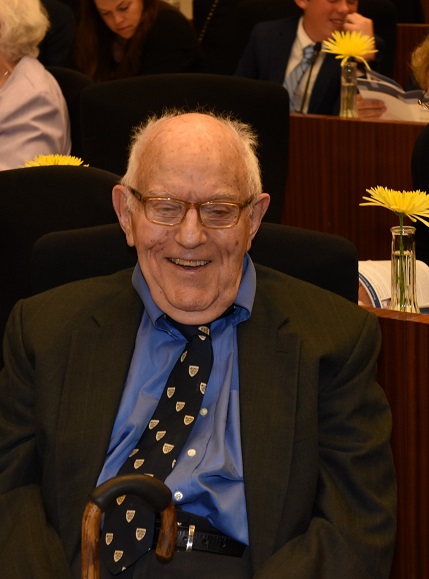 Dr. Samuel Charache accepted the award on behalf of his wife Dr. Pat, as she was known to many.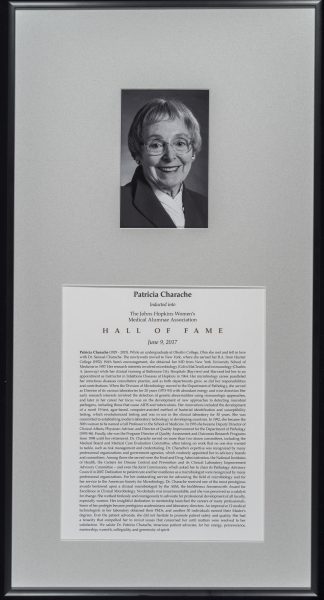 Above is a photo of the award which has a permanent home in the Mary Elizabeth Garrett Room in Johns Hopkins Hospital, along with plaques of other illustrious women physicians of Johns Hopkins Hospital.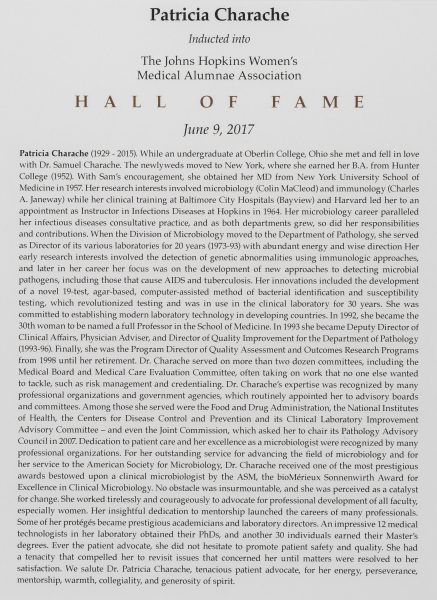 Above is an enlargement of the description on the plaque.
Dr. Patricia Charache will always be remembered as an amazing, accomplished physician and scientist, a tireless patient advocate, a gentle and gracious woman who loved her family, the medical profession, Johns Hopkins Medicine, and helping others.