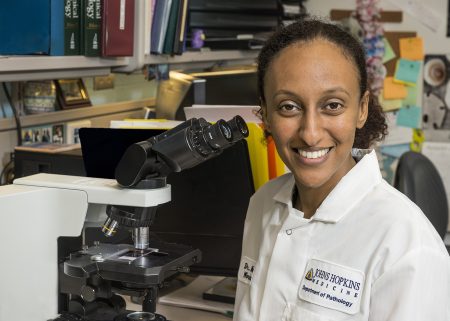 Meklit Workneh, M.D., M.P.H., is the 2017-2018 Patricia Charache Fellow in Clinical Microbiology in the Division of Medical Microbiology.
Meklit was selected from multiple applicants to be our Charache Fellow based on in-depth interviews with the leadership of Medical Microbiology. Her specific interests lie in global health, antimicrobial resistance, and in the development of appropriate laboratory systems for low- and middle-income countries, specifically in sub-Saharan Africa. The increase in antimicrobial resistance in these regions is an emerging threat, and the essential laboratory and surveillance infrastructure for an appropriate public health response is not yet in place. Meklit plans to eventually study the epidemiology of antimicrobial resistance in hospital- and community-based infections in East Africa. Meklit will spend her fellowship year developing an in-depth knowledge of clinical medical microbiology. This includes rotations at all the benches within the Medical Microbiology Laboratory. She will also have rotations in Immunology and at the State of Maryland Health Department, and will give weekly didactics from the Manual of Clinical Microbiology. Meklit would like to study antimicrobial resistance, particularly extended-spectrum beta-lactamases (ESBL) and carbapenem-resistant Enterobacteriaceae (CRE) as part of her research during her fellowship. This training will allow her to make more meaningful research and implementation contributions in a setting where training is medical microbiology is not common and is difficult to attain, but a clear area of need.
Meklit was born and raised in Addis Ababa, Ethiopia. She moved to California to attend college at Stanford University and graduated in 2005 with her bachelor's degree in human biology. After graduation, Meklit headed to the East Coast to pursue her master's degree in public health at Yale University where she graduated in 2007. She returned to California where she earned her medical degree from the University of California, San Francisco in 2012. Following medical school, Meklit moved to Baltimore where she completed a residency in internal medicine at the Johns Hopkins Bayview Medical Center in 2015 and a fellowship in infectious diseases in the spring of 2017.
Meklit spent the second year of her infectious diseases fellowship in Kampala, Uganda at the Infectious Diseases Institute (IDI) where she worked on global antimicrobial resistance, antimicrobial stewardship, and laboratory capacity building. While at IDI, she was involved in Uganda's implementation of the Centers for Disease Control's Global Health Security Agenda. Outside of work, Meklit enjoys yoga, spending time with her family and friends, and relaxing on the pier in Fells Point.
The Patricia Charache Fellowship was established in 2012 by the Department of Pathology to honor Patricia Charache, M.D., an outstanding leader, teacher and mentor at Johns Hopkins in the field of microbiology. As a result of her energetic and wise leadership, the Microbiology Lab grew and obtained national recognition. Dr. Charache's early research interests involved the detection of genetic abnormalities using immunologic approaches. Later in her career, Dr. Charache focused on the development of new approaches to detect microbial pathogens, including HIV and tuberculosis. Dr. Charache was also a laboratory consultant in 30 developing countries, where she applied her expertise in microbiology and laboratory quality assurance and standards. She was the 30th woman to obtain the rank of full professor in the Johns Hopkins School of Medicine.
Meklit says she is deeply honored to be chosen as the Charache Fellow and is excited to pursue her fellowship in clinical microbiology at Johns Hopkins.
Welcome, Meklit, and congratulations!
Amelia Maters, M.S., MT (ASCP)
Manager
Clinical Microbiology and Immunology Laboratories
Johns Hopkins Medicine