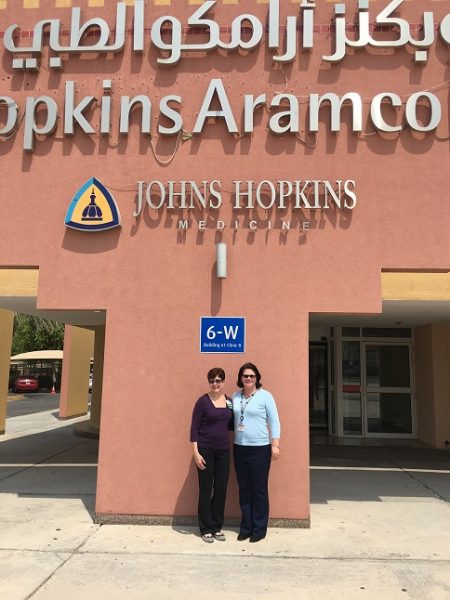 This August Hazel Richardson and I eagerly traveled to Saudi Arabia to perform a week-long site visit of the laboratory services for Johns Hopkins Aramco Healthcare (JHAH), along with representatives from the Johns Hopkins International Office. Aramco is one of Saudi Arabia's largest oil companies, and until 2014 they also owned a healthcare facility for their employees and families. Johns Hopkins Medicine formed a partnership with Aramco in 2014 with the aim to support the future of services at Aramco Healthcare, and have since been very involved in its operations, even providing several key leadership roles. However, their laboratory and pathology department were not areas that had been reviewed, so this was the first visit of its kind.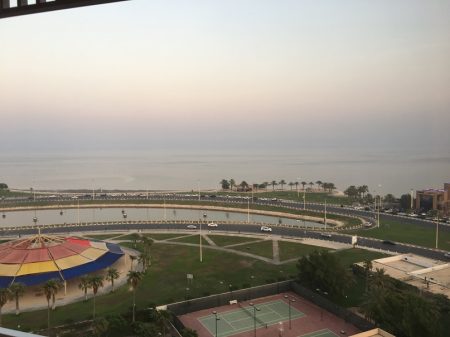 The work week in Saudi Arabia is Sunday through Thursday. We arrived on a Saturday night and were up early the following morning ready to go. Our first day was very exciting – meeting hospital and laboratory leadership and touring the lab which is extremely spacious and well equipped. There are very few referral laboratories in the country so their referral tests are often sent to U.S. laboratories such as the Mayo Clinic. Because this often increases result turnaround time and cost, the laboratory is trying to develop as comprehensive a test menu as possible and bring most of these tests in-house. We spent most of the week at the main hospital in Dhahran, a 330-bed facility located within a 30-minute drive of the Persian Gulf.
We worked long days and were part of several meetings with laboratory leadership and personnel. We listened to their challenges and their ideas to improve. We looked at ways that Johns Hopkins Medicine and the Department of Pathology here could support them and their services – everything from sharing our recorded Symposium events to reviewing their reference test list, and evaluating ways to reduce costs.
Hazel and I were given a warm welcome by the laboratory staff, and their hospitality was second to none. Each morning and afternoon we were given coffee, water and snacks, and for lunch we were provided with a four course gourmet dining experience. We even saw welcome messages with our profiles on the flat screen TVs mounted in the building.
August is the hottest month in Saudi Arabia, and since the city is close to the Gulf, it was extremely humid. Temperatures averaged around 109 degrees but the humidity made it even more uncomfortable. Hazel and I were provided with an abaya, a long loose cloak, which we were required to wear in the hotel and in the car. Fortunately, the cars and buildings were very well air conditioned, so we were able to escape the heat of the day. We were well looked after during our visit, and had a driver who ensured we got to the hospital each morning and back to the hotel in the evening.
In addition to the main hospital, there are four other main facilities, as well as several outreach locations under the JHAH umbrella, and each location has a lab that offers a limited test menu. We visited one of the other sites, Abqaiq, an hour's drive away, and as we travelled through the desert, we were amused to see many camels standing under one or two sparse trees, sheltering from the desert sun.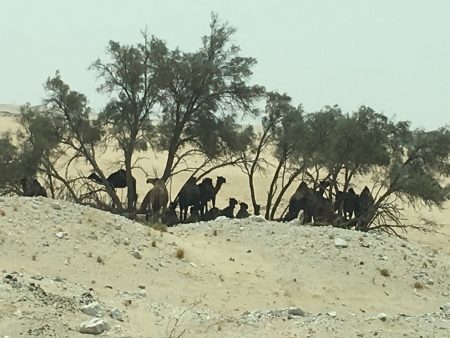 When we arrived, we were given a tour of the facility which was a much smaller center with an emergency room and several outpatient clinics. It is located in one of Aramco's main oil compounds, so the clinic also has a decontamination area and emergency chemical spill response protocol.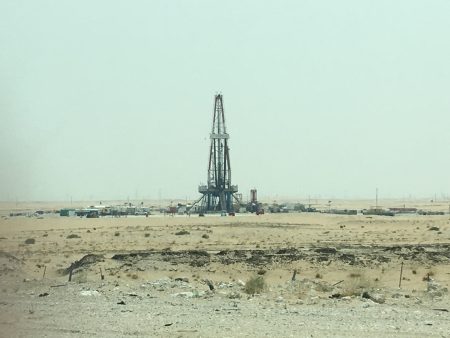 The entire experience was a very positive one. The laboratory was very well equipped and the staff were highly motivated individuals, passionate about their jobs and with a definite thirst for learning. Several staff members had published papers, attended seminars outside of their country, and were working hard to keep their area at the forefront of laboratory medicine. We were both quickly humbled by their response to us, as they felt honored to have employees from Johns Hopkins Pathology in their laboratory areas.
We made some strong relationships with the people of JHAH, sharing the journey to provide outstanding healthcare to all their patients and families. We both look forward to continuing our relationship with them and assisting in any way we can to improve laboratory services at JHAH.
Christina Mancini-Flegel, BS, MLT, DLM(ASCP)CM
Pathology Laboratory Manager
Howard County General Hospital
Johns Hopkins Medicine
Columbia, Maryland