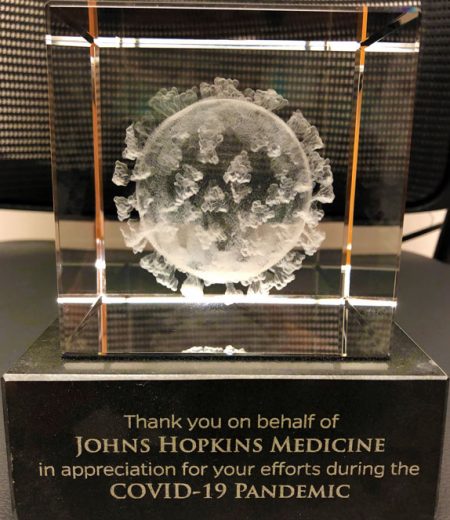 Dr. Carroll, Dr. Mostafa, and Dr. Gocke are honored by the Dean, Paul Rothman for the collective response to the COVID-19 pandemic, November 19th, 2021.
It was an honor and a privilege to accept this award on behalf of the entire Department. To quote the Dean "YOU saved lives" and continue to do so. I add my appreciation and awe of the staff's amazing dedication.

Karen Caroll, M.D.
Today we were acknowledged by the institution and hospital with deep appreciation of our efforts during the COVID-19 pandemic. Dean Rothman congratulated us for saving lives and combating the spread of the pandemic, such an honor. Congratulations to all of us for going above and beyond. Our hard work and dedication are greatly appreciated by Hopkins leadership. Such an amazing team that made it all possible. From high throughput and stat testing to supply chain issues and quickly changing demand, you were always standing. You contributed to valuable research and never paused training and educating others. You maintained high quality and exceptional performance. Thank you for being the team that I am proud to be a part of.

Heba Mostafa, M.B.B.Ch., Ph.D.
I am very grateful for the School of Medicine's recognition of all the demanding work and tireless commitment that the Division of Molecular Pathology personnel put into building a new lab and developing a new saliva test in a matter of weeks. It was, and remains, a great example of team effort. As Dean Rothman said, absent this effort Johns Hopkins University might not have reopened. I am so proud of our staff!

Christopher Gocke, M.D.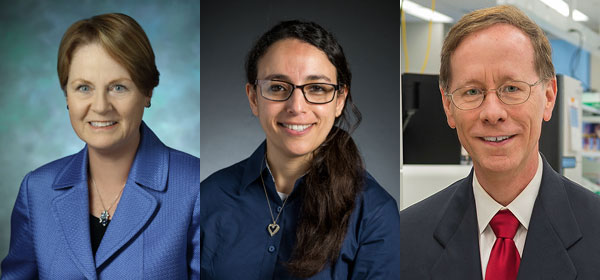 Brandon Ellis, MBA, MLS(ASCP)CM
Manager, Division of Medical Microbiology