Once again, the Pathology Department participated in the Young Scientists in Training program this summer at nearby Paul Laurence Dunbar High School for Health Professionals in Baltimore City.   Our theme this year was "Critical Thinking, Critical Action."  The 10th, 11th, and 12th graders spent several weeks learning about many disciplines in laboratory medicine, as well as participating in hands-on activities.  Students were encouraged to think of new ideas and innovative ways to solve problems as information was presented.
Our Microbiology and HIV Laboratory Lab presented information on sexually transmitted diseases (STD).    Paula Mister and Estelle Piwowar-Manning gave brief PowerPoint talks on HIV/AIDS and other STD, including syphilis, gonorrhea, chlamydia, and herpes.   Students participated in a mock epidemiology experiment in which they exchanged "bodily fluids" using tubes of water.  Two of the tubes were randomly "infected," each with a different organism not visible in the tubes.  Samples from the tubes were then plated on agar media, and the next day students were able to see who had gotten "infected" and how the two "diseases" spread through the population by observing what grew on the plates.  The fact that an "infected" person was not visible (i.e., symptomatic) at the beginning, and the fact that two diseases can be present in the same individual, simulated actual STD transmission.   Students were asked to use critical thinking skills to come up with new ideas about how to stop the spread of these diseases and encourage faster diagnosis and treatment.   Most ideas focused on better education and communication, especially in their own adolescent community.
The Transfusion Medicine Lab presented information regarding Blood and Organ Donation.   Lorraine Blagg provided two brief PowerPoint presentations titled "Bankrupt Blood Banks" and "Liver Transplantation" to emphasize the importance of blood and organ donors. The students participated in a mock blood drive with the assistance of Rebecca Perry. The students were each given photo identification and given turns as both the blood donor and as a member of the blood drive. They performed the donor history questionnaire interview, took vital signs, cleansed the donor arm, and provided post-donation care with cookies. The students were asked to use critical thinking to recruit and evaluate blood and organ donors and identify transportation options for blood products and organ transplantation.   The overarching theme was the importance of community support to assist local hospitals through blood and organ donations.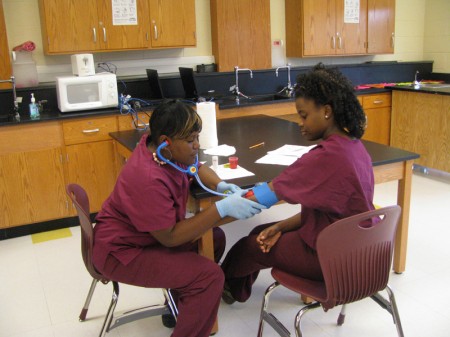 Donor blood pressure check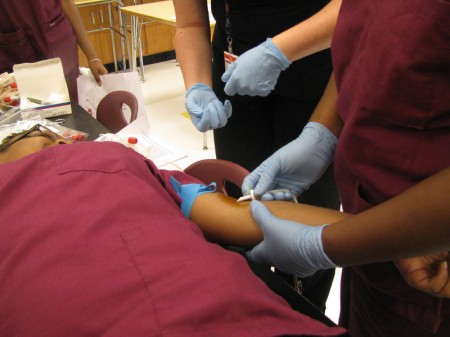 Donor phlebotomy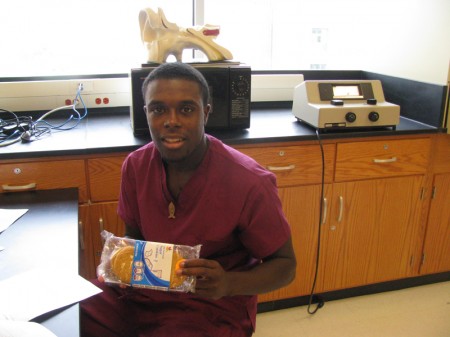 Donor's post-donation snack
"Lipids and Livers" were the hot topics presented by Core Lab.   In the Lipid session our college senior volunteer, Keisha Davis, and our brand new Chemistry fellow, Dr. Athena Kantartzis, presented the "problem" of high lipids in patients.   The students were challenged to figure out two ways to educate the public about good habits to keep lipids low and prevent health problems.   In the hands-on Lab portion, the students preformed a spot test looking for high lipids on "pretend" patients.  On the final day of the program, the students created their own version of this Lab test and later taught the Dunbar 9th graders to perform their first diagnostic test.
During the Liver session the students reviewed anatomy and liver function. They learned about the clinical outcomes of an unhealthy liver.   We focused on non-genetic liver disease and brainstormed how these can be prevented in order to have better quality of life and lowered healthcare costs.   In the interactive module, the students "rounded" to four patients. They read each patient's history and symptoms and interpreted a colorimetric version of a liver function test.  They then collaborated with one another and diagnosed the liver disease and suggested next steps for the patient.
Throughout the four-week Young Scientists in Training program which included parallel sessions in Diagnostic Radiology led by Charrise Lomax, the favorite questions were "How?" and "Why?"   For each question asked and answered, there was another question to go deeper and wider — to really think through the answer and the possible actions.   Students could see that this is not an easy process in medicine and that the first line action may cause new questions or consequences.   Hopefully, the 2012 sessions this summer taught good laboratory medicine, as well as, the life skill of critical thinking.
We enjoyed working with the students on this special project and welcome any interested employees to participate in future endeavors with our Dunbar youth.
Johns Hopkins Pathology Education and Development Coordinators
Paula Mister, MA, MT(ASCP),  Microbiology Division
Lorraine Blagg, MA, MLS(ASCP)CMSBB, Transfusion Medicine
Christine Hostetter, MA, MT(ASCP), Core Laboratories