By Lorraine Blagg, MA, MLS(ASCP)CMSBB

At the end of 2011 a new committee – the JHMI Continuing Laboratory Medicine Education Committee – was commissioned to standardize, streamline, and share continuing education opportunities/information for Laboratory staff across the Health System.   Committee members represent laboratories across Johns Hopkins Hospital, Bayview Medical Center, Howard County General Hospital, Suburban Hospital, and Sibley Memorial Hospital, as well as staff who have a strong interest or responsibility in continuing education activities.
The first task of our committee was to determine what the Pathology laboratory employees of Johns Hopkins Medical Institutions (JHMI) needed and wanted in regard to continuing education.   So a continuing education survey was distributed via Survey Monkey to JHMI Pathology staff in January 2012.
The participants:   Over 25% of Pathology laboratory employees participated in the survey with participation from all sites, all position types, all shifts, and both certified and noncertified employees. Refer to the participant pie charts below for specific percentages of the demographic categories.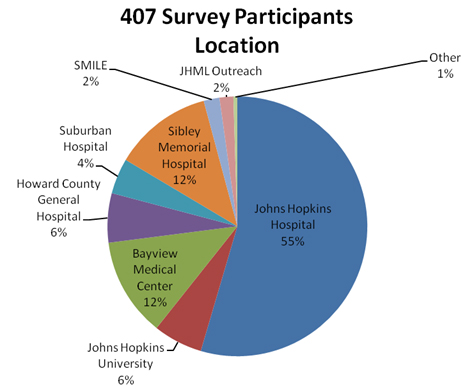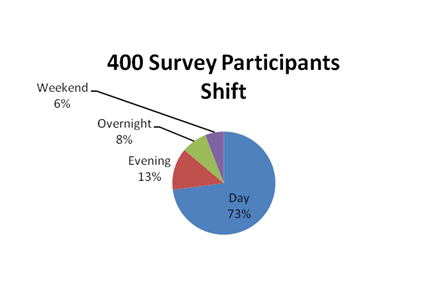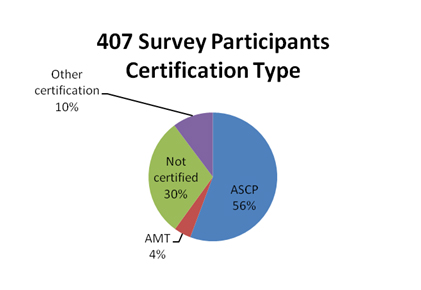 The Results:   The survey looked at what participants perceived were the limitations in continuing education and what types of activities they would like to have available to them and at what times.   The survey identified the main issues that could impact one's ability to participate in continuing education activities.  The top issues were:   available time, expense, and accessibility, with lab coverage and topic content close behind.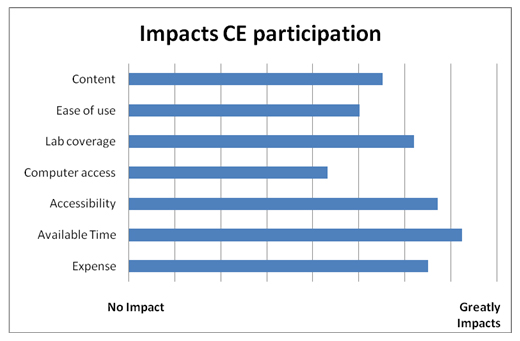 The continuing education preferences seem to indicate that most would participate in any type of CE activity if made available.  The time preference was more scattered across multiple days and times.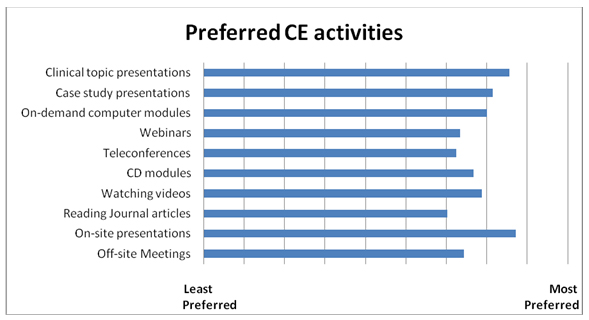 Additional comments were made to provide more continuing educational opportunities for all staff regardless of their location, position, or shift, and to have continuing education requirements for all JHMI Pathology employees.
The JHMI Continuing Laboratory Medicine Education Committee has been working diligently to make, prioritize, and accomplish objectives determined from the survey.  So far, the committee has made recommendations to standardize minimal continuing education annual requirements for laboratory staff across the Health System.  The Pathology Continuing Education Policy is now located on Hopkins Policies Online (HPO); the link below can be accessed by internal users with a JHED ID:
http://www.insidehopkinsmedicine.org/hpo/index.cfm?event=ManualSections.List&mid=68
Additionally, the committee has been working to provide a way to share and notify employees of continuing education resources and opportunities that are currently available and working towards providing more continuing educational opportunities that will be available to all staff regardless of physical location, position type, or shift.
Below is a list of free Continuing Education Resources:
1.   Abbott Point-of-Care http://www.clinicaledonline.com/pointofcare/
2.  Advance for Medical Laboratory Professionals http://laboratorian.advanceweb.com/
3.  American Red Cross SUCCESS (need customer code) http://success.redcross.org/
4.  BioConference Live   http://www.bioconferencelive.com/
5.  Blood CME Center http://www.bloodcmecenter.org/Default.aspx
6.  Laboratory Medicine Best Practices https://www.futurelabmedicine.org/default.aspx
7.  Quest Diagnostics http://education.questdiagnostics.com/
8.  Radiometer Webinars http://www.radiometeramerica.com/en-us/services/radiometer-university
9.  Roche NimbleGen http://www.nimblegen.com/support/index.html
10.  Sysmex https://www.sysmex.com/us/en/Education/Webinars/Pages/Webinars.aspx
11.  MyLearning at Johns Hopkins Medicine (need JHED ID) http://www.hopkinsmedicine.org/interactive_learning/my_learning/ Microsoft Office Training Modules (Skillsoft)
If you have any questions, comments, or suggestions about continuing education or about the committee, please feel free to contact us.  We welcome your continued feedback.
Continuing Education Committee Members:
Barbara Detrick, Ph.D.
Professor of Pathology
Director, Immunology and Cytokine Laboratories
Barbara Parsons, MA, MT(ASCP)
Assistant Director, Quality Management, JHU
Christine Hostetter, MA, MT(ASCP)Education and Development Coordinator
Education and Development Coordinator, JHH Core Lab
Cynthia Jordan, MT(ASCP)
Performance Improvement Specialist, Pathology, Sibley Memorial Hospital
Debbie Williams, BA, MT(ASCP)
Coordinator, Laboratory Quality Assurance, Suburban Hospital
Doris Pendergrass, SPHR
Human Resources Manager, Department of Pathology
Eun Hee (Annie) Cho, MT(ASCP)
Laboratory Specialist, JHH Immunology Lab
Fran Burroghs, SCT(ASCP)IAC
Supervisor, Cytopathology Technical Operations
Jo Shim, MBA, MT(ASCP)
International Lab QA/QC Coordinator, JHU
Katina Williams, H(ASCP)
Education & Development Coordinator, JHH Surgical Pathology Lab
Lorraine Blagg, MA, MLS(ASCP)CMSBB
Education & Development Coordinator, JHH Transfusion Medicine Lab
Marian Turpin
Continuous Quality Improvement Office
Paula Mister, MS, MT(ASCP),SMCM
Education & Development Coordinator, JHH Microbiology Lab
Rosemary Hines, MBA, DLM(ASCP)
Director of Finance, Johns Hopkins Department of Pathology
Suzy Nicol, MS, MT(ASCP)SBB
Laboratory Manager, John Hopkins Bayview Medical Center
Tammy Heacock, MT(ASCP)
Laboratory Specialist, Training, Competency, & Continuing Education, Howard County General Hospital
Terry Aman
Medical Training Program Manager, JHU School of Medicine