On September 7, 2012, our current Specialist in Blood Banking (SBB) students completed the program requirements.  Their graduation was held on September 6, 2012, in the Wilmer Portrait Room with the majority of the Blood Bank and other Pathology staff in attendance to celebrate their accomplishments.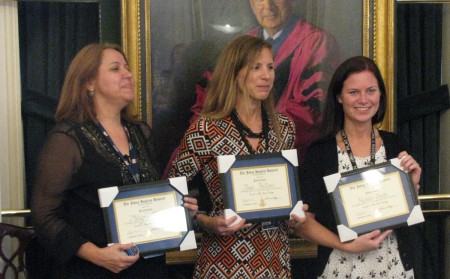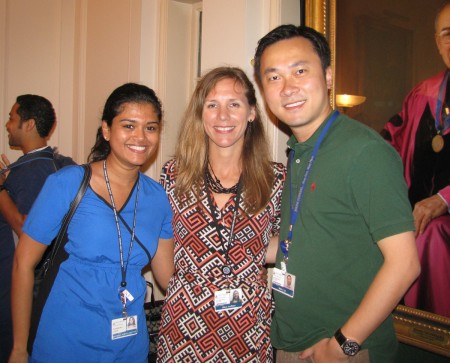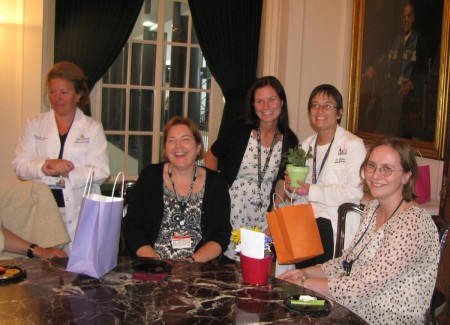 Each student has chosen to write about their experience over the past year in the program.
Alissa Arellano, MT(ASCP), wrote:   "After completing the SBB program at The Johns Hopkins Hospital, I am left with overwhelming feelings of accomplishment and gratitude. The most interesting part of my experience was having the opportunity to meet many different pathology physicians on a daily basis.  Through these interactions I was able understand how critical laboratory processes affect the care of patients requiring blood transfusions and/or other cellular therapies.  My overall experience has helped me prepare for a very rewarding career in Transfusion Medicine."
Milagros Perez wrote of her experience over the past year and her future plans:  "I am very excited to have completed the year!!   It has been a very difficult one but it has been extremely rewarding as well!!    The most difficult part for me was the fact that many friends and family members could not quite understand that you have no time for them.  Every weekend and any free time I had was dedicated to school.  So that was hard but eventually everyone understood what I was going through. 
I really enjoyed going to the NIH and AABB conferences — meeting the other SBB students and hearing their stories. The Red Cross experience was excellent; they made us feel so special.  The same happened with the other rotations :  HATS, platelet transfusion coordinators, HLA labs, FDA, Cellular Therapy Lab, and the others.    I learned so much from them.  Our own Blood Bank rotations were very helpful; all techs involved made sure the checklists were covered.
After such a long year, I am planning to "sit" in my house in Venezuela and spend some time in Florida. I will be looking for a job in the Middle East.  Hopefully, I will be able to get a job in which my SBB knowledge will be needed.  There are two new hospitals opening in Doha, Qatar and Dubai, United Arab Emirates.  My hope is to get a job in either place.   There is also Riyadh, Saudi Arabia, my former job, which has already contacted me, so I am thankful for that.
Thanks to everyone for all the help and dedication!!"
Heather Smith wrote:  "After completing the Specialist in Blood Banking program at Hopkins, I felt more than prepared for the ASCP SBB exam and shortly after graduating, I sat for the exam and passed.  The structure of the program here at Hopkins incorporates formal lectures, work experience, and the opportunity to visit various sites such as the Red Cross and the FDA to help learn the information needed.  The combination of the different ways in which the information was presented helped me to understand and retain the information a lot better than if I would have just learned it from a book. I highly recommend this program to anyone interested in becoming an SBB. "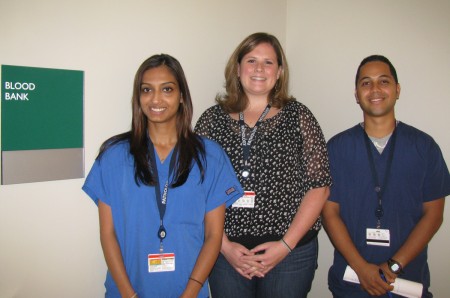 Our incoming students, Felix Medrano, Rebecca Perry, and Keerthana Ravindran, were able to participate in the graduation festivities to prepare them for the year ahead.  They started the program on September 10, 2012.  Each brings with them experiences that ultimately led them to our SBB program.
Felix Medrano came to The Johns Hopkins Hospital after two years experience at Saint Joseph's Regional Medical Center in Paterson, New Jersey.   He completed his B.S. degree in Biology at Ramapo College of New Jersey, and his clinical training at The Valley Hospital in Ridgewood, New Jersey.    Educational advancement is one of his main priorities in life.   He stated, "SBB certification is basically a Masters degree in Blood Bank.  Completing my training at Johns Hopkins is a worthy challenge and a dream come true." 
Rebecca Perry is from Duke Hospital where she gained nine years of blood banking experience.  Rebecca came to The Johns Hopkins Hospital for SBB School to experience how another large facility works, hone her blood banking skills, and obtain the educational foundation to begin a career in laboratory management.
Keerthana Ravindran wrotes:  "While working at Mountain View Hospital in Las Vegas, Nevada, I was fortunate to have become involved in a CAP inspection for Transfusion Medicine, validation and training for the automated instrumentation ECHO, and developing policies as well as monitoring quality indicators.  These experiences have been essential in fortifying my passion for the field of Transfusion Medicine and ultimately in the decision to obtain a specialization in blood banking. After completion of the program, I plan to use excellent communication and management skills, in addition to critical thinking in order to obtain my CQA and work as a quality specialist while providing the best possible patient care."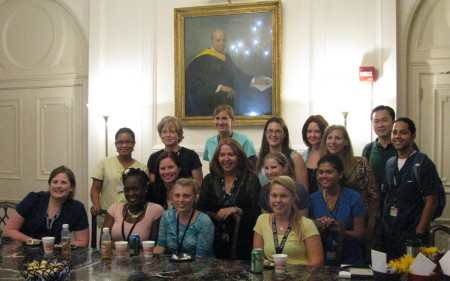 We are very proud of our recent graduates and are looking forward to another excellent year with our new class!
Lorraine Blagg, MA, MLS(ASCP)SBB
Education and Development Coordinator
Transfusion Medicine Division
The Johns Hopkins Hospital