Ever wondered exactly what the position of education coordinator involves?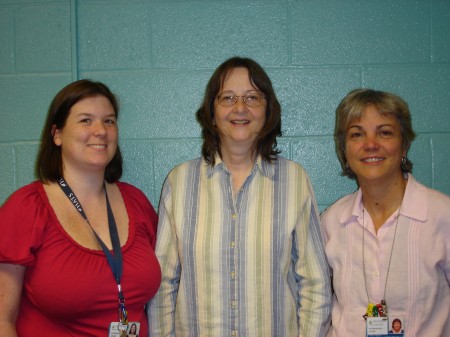 Pathology Education Coordinators, from left to right:  Lorraine Blagg, Christine Hostetter, and Paula Mister.
It's a bit hard to describe because each education coordinator in the Department of Pathology has slightly different duties and responsibilities, but there are some common functions. One of the primary responsibilities is coordinating rotations for MLS (formerly MT) and MLT students, pathology residents, fellows, medical students, visiting scientists, and other individuals who want to learn in the pathology laboratories of the highest-rated hospital in the U.S. This group includes doctors and medical students from many different countries. Rotations can vary from a few weeks to a year or longer. In a typical year, at least 30 individuals rotate through both Microbiology and Transfusion Medicine. The number is even higher for the larger Core Lab. Coordinators frequently teach test methodology, as well as clinical indications for the use of antibiotics and blood products, for example.
There are numerous administrative functions that education coordinators perform. They must keep detailed records such as schedules and safety checklists of all rotators and visitors. Keeping current paperwork is a huge challenge, particularly as lab methods and regulations constantly change. Each coordinator assists faculty members in his/her area with updating objectives, rotation checklists, and assessment records for residents and fellows. Scheduling and attendance records of meetings, rounds, didactic sessions, and orientations are maintained by coordinators. Coordinators also attend many of these meetings and keep minutes. It is the coordinator's job to have up-to-date educational materials and references for staff, students and other trainees, as well as keep current information about the certification process and maintenance.
Education coordinators are responsible for the facets of new employee orientation and employee competency. Scheduling continuing education for lab staff (along with providing food or snacks) is a major responsibility for educational coordinators. Topics, speakers, and teleconferences are arranged and announced by the education coordinators who notify their counterparts in other departments so that all employees have opportunities to obtain their required credits for continued certification. Coordinators are required to attend their own continuing education for educators.
Visits to medical technology programs at various institutions for scholarship information distribution and recruitment, as well as to meet students, are also part of the job. Students from the University of Maryland, the University of Delaware, Stevenson University, Morgan State University, Salisbury University, Community College of Baltimore County (MLT program), and on-line programs at Weber State participate in rotations in Pathology. Educational coordinators serve on advisory committees for these programs. They also serve on Hospital committees, dealing with initiatives such as cleanliness improvement, scholarship selection, leadership development, new employee on-boarding, and employee engagement/satisfaction.
Individual education coordinators have additional specific duties. Chris Hostetter in the Core Lab coordinates extensive outreach educational activities sponsored by the Department of Pathology in schools surrounding the community (see earlier blogs, https://blogs.pathology.jhu.edu/pathology/the-diagnostic-detectives-of-the-future and https://blogs.pathology.jhu.edu/pathology/working-with-fourth-graders). Paula Mister in Microbiology coordinates materials for 120 medical students during the month-long Microbiology block each year. Lorraine Blagg of Transfusion Medicine is the program director of the Specialist in Blood Banking (SBB) program and does the majority of the teaching. The Coordinator for Anatomic Pathology provides clinics and outreach sites with in-service training on surgical pathology specimen collection and labeling.
Education coordinators are often required to do bench work and assist in quality control functions and safety monitoring. Coordinators are often heavily involved in Lab Week scheduling and activities. They lead countless tours for visitors during the year. They assist with and participate in a variety of scholarly projects, consultant functions, writing and reviewing articles and textbooks, and giving outside presentations.
It takes experience, enthusiasm, patience, teaching skills, great organizational abilities, and coordinated communication and follow-up to do a good job in the educational coordinator position; one must be flexible and be ready for last minute changes in scheduling or activities. Positive feedback from students and visitors is the best part of the job. It is truly rewarding when people express their appreciation for how much they learned and enjoyed their lab experience. An enriching rotation, a fun tour, an intriguing CE presentation are all possible because of the dedicated skills and cooperation of staff and faculty working with the Education Coordinators.
The Education Coordinators of the Department of Pathology,
Paula Mister,
Medical Microbiology Lab
Christine Hostetter,
Core Lab
Lorraine Blagg,
Transfusion Medicine