The Pathology Department would like to thank Ruth Umali of the Blood Bank for writing this posting.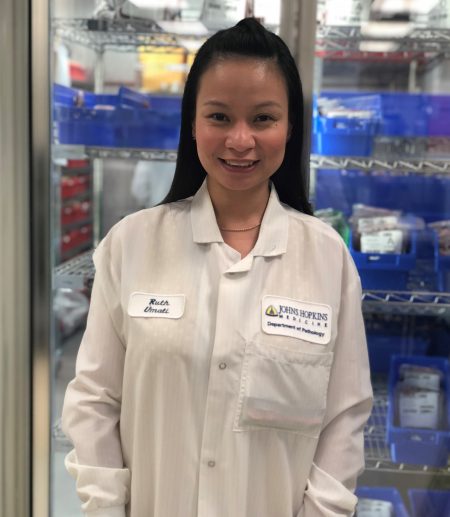 When people find out that I am working at The Johns Hopkins Hospital, they often ask "Are you a doctor?" or "Are you a nurse?" to which I have learned to respond, "I AM a scientist." Usual reactions would be "So, do you work with microscopes and test tubes and stuff like that?" Yes, I do. But let me tell you more.
I am the one needed by the doctors to figure out what's going on with our patients, what kind of medicine they need, how much chemotherapy is appropriate, or if they can even proceed with chemotherapy. I can test if their sugar is high, if they are actually taking their medications and if they are working. I can tell if a patient has an autoimmune disease and identify it. I provide the appropriate blood products for our patients. I supply the doctors with information on what possible infections our patients have and what antibiotic would work best to treat those infections.
I am the person working behind the scenes so the doctors and nurses can give the appropriate care that our patients need.  You will probably not see me, but you may hear about me.  I am known as "THE LAB". I am the scientist working in the different specialty areas of "THE LAB".  "THE LAB" works together as a team, 24 hours a day, 7 days a week, open on all holidays and snow days.
While the doctors and the nurses are the frontline of patient care, it would be impossible without me. They need me, they need the phlebotomy team, they need "THE LAB". They trust me to excel at my job and deliver on time. I take pride in what I do. I am willing to support our doctors and nurses to care for the patients. I put patient care on top of everything that I do, because we, "THE LAB", make an impact!
Thank you!
Ruth Umali, MT(AMT), MLS (ASCPi)
Clinical Laboratory Scientist
Johns Hopkins Department of Pathology