A little background on this superb video, Big Jobs Uncovered | Microbiology Department with George Economas ….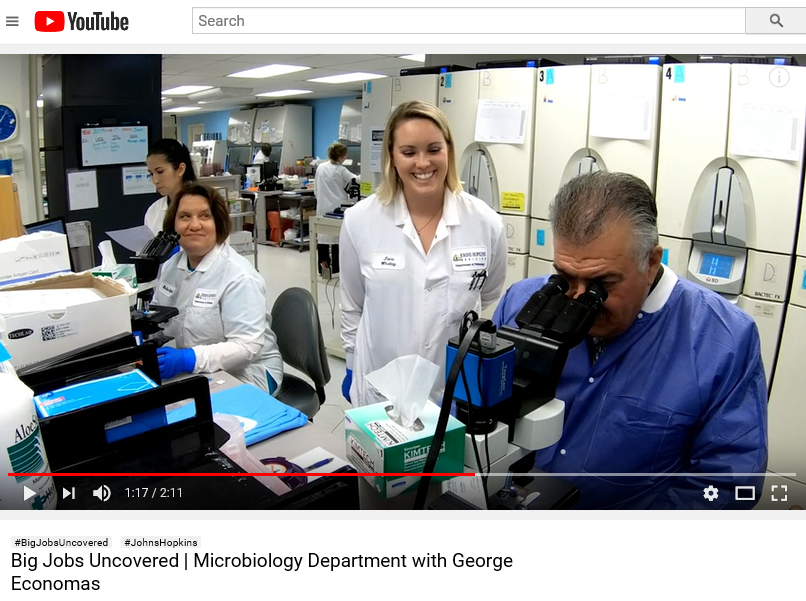 In late March of this year, Pathology Administrator Al Valentine approached the producers of "Big Jobs Uncovered" about filming in Microbiology Lab.
After a brief walk-through with Stephanie Price, Senior Communications Specialist, and Tom Wach, Studio Manager, it was determined that the Microbiology Laboratory was a good candidate for filming "Big Jobs Uncovered."    The Lab was ecstatic about the opportunity to highlight their work to the rest of the Hospital.  Micro leadership felt that following a blood culture from when the time it flagged as positive through plating and the Gram stain would be a good example of the manual methods and technical skills to work as a microbiologist.
The next step was to find a senior-level Hopkins leader who could be filmed and George Economas, Executive Director of Security for the Johns Hopkins Health System, was selected.  Likewise, Microbiology selected Jane Whaley, the Lead Clinical Laboratory Scientist who oversees blood culture testing, to be George's mentor.
Several weeks later the film crew showed up with a LOT of equipment. It looked like Hollywood – film angles were determined, cameras mounted, and a time-lapse camera was affixed to the ceiling to capture the bustling movement occurring in the Lab. Throughout filming, George was very amenable to any task Jane gave him.  Jane also focused on safety because our "new CLS" George had to draw blood with a syringe from a true positive blood culture bottle.  Despite some Gram stain reading issues with the microscope, Mr. Economas did an excellent job working up his first positive blood culture!  His experience highlighted how little those outside of the medical profession know about infectious disease testing – he thought everything was automated and was surprised to learn how manual the testing process was.
Once the video was filmed, editing was performed. The production team also requested some "Fast Facts" about the Microbiology Laboratory which would be placed on small "sticky notes" throughout the video.
Before finalizing, a draft video was sent for review to the Microbiology Laboratory.  The video looked awesome and final approval was given to publish the video. "Big Jobs Uncovered" was an excellent opportunity for the Microbiology Laboratory to highlight the testing it performs, as well as the skills needed to perform the testing.
Jane commented, "Having the Big Jobs Uncovered team in our laboratory was a wonderful experience.  It is not every day that we as Clinical Laboratory Scientists can show others what we do and being able to show George Economas a bit of hands-on Microbiology was a great glimpse of our day-to-day work."
We asked George if he could go back to college all over and choose a new career, would he be interested in becoming a medical laboratory scientist?  His answer:  "So if I were a young man again with the exact same attributes I had then, both good and bad, and I had my choice to do anything I wish, I would follow the same path that has lead me where I am at today. Microbiology is an exacting science with an art component.  Me? I am a direct, to the point, bull in the china shop kind of guy!  While that type of work would be so cool and rewarding I have to be honest with myself. I don't think it would be wise for me to be involved in something as critically important and as delicate as preparing and looking at cells in blood and tissue to determine if someone is or is not ill.  That's better left to Jane and her team of highly educated and dedicated professionals who make this type of tedious work look easy."
Our thanks to all the people who helped make this video, especially our "stars," George and Jane!