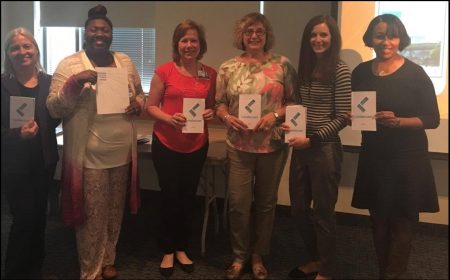 I had the opportunity recently to attend the inspiring Leadercast 2016 – Architects of Tomorrow event, along with several of my team members, Marie Moninger, Arneal Crocker, Anita Mattero, and Tabitha Little-Baker, as well as Debbie Aird, the administrative director of laboratory services for the Community Division.
Leadercast 2016 was broadcast live from Duluth, Georgia, on May 6, 2016, to hundreds of locations around the world, including Howard County General Hospital and Johns Hopkins Hospital.  The theme "Architects of Tomorrow" focused on what it means to be a visionary leader.   Each of the speakers was inspirational, gave everyone a lot to think about, and offered tools to lead and live by.
Debbie's personal takeaway was from speaker James Brown, the Emmy award-winning network broadcaster, who spoke of:
The importance of building a strong foundation. The strength and stability of a solid foundation is what enables laboratories, hospitals and organizations to grow and be successful.
Pastor and author Andy Stanley made an impression on everyone with the evidence that although people may place value in a leader with integrity, they tend to follow a leader who expresses their vision with clarity.  His four key ideas follow:
State vision simply (without the how)
Cast your vision convincingly (state the why)
Repeat regularly (memory is portable)
Celebrate regularly (what is rewarded is repeated)
Tabitha was impressed by his suggestion to use a mental picture of what you are passionate about:
To have a mental picture of "WHAT COULD BE" fueled by the conviction of "WHAT SHOULD BE" will lead you to that preferred future.
Anita added that she was inspired by Pastor Stanley's message about clarity:
Making things clear to your team makes the vision "more meaningful" to the receiver.
Kat Cole, a former Hooters waitress now president of a multinational company, spoke about the "Power of the Possible." Some key points from her talk:
A leader should always show examples of what is possible so that people believe in their abilities to reach a goal instead of focusing on what cannot be done.
It is most productive to put your resources into something that is small enough to change (or fix) but big enough to matter. She reminded everyone that there will be always obstacles and difficulties along the way, but these things all pass so don't let the obstacles keep you from moving forward.
Nick Saban, the head football coach of the University of Alabama, had a lot of knowledge and experiences to share.  Marie recalled some of the most important parts of his message:
"A good leader makes it a point to verbally appreciate a team member every day.  Even though there is no "I" in team, it is the Individual members of the team who make it succeed or not," so it is important to connect with each individual on your team."
"Discipline is doing what we may not want to do (but need to do) to achieve our vision (goal).  This applies to our work life and our everyday life."
I connected with Coach Saban's message: "Life is about investing your time, not spending your time. Choose happiness every day and stay focused on the vision, not the obstacles."
Dr. Henry Cloud, clinical psychologist, leadership expert and best-selling author, spoke about "The Power of the Other."  He gave an amazing example of how energy and motivation from other people affect our performance.   Anita recalled his message:
"It is important to be helpful and empower others to do their best.  It is a joy to receive caring actions from others."
Anita also took away his message:
Our connection with each other is very important so it's important to be engaged and to have total focus during conversations.
When you feel a real connection with others, it is when you are being your authentic self and are surrounded by authenticity.
In addition to those visionary speakers, there were also entertaining ones: the brilliant Steve Wozniak, co-founder of Apple; "creativity guru" Chris Barez-Brown; and former Navy Seal commander and author, Rorke Denver.  These established people were joined by a very impressive and heartwarming 15-year-old, Aiden Hornaday who spoke of the joy and necessity of giving to others.  At the young age of 7 Aiden realized that he could make a difference to those in need while following his passion. He reminded us to embrace each day and live our lives to the fullest.
Chris Calvelli, MT(ASCP)
Quality Assurance Coordinator
Department of Pathology
Suburban Hospital
Bethesda, Maryland