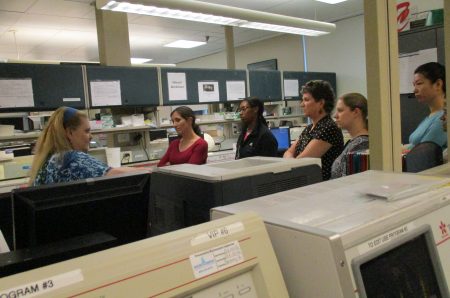 Behind-the-scenes tours of five Pathology laboratories at Johns Hopkins Hospital were offered during Lab Week to the Johns Hopkins Medicine community at large, an opportunity to learn about laboratory medicine and pathology — assays, methodologies, instruments, workflow and operations.
Tours were organized by educational coordinators Lorraine Blagg (Blood Bank), Karen Bordenet (Surgical Pathology), Christine Hostetter (Core Lab), and Paula Mister (Microbiology/Immunology). Departments were notified by email and through notices from InsideHopkins.
Nearly 40 people from various departments including Pediatrics, International, Hematology, Compliance, Ob/Gyn, Oncology, Public Relations, the Fund for JH Medicine, and Pathology, signed up for "pre-lunchtime" tours of the Blood Bank, Surgical Pathology-Grossing and Histology, the Core Lab, and the Microbiology/Immunology Labs. So many people enrolled for the Microbiology/Immunology and Surgical Pathology tours that it was necessary to divide groups into two. Ava Roberts assisted Paula Mister, and Katina Williams-Stewart helped Karen Bordenet with the "overflow." A few additional tours of the Blood Bank and the Core Lab are planned in the near future.
Feedback from tour participants was overwhelmingly positive! Phil Sullivan of the HPTN LC Lab described his experience, "Whirlwind tours that were suitable for any background, and provided awareness for the depth and range of the clinical work performed within the Hopkins laboratories." Dr. Fenghua Zhang, a visiting international scholar from China wrote, "I learned so much about lab techniques, and the people who led the tours were very nice and patient. I was impressed by many types of instruments which can conduct tests very efficiently." Lingxia Sun, a Pediatrics dietician commented, "The tour was a great learning opportunity for me. It was very interesting to learn about the results we use daily—chemistries, cultures, etc.—where they come from, and how blood can get to patients who need transfusions."
Please see below for pictures of these tours which were held the week of April 25, 2016.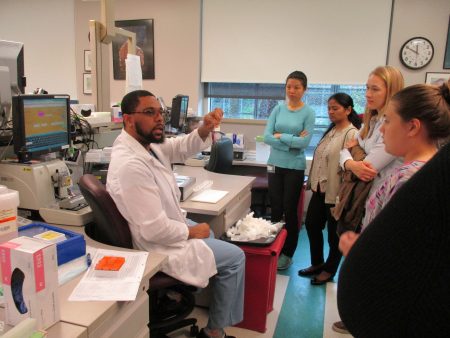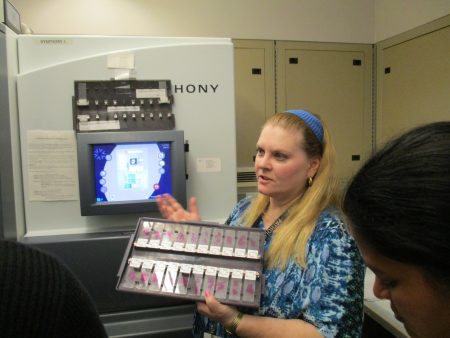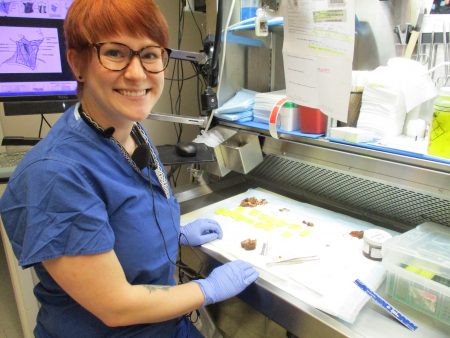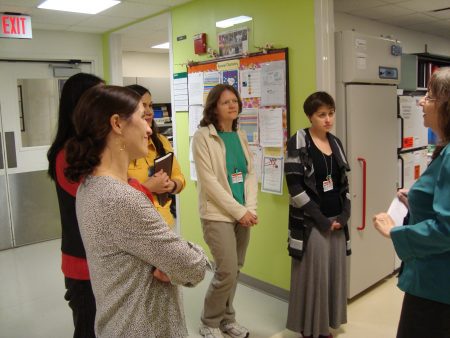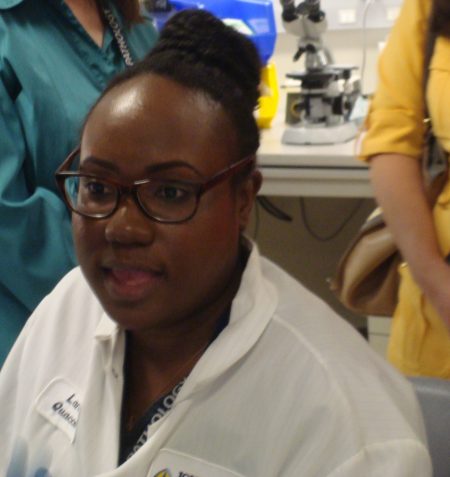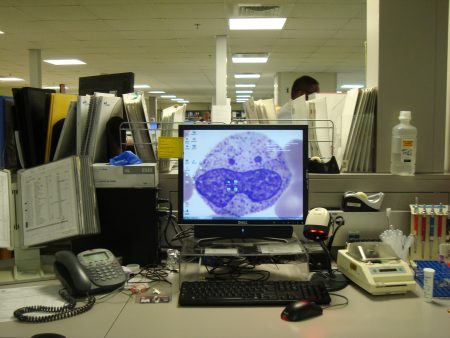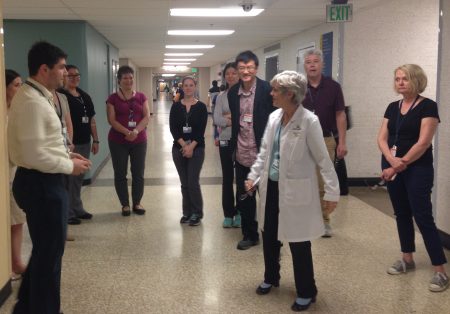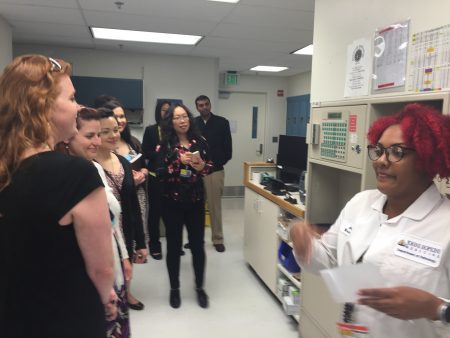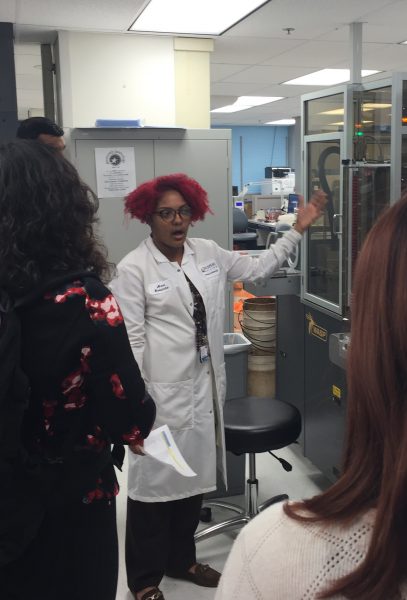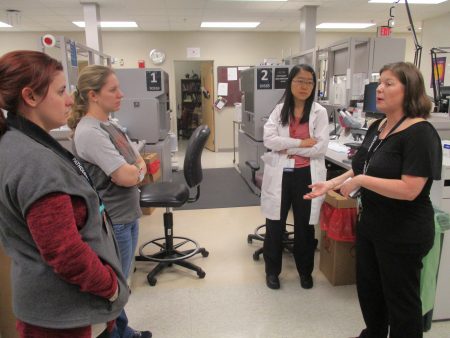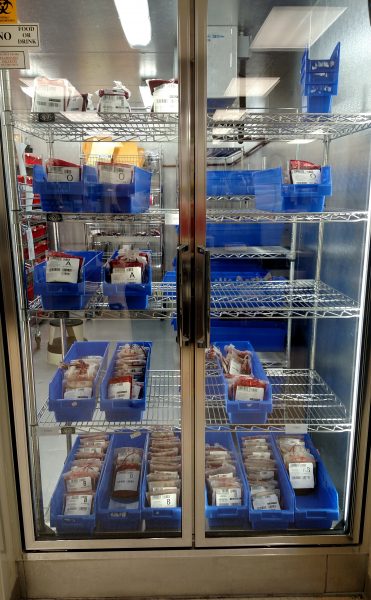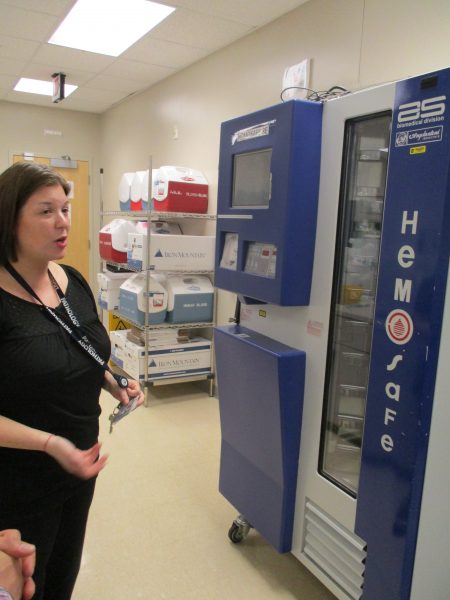 Sincere thanks and recognition not only to the tour leaders, Paula, Ava, Karen, Katina, Lorraine and Chris, but to each and every one of our 650+ medical laboratory professionals for their unwavering dedication, service, and commitment to excellence and quality patient care throughout the year. Medical laboratory professionals are truly the unsung heroes of the medical profession.
Renata Karlos
Staff Assistant
Member, Continuing Education Committee
Department of Pathology
Johns Hopkins Hospital