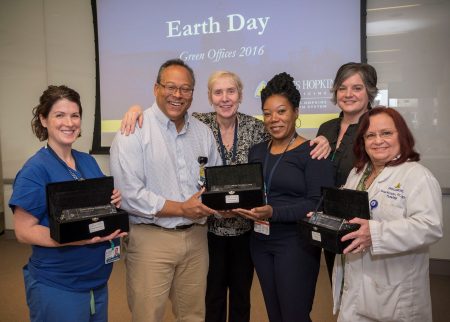 Kudos to the Surgical Pathology Grossing Room, the Immunopathology Lab, and the Histology Lab, which received Green Office Certification awards at the Johns Hopkins Hospital's Earth Day Celebration!   The trophies were presented by Johns Hopkins VP Ken Grant in the Chevy Chase Auditorium on April 13, 2016.
These Labs combined recycle over 30 one-gallon plastic reagent containers, plastic wrap, cardboard boxes, and other items every day!  And in the past eight months, the Grossing Room decreased its plastic cassette usage by more than 1,000 cassettes each month.
Since Earth Day of 2015, twenty-seven Hopkins departments and offices have been certified by the Hospital's Sustainability Network, www.sustainability.jhu.edu. The next awards will take place in the fall of this year.  Contact sustainable@jhmi.edu for an application for Green Office Certification. Hopkins Labs interested in pursuing Green certifications should request the application modified for lab spaces by Howard Liss of Reduction in Motion.
The Johns Hopkins Hospital will be receiving a Circle of Excellence Award for Greening the OR, the Greenhealth Emerald Award, and the Making Medicine Mercury-Free Award from Practice Greenhealth at the Clean Med 2016 Conference, May 17-19, 2016, in Dallas, Texas.  Perhaps more Green Office Certifications from the  Department of Pathology might help push Johns Hopkins into the Top 25 Greenest Hospitals in the Nation.  It takes more than one person to fill a recycling bin!
Please note – if you would like to speak with Karen Wittler who has led the "Go Green" movement in Pathology, please contact her at kwittle@jhmi.edu.   Karen will be happy to lend her expertise and help your Lab become greener and cleaner!
Arlene Prescott
Assistant Administrator of Pathology
Anatomic Pathology
Department of Pathology
Johns Hopkins Hospital
Baltimore, Maryland