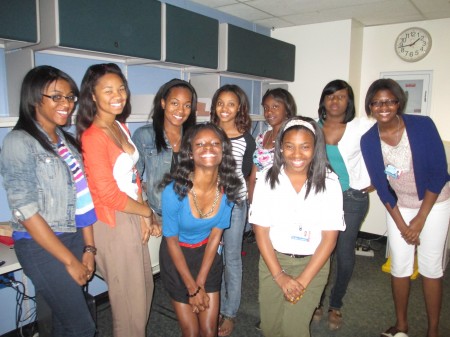 Once again, the JHH Department of Pathology is participating in the Johns Hopkins Summer Jobs Program which provides Baltimore City students the opportunity to complete a six-week paid internship in one of various departments throughout the Institution.   The Summer Jobs Program is in its 16th year under the guidance of the current Director of Project REACH/Community Education Programs. This program provides student interns with exposure to workplace culture and potential career paths in an educational setting. It also promotes mentoring and fosters personal responsibility. Through exposure to Pathology, we hope to inspire youths to pursue laboratory careers.
The 2012 summer program kicked off on Monday, June 18, and will run through Friday, July 27.  A total of nine summer interns are working within Core Lab, Microbiology, Transfusion Medicine, and the CQI Office.
One student intern has been donning gloves and a white lab coat in the new Core Laboratory, receiving specimens at the drop-off window and the pneumatic tube station. She is learning the important steps that are taken prior to the testing of patient specimens.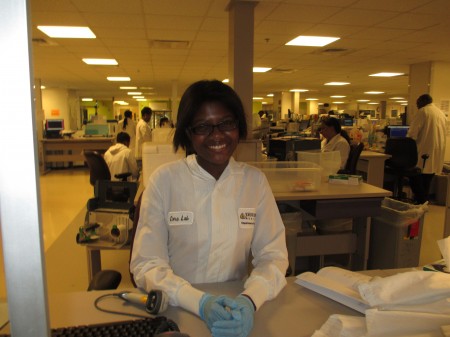 Eight student interns are involved in a document control quality improvement project that was developed after the CAP inspection in September 2011. We set a goal to transfer our laboratory procedures to a Web-based application called Hopkins Policies Online (HPO) before the next inspection in 2013.   HPO was created by the Institution to provide a central depository for managing hospital policies, procedures and other documents.  Documents are electronically created, maintained, tracked and managed.  They are published on the Johns Hopkins Intranet website for easy access by the end-users.  By using HPO for document management, Pathology will have standardized procedures that are regulatory-compliant.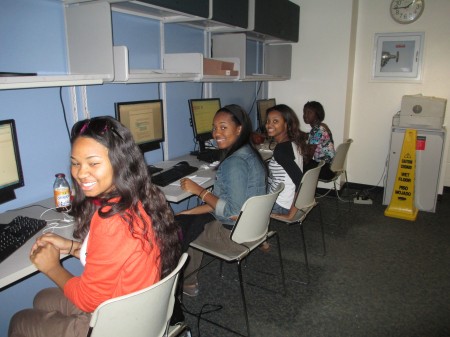 The summer interns have been working on the HPO project since their first day here. They received HPO training on the first day and have worked steadily to move existing policies/procedures into specific online technical manuals. Once the policies/procedures have been loaded on to HPO, each laboratory division can start to review, edit, and publish them.  Many of our supervisors, leads and managers have been involved in mentoring the students and monitoring the progress of the project.  Halfway through the project, over 500 procedures and policies had been transferred by the summer interns to HPO!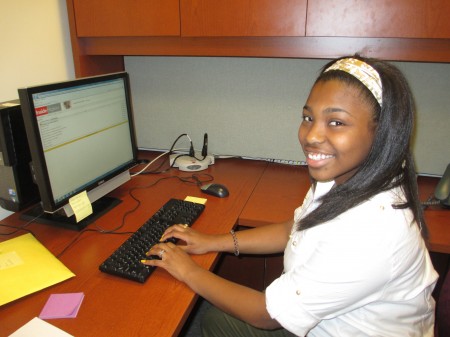 In between all the copying, pasting, and typing on computer workstations, the Department has also provided the summer interns with activities that expose them to other areas of the laboratory and Hospital.   Natalie Wallace gave tours within Pathology and the new Clinical Towers. Juanita Stem provided insight into laboratory quality and regulatory processes with an afternoon lecture.  Karen Reilly took the interns into some clinical areas where Point of Care testing audits were being performed.  Barbara Parsons showed the students an archived webinar, Building Communication Skills.
Our interns shared their thoughts about their summer experience at Johns Hopkins and in Pathology:
"While working on the HPO project I learned more about the Hospital computer system.  The internship gave me hospital experience.  I learned that Pathology has many different areas that all have great value to the hospital. I also learned that Johns Hopkins is very serious about their policies and procedures."  Damara Nesmith, 15, Paul Laurence Dunbar High School
"One of the new skills I have acquired while working on the HPO project is how to transfer different files, and I learned there is an easier way to use the web site.  The summer internship has met my goals by helping me to broaden my horizons. I also learned the Department of Pathology is where you study human disease and that there are many different laboratory areas within Pathology.  Another thing I learned about Johns Hopkins Hospital is that there are people who really appreciate helping others and really enjoy their jobs!"  Briana McDuffie, 12th grade, Friendship Academy Engineering Technology
"While working on the HPO project, I learned how to identify different sections of Hospital policies, and that the various policies that I helped to publish are viewed daily by employees in the Johns Hopkins Health System.  Additionally, I learned that the Department of Pathology is one of the largest departments in the Johns Hopkins Hospital and almost 80% of diagnoses for patients come from laboratory testing."  Myesha Oliver, 18, Salem College
"Working at Johns Hopkins this summer has been a great experience for me. Being in the lab has taught me the important value of teamwork. Although everyone in the lab works separately on their own tasks, the entire process of processing, testing, and sending specimens could not be done efficiently without everyone's hard work. I will use what I've learned this summer in my day to day life, as well as write my senior speech on my experiences in the Pathology lab!"  Brittany Phillips, 16, Saint Paul School for Girls
"During my time working at Johns Hopkins, I've learned how to better myself by typing on the computer and learning proper writing techniques. Working with Pathology, I've come to the conclusion that you need many charts and formulas in order to do a proper procedure. Working in the Hospital, I noticed that for every section of work, you have to wear a different color scrub.  I also saw in the Children's Hospital the sculptures that resemble animals." Autum Morton, 15, Milford Mill Academy
"Working at the Johns Hopkins Hospital has been an excellent learning experience.  I have learned how to work with people both like myself and different from me. This program has also increased my communication skills within a working environment. I have learned to participate in meetings, send proper emails and use other skills to help communicate amongst my co-workers. After working at Johns Hopkins, I have gained the confidence to work in any environment." Sabrina Christian, 16, Western High School
"I learned how to do procedures and policies on HPO and how to fix formats.  I learned that the Pathology Department studies human diseases. I took a tour of the new Hospital and I learned what every scrub color meant."  Da'Rae Solomon, 18, Stevenson University
"As a student who has been participating in the JHU summer internship since sophomore year, I know just how special this experience can be. Every year, I get to meet new people, learn more things and explore the hospital campus. This year working in the Pathology Department, I improved my organizational skills and gained more focused work habits. I look forward to learning more from Johns Hopkins when I return next year!"  Nichola Mathews, 17, The Catholic High School of Baltimore
"Working in the Pathology Department has been an incredible experience. I never knew that all of these interesting jobs were in this department. I would love to work in the pathology field, and this summer has strengthened my interest."  Khadijah Williams, 16, Baltimore City College
Thanks to the summer interns for their contributions to the Department of Pathology!
Thanks to all the Pathology mentors for their support of this program!
Barbara Parsons
CQI Office
Department of Pathology