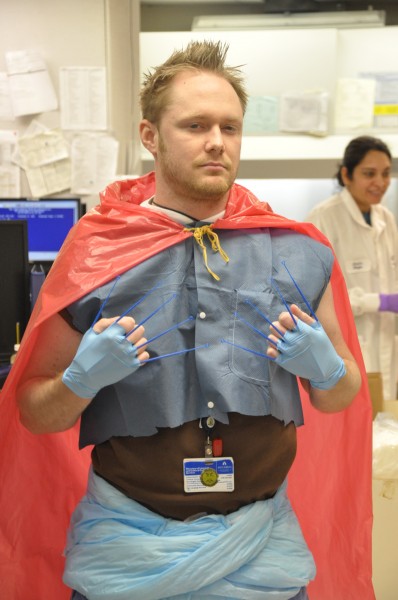 Brandon Ellis as Bacti-Man to the rescue
In my 12 years of working in the Lab, I have noticed that laboratorians tend to share a love of superheroes, be they Batman, Superwoman, or a member of the X-Men. I imagine that this is because we all fancy ourselves as bit of a superhero. To the outside world, we are just ordinary citizens like the mild-mannered Clark Kent with his oversized glasses and unassuming appearance. However, when we descend into our lairs (labs) and don our lab coats, we transform into supertechs, defenders of the patients we serve! When our fearless manager, Amelia Maters, encouraged us to enter the ASCP "Testing the Limits" Lab Week Video Contest, it was no surprise to me that we choose to fashion ourselves as superheroes fighting the evil microbes, also known as "The Resistance."
We immediately got to work and put out a casting call for those interested in participating. We formed a committee to produce the video. Our volunteer committee turned out to be a nice cross-section of our laboratory and included LTs, MLTs, MTs, a lead, a supervisor, and a postdoctoral fellow. It was a lot of fun tossing around ideas for a storyline and we ended up building on each other's ideas. Despite all the laughter, we were extremely productive! A timeline was established and specific tasks were divided among the committee members according to their interests and individual talents.
I volunteered to write the script and immediately set to work on it using all the ideas generated in our committee. Even staff who didn't attend the committee meetings made contributions, including coming up with the name for of one of our villains, Neisseria Meninja. Avá Roberts, along with help from other committee and staff members, got to work on designing costumes. Mike Camp and Ken Tan went about getting all the gear and cameras we would need for filming. Staff members generously donated their video cameras and materials for costuming. Ann Juaneza became our production manager with the responsibility of coordinating the actors, costuming and filming these actors, and generally making sure everyone met their deadlines. She volunteered her laptop for editing the video.
We had many brave volunteers to fill the parts of actors and narrators. Even Dr. Karen Carroll, our Lab Director, got in on the action and agreed to take on the part of our Jedi master. Many of the actors helped with development of their costumes and they were all very committed to their parts. We choose to film during down times in different parts of the Lab, so as to not disturb anyone's work. Editing was a time-consuming process and both Ken and Ann spend many hours outside of work putting it all together.
We premiered our video on March 30, 2012, in Carnegie 489. We are currently running a Facebook campaign to garner votes. The video is currently posted on ASCP's Facebook page. You can vote for it by going to ASCP's Lab week Voting Facebook page. Here is a direct link to our video: http://www.ascpresources.org/ascp-facebook/videos/Johns%20Hopkins%20Hospital.html. Be sure to vote by clicking on the "Like" button next to the video.
Win or lose, the process was a valuable study in teamwork. It provided a lot fun and lightheartedness in a very serious, challenging, and sometimes stressful but worthwhile profession.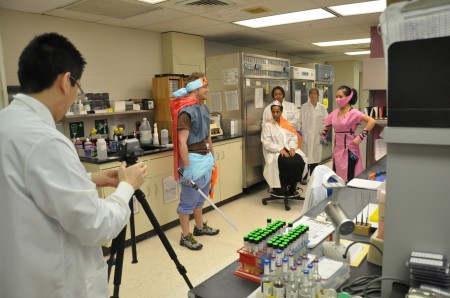 Filming of the fight scene between the noble Bacti-Man and the deadly Neisseria  Meninja,  featuring Ken Tan behind the camera, Brandon Ellis, Tsige Tekle, Latetia Bryan, Carol Geithner, and  Sokha Tan.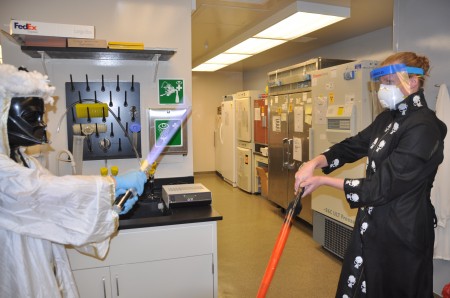 Fight scene between the awesome Lady Ampho and the Evil Mucor, featuring Jamie Prestridge and Rick Lee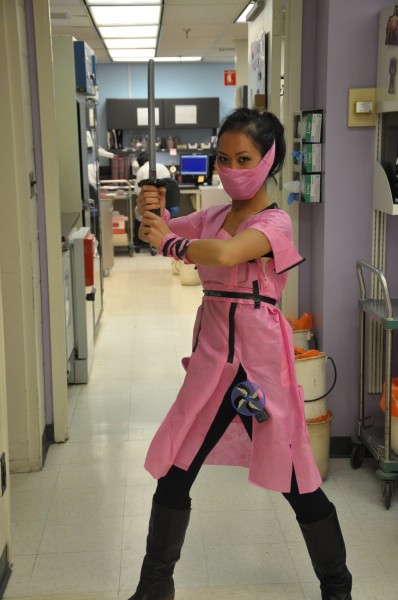 Sokha Tan as the insidious Neisseria Meninja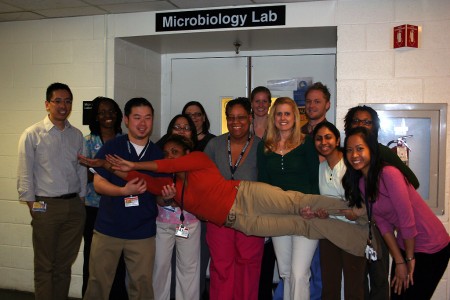 Micro's-Superheroes—another-photo
Nicole P. Kwiatkowski, MLS(ASCP)
Microbiology Lab Supervisor
Johns Hopkins Hospital
Baltimore, Maryland