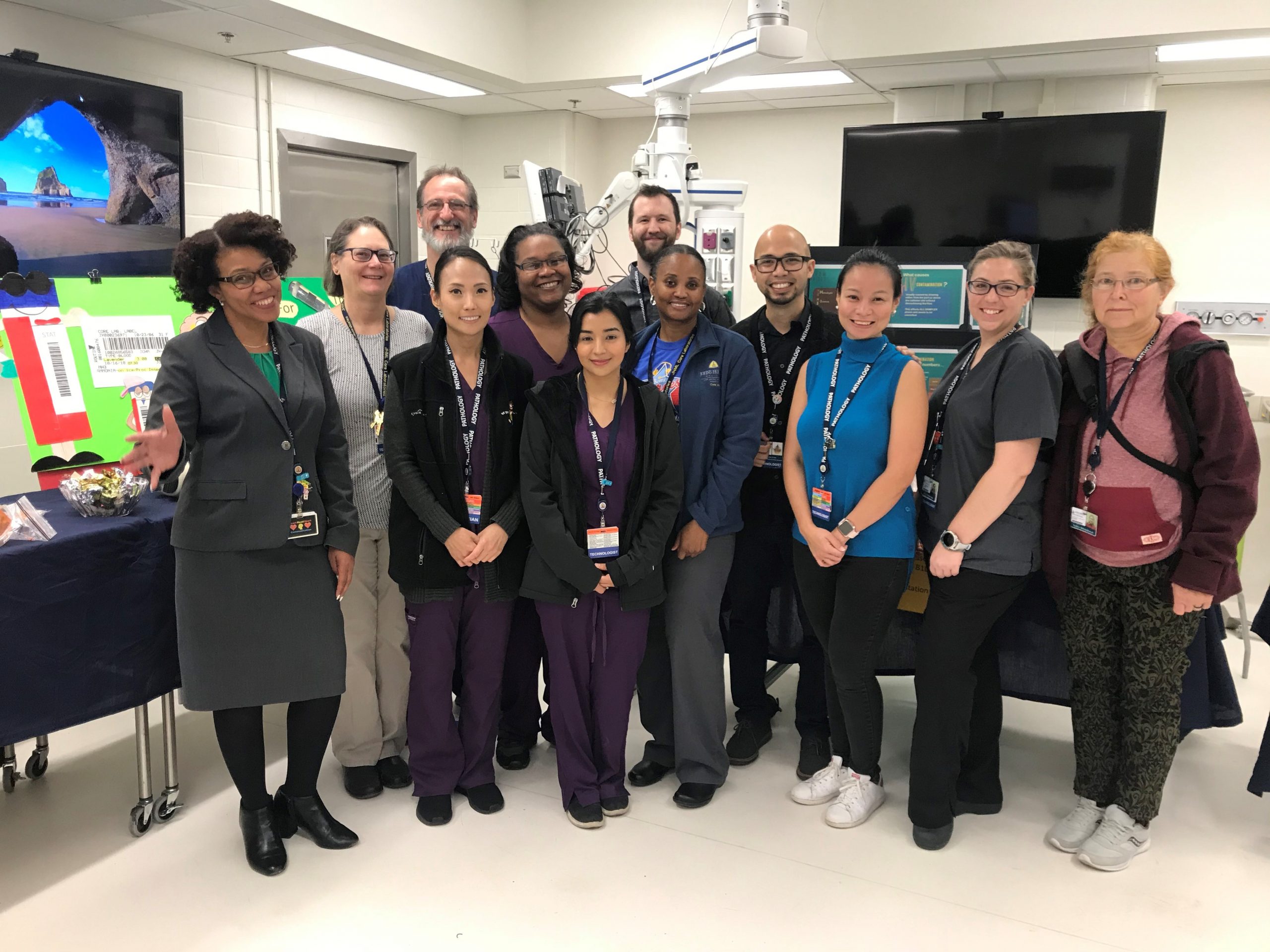 Pathology has expanded their involvement in Nurses Skills Days from Department of Medicine, now adding Department of Surgery, and also involving all of Pathology labs.
In their continuing effort to provide the highest level of care to our patients by reducing the number of pre-analytical errors, Core Lab pre-analytical director Dr. Claire Knezevic and QA specialist Lona Small reached out to other Pathology Labs who had previously collaborated on Nursing educational initiatives to form an even larger team with staff from Microbiology, Transfusion Medicine, and Immunology. This cross-laboratory group identified key recurring issues and determined a set of universal specimen acceptance criteria and designed special educational materials for nurses and other collectors. Upon contacting nurse educators and managers within inpatient units, the Pathology group presented their educational materials at Nursing staff meetings and clinical practice meetings, and discussed opportunities for collaboration with nurse attendees.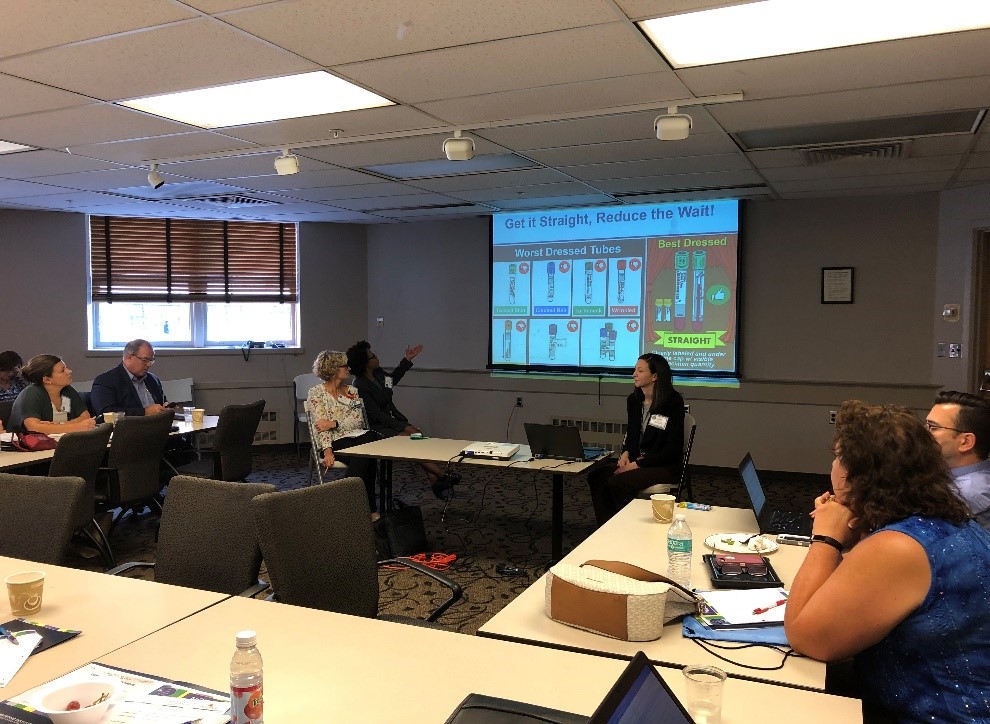 The Department of Surgery requested that we participate in their Skills Days — saying that the reputation of our success with the Department of Medicine's Skills Days using the theme,  The Life of The Lab Specimen, had preceded us!
2019 Nursing Skills Days
The Department of Surgery and the Department of Medicine invited the new group to participate in their Nurses Skills Days using again The Life of The Lab Specimen theme.  Champions from Core Lab (Phlebotomy, Processing, and Customer Service), as well as Microbiology, Immunology, Transfusion Medicine, and Surgical Pathology, led their peers by developing creative and interactive educational materials.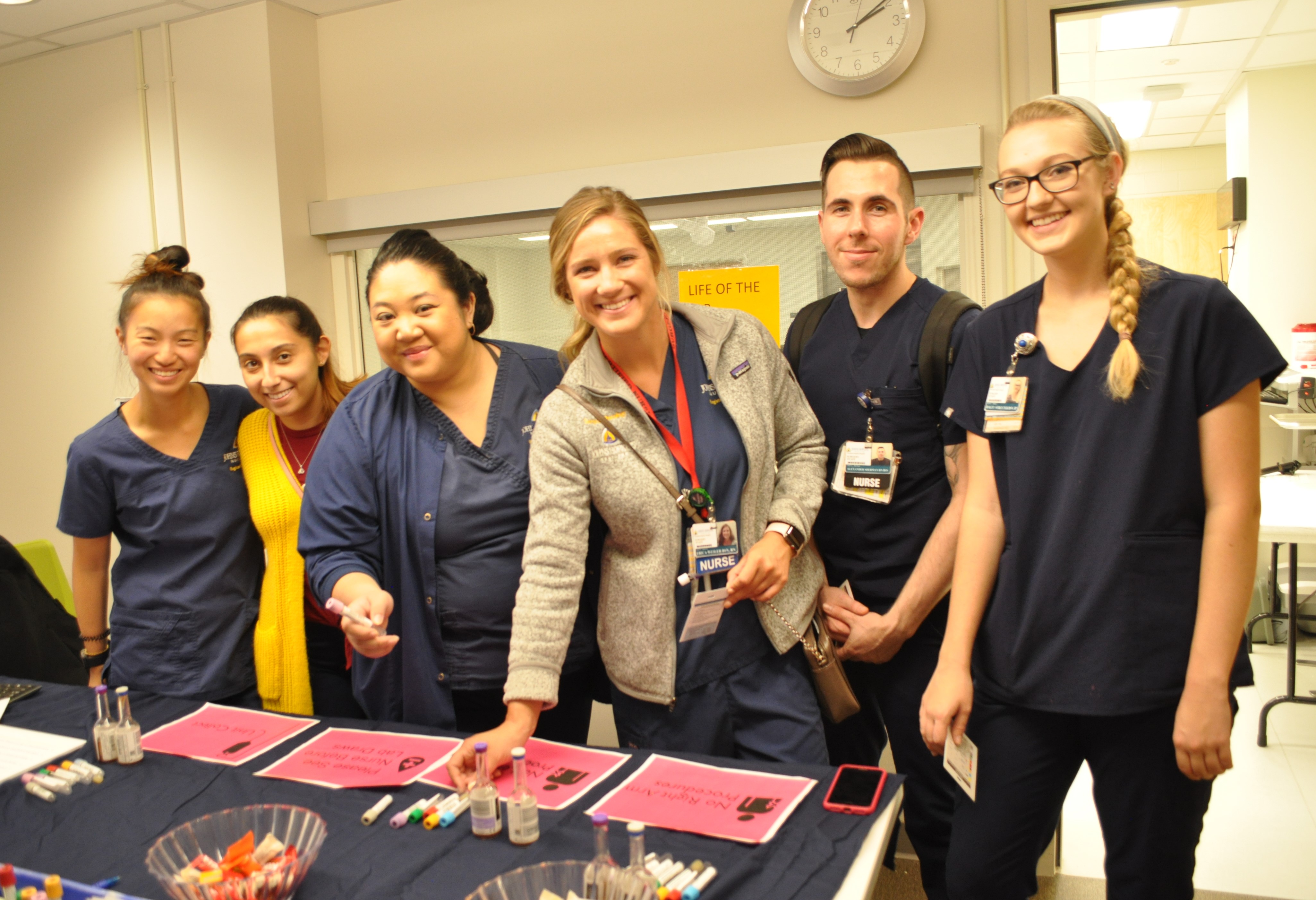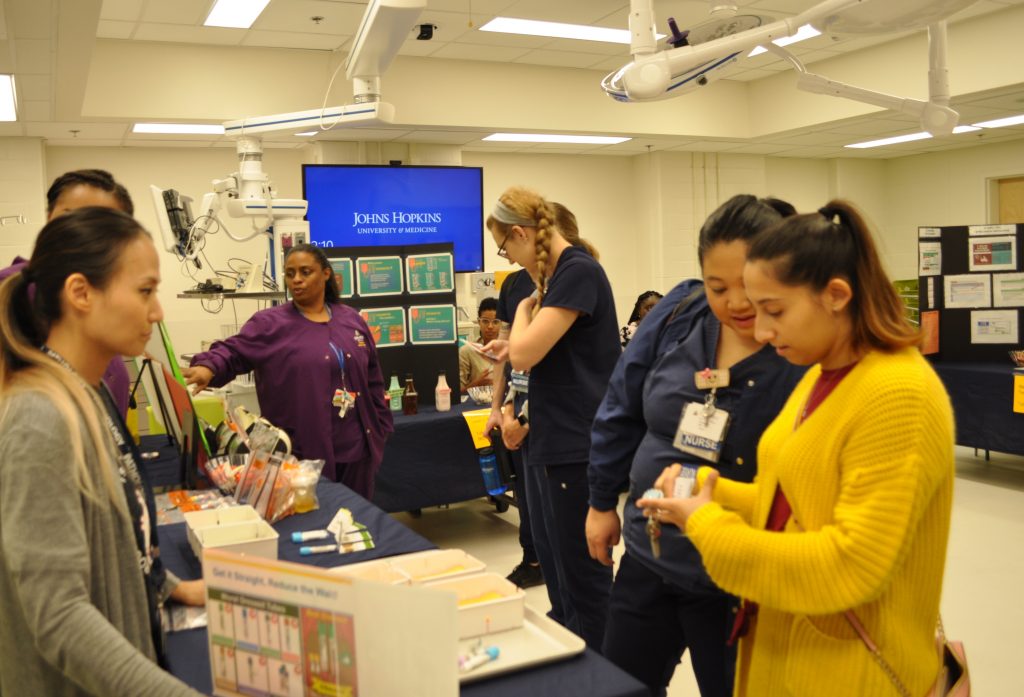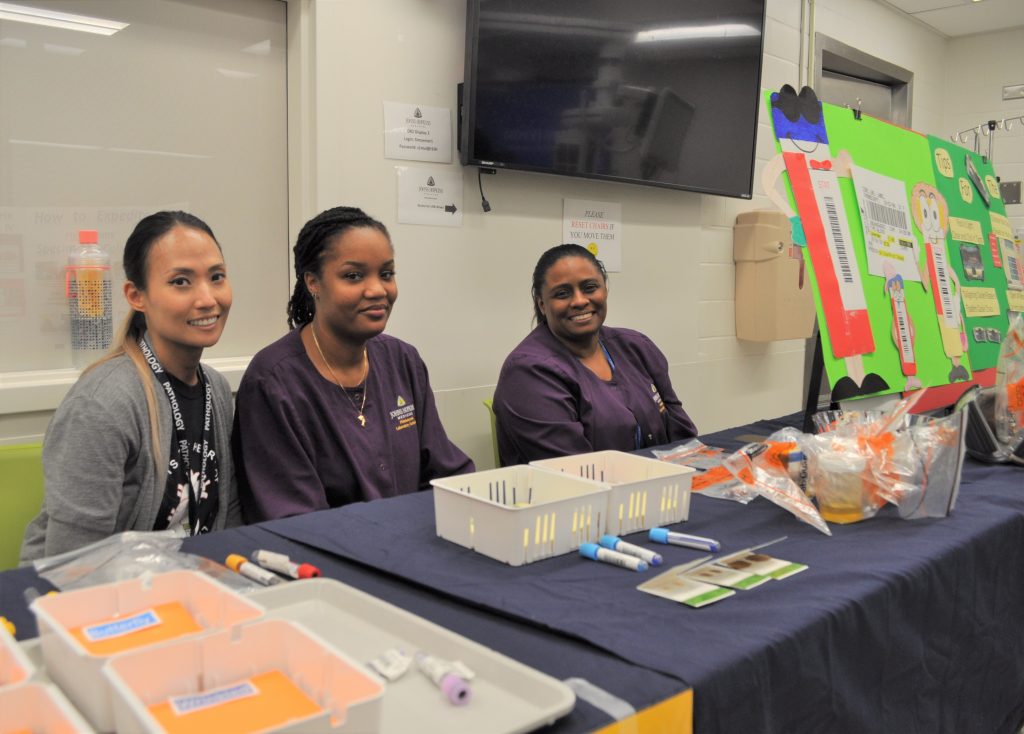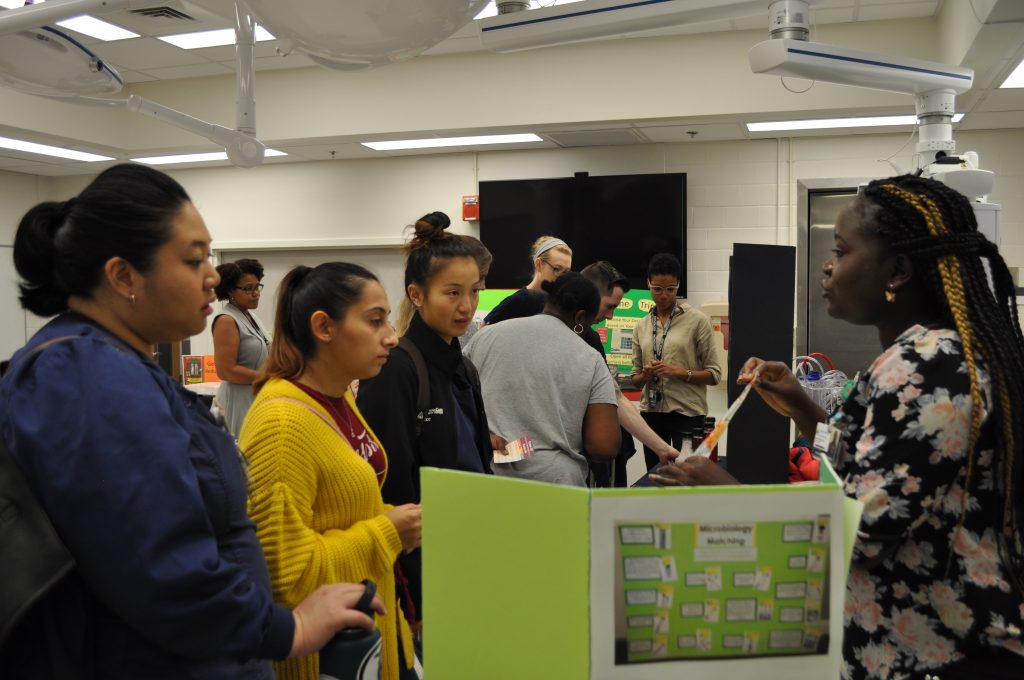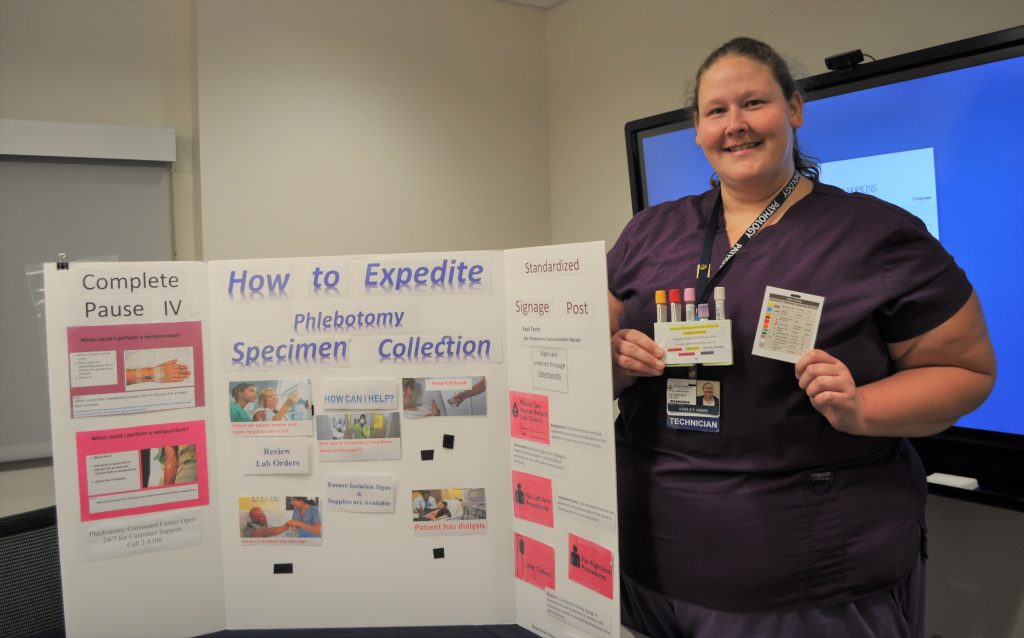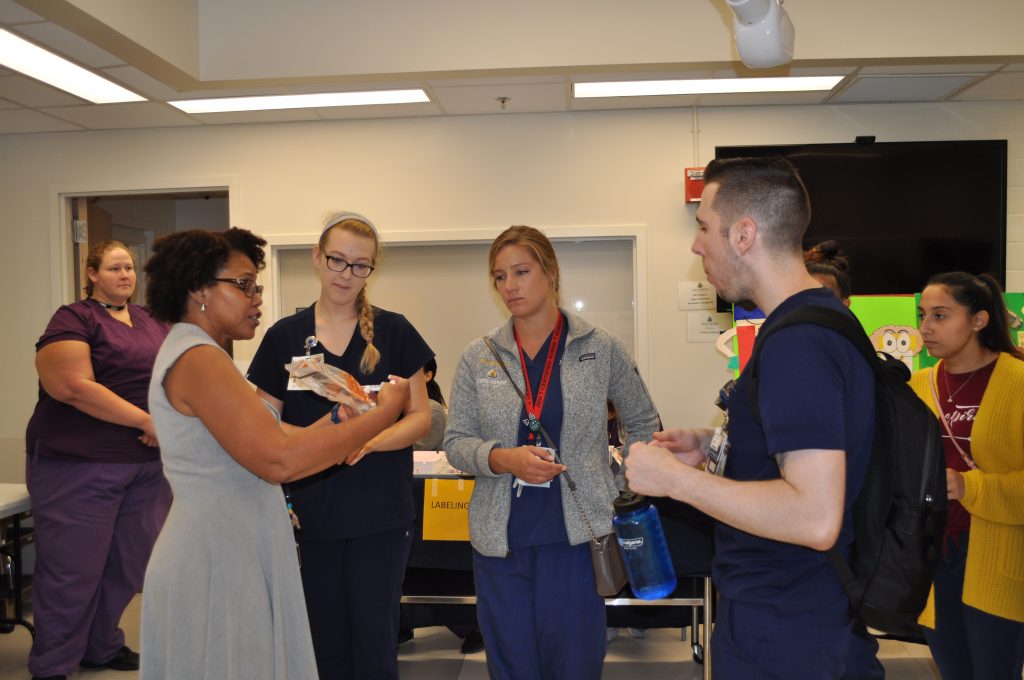 Nurses were guided through the entire testing process, from collection to result, and interacted with staff from each Lab to learn key points for successful testing. There was full involvement of Lab staff, with participation used by many as a Success Factor goal.  The nurses were fully engaged with the activities, asked many questions, and were very happy to have this opportunity to become more familiar with the protocols. We were very happy that the nurses stated this educational opportunity was very valuable.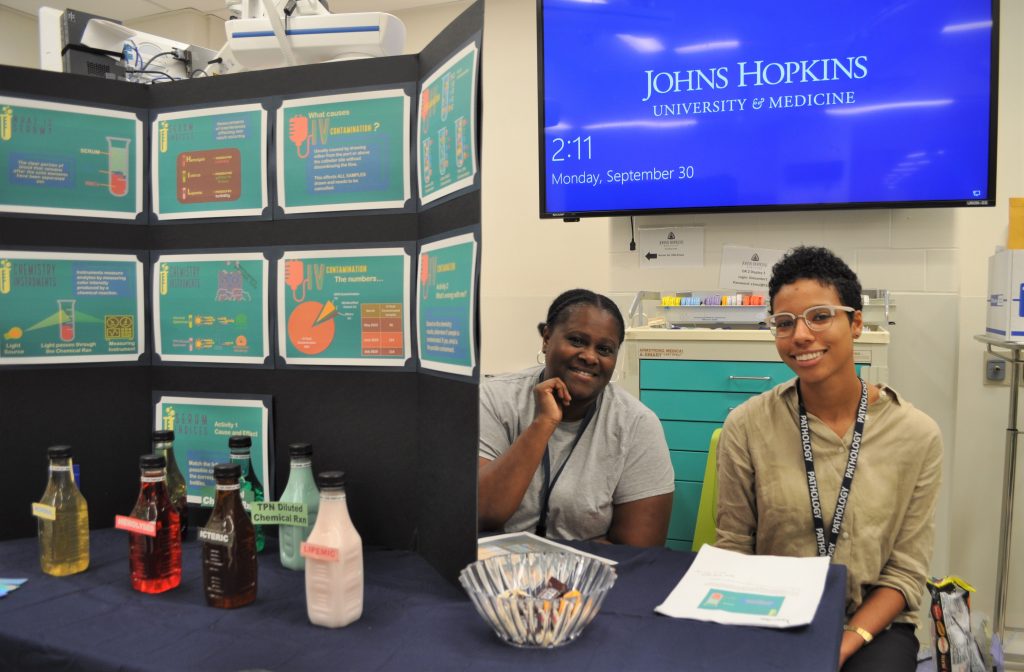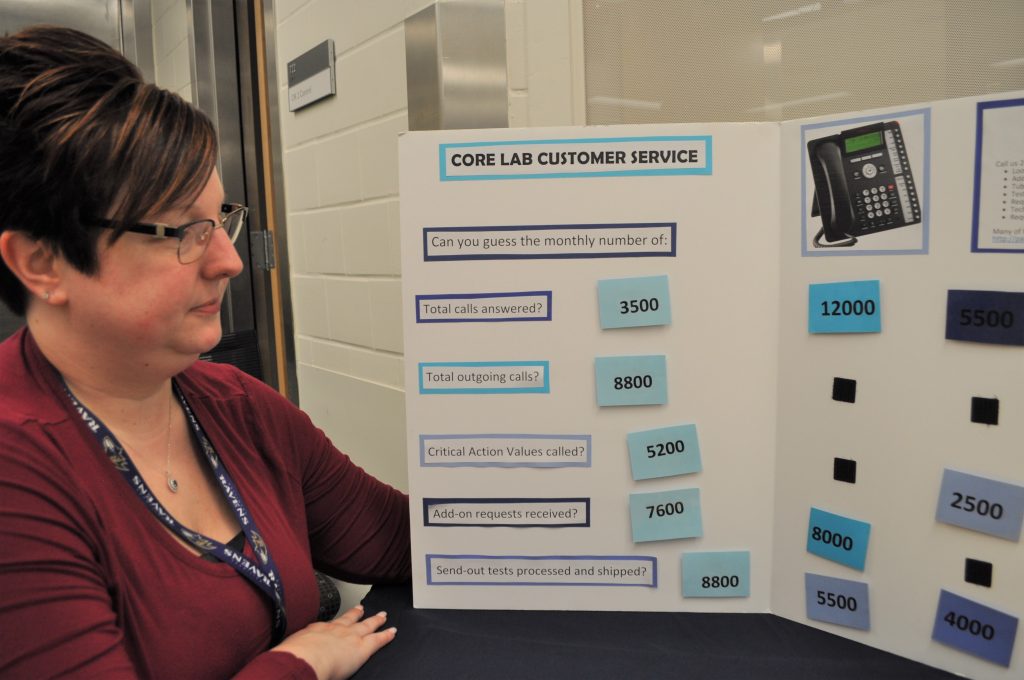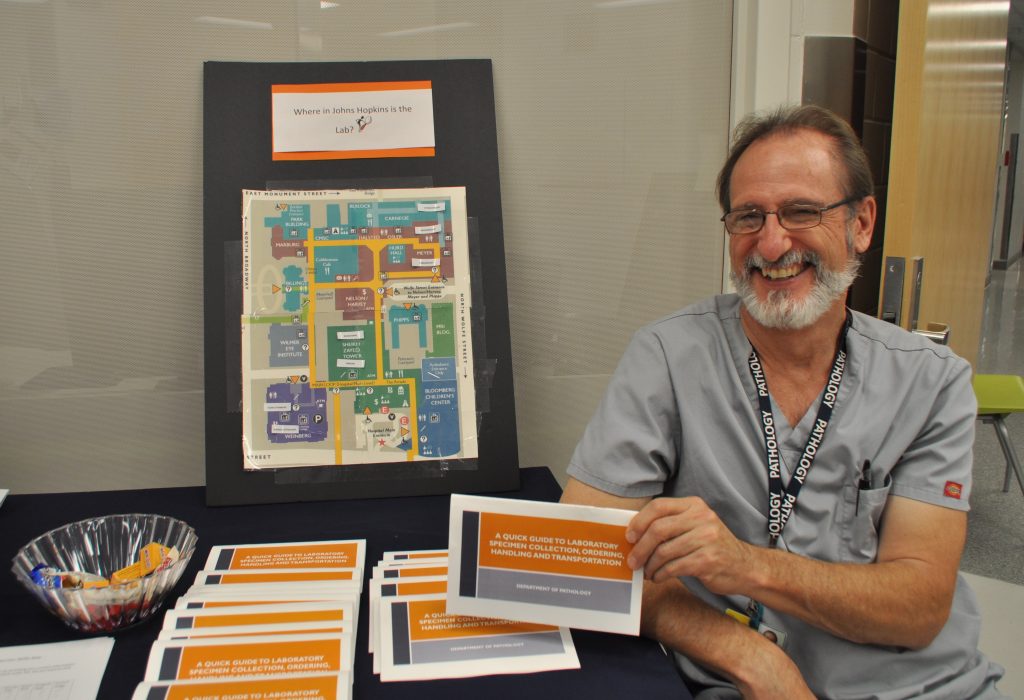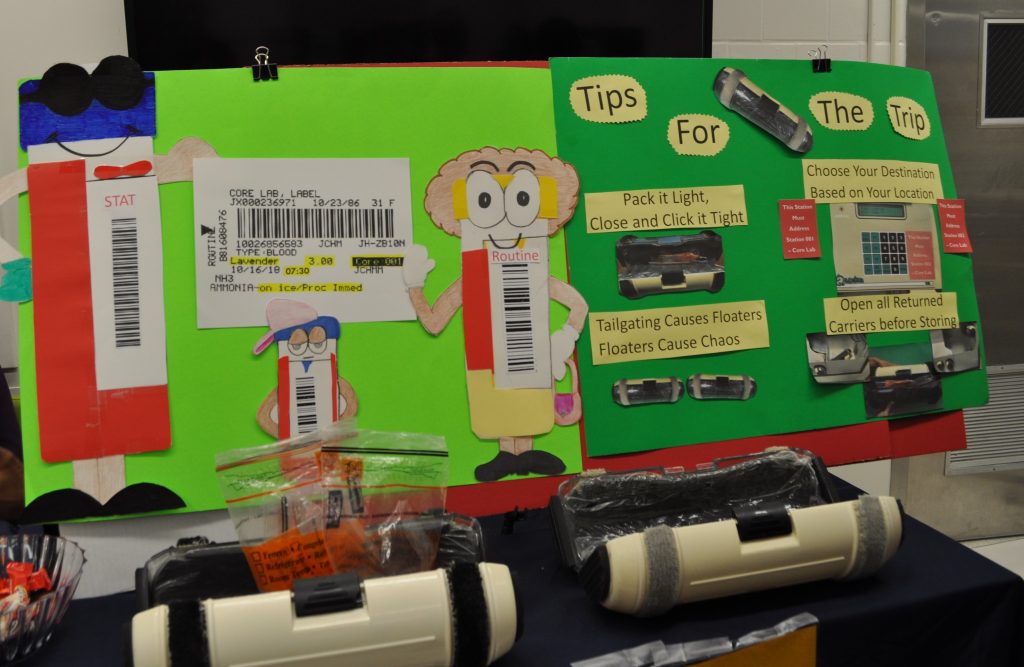 The Department of Surgery's Nursing Skills Days were held on September 23, 30, October 11, and a final day will be held December 12. The Lab staff are looking forward to the Department of Medicine's Skills Days this year on November 7, 8, 11, and 12.
The Skills Days would not be possible without the support of staff and leadership from each laboratory, as well as Pathology leadership. Champions for the Skills Days are:
Phlebotomy:              Shaquawna Daughtry, Abby Green, and Geraldine Maranan
Processing:               Judy Frazier, Christine Lee, and Amia Moore
Core Lab:                  Annrose Kryzel Hije, Terry Mays, and John Umali
Microbiology:             Maria Infussi
Blood Bank:               Lorraine Blagg, Dr. Val Strockbine, and Ruth Umali
Immunology:              Sean King
Surgical Pathology:   Steve Phillips
Customer Service:     Kevin Martin, Tora Ruffin, and Jamie Yurkonis
Project Leader:          Lona Small
The Importance of Pre-analytical Education
The importance of pre-analytical education cannot be understated, per an MLO-Online article on the Web.    There are three stages to testing the blood. Pre-analytical encompasses test request, patient and specimen identification, specimen collection, transport, accessioning and processing; the analytical stage is the actual specimen testing; and the post-analytical stage includes reporting test results, interpretation, follow-up, storage, and retesting if needed. The article states, "Although errors can arise at any of the three stages, studies show that the pre-analytical phase accounts for 46% to 68.2% of errors observed during the Total Testing Process … Considerable advances in laboratory instrumentation have significantly reduced the error rate during the analytical phase.6 However, despite the improvements in pre-analytical automation, the pre-analytical phase remains the most error-prone part of laboratory testing due to its complexity, that is, due to the presence of many steps that occur both before and after the specimen reaches the laboratory… Proper management of pre-analytical errors requires significant interdepartmental cooperation, since many sources of these errors fall outside the direct control of laboratory personnel.  Laboratory professionals must be leaders in ensuring patient safety, both outside and inside the walls of the Laboratory." (Emphasis added.)
                                                       +++++++
For more information about Nursing Skills Day, please contact Lona Small or Dr. Knezevic.   Many thanks to the wonderful Pathology team involved with Nursing Skills Day for sharing their time and creativity in order to better care for our patients.