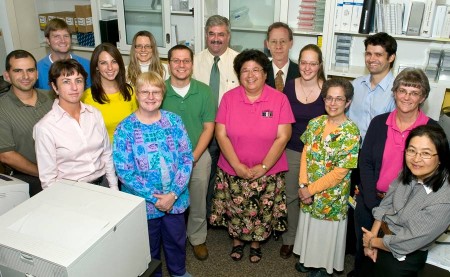 Pathology Molecular Diagnostics Laboratory Faculty and Staff
It's not quite the center of the earth, but it's close to it. In the subbasement under the Park Building Emergency Rooms, it's the Pathology Molecular Diagnostics and Cytogenetics Laboratories.
The Pathology Molecular Diagnostics Laboratory offers state-of-the-art clinical molecular testing for solid tumors, cancer predisposition, leukemia, lymphoma, and a number of hematologic mutations associated with disease. Our tests are based on the latest research-based knowledge and provide initial diagnostic information, detection of residual disease following therapy, and assessment of disease risk for inherited conditions. The lab, started in 1986, has grown over the past 23 years with initial test volumes of a few hundred samples per year but has since grown to over 4,000 samples per year. Just as test volumes have changed, so have the molecular methods used to generate test results. The lab has evolved from running labor-intensive agarose gels and using radioactivity to automated methods of detection such as capillary electrophoresis and real-time PCR.
The lab offers a variety of tests which serve both adult and pediatric oncology and anatomic pathology. Our test menu includes bone marrow chimerism testing, T-cell/B-cell gene rearrangement testing, 1p19q LOH (oligodendriogliomas), FLT3 mutation, microsatellite instability (MSI), tissue identity testing, and BCR-ABL real-time PCR. Over the last year and a half, the lab has added hydatiform mole DNA classification, Synovial Sarcoma RT-PCR testing, leukemia panels, and KRAS mutation testing. In 2010, the lab will be adding BRAF testing to the menu along with several other new tests.
The lab is directed by Drs. Christopher Gocke and James Eshleman and, until recently, Dr. Kathleen Murphy. Performing the lab tests are Mike Hafez (Lab Manager), Christina Cooney, Ruthie Shane, Keith Jackson, Katie Beierl, and Lisa Haley. The lab is located in the Park Building, SB202, and open Monday thru Friday 8:30 a.m. – 5:00 p.m. For testing inquiries, please call 410-955-1438.
Mike Hafez
Laboratory Manager
Pathology Molecular Diagnostics Laboratory