A multidisciplinary Hospital team consisting of personnel from the Departments of Nursing, Anesthesiology, and Transfusion Medicine was organized and facilitated by a certified Six Sigma Quality and Innovation coach from the John Hopkins Hospital Center for Innovation in Quality Patient Care. The team was developed in 2004 to investigate the cause and implement change to reduce the amount of Red Blood Cell wastage within the Institution. Four percent, approximately 1700 units, of red blood cell units were being discarded. At the conclusion of the four-year project, red blood cell wastage was reduced to less than two percent, saving 900 units from being discarded.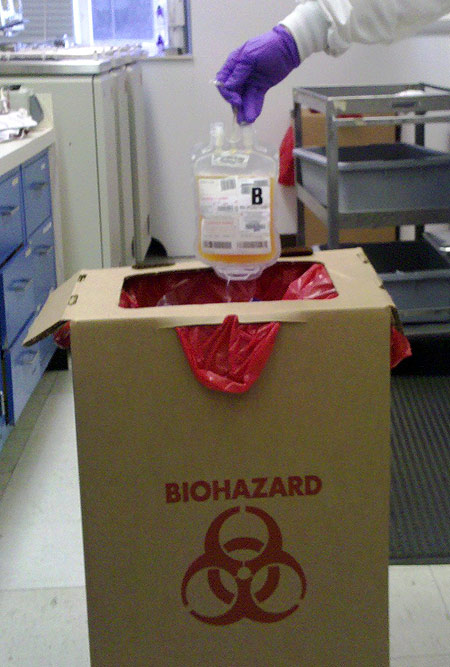 During the red blood cell wastage reduction project, the team discovered the potential to reduce plasma wastage as well. Annual plasma wastage was 942 donor units of the 18,047 units transfused. A performance improvement goal was set to reduce the number of wasted plasma units to less than two percent of the amount transfused.
A performance improvement team was developed to collect, analyze, and initiate process improvements and to report the outcomes to the Pathology Performance Improvement Committee. Baseline wastage data was compiled from FY2007 and FY2008 and calculated as 5.27% and 4.01% respectively. Reasons for plasma wastage were identified, causes were reviewed and process controls were initiated. First, products were issued, returned and deemed unsuitable for reissue. In order to maintain product integrity and ensure that products are safe for further transfusions, each product is reviewed upon return. Products exceeding validated guidelines after they are dispensed and returned are discarded. Second, plasma units were wasted within the laboratory or as a result of transportation problems. Laboratory accidents such as dropping units causing breakage and transportation issues within the pneumatic tube system are monitored but in most cases are not preventable. Plasma units were also being outdated within the laboratory and broken during shipment.
Several focus areas were identified and process changes were rolled out in three phases.
Phase I: The quality assurance specialist team developed an education program and established an accountability system for wastage.
Phase II: A reimbursement was negotiated with the plasma supplier for products that were broken due to shipping problems.
Phase III: A new policy was initiated extending the outdate of all plasma from 24 hours or 3 days to 5 days as allowed by current regulations.
Plasma wastage was successfully reduced to 2.59% in one year saving 542 plasma units with a further reduction to 0.98%. Monitoring and implementing change to current practices has significantly minimized plasma waste. Patient safety is ensured by better inventory management of a very precious resource.
Christi Marshall, MT (ASCP)BB, CQA(ASQ)
Lab Supervisor II
Transfusion Medicine Division