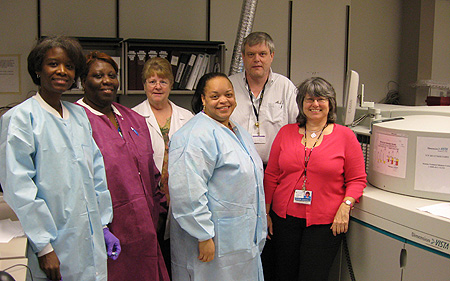 From Left to Right: Bayview's Core Lab Vista Team, from left to right:   Trina McFadden, Peggy Sharpe, Judy Jones (blog post author), Kendra Wilson, Nelson Short, and Sherrie Hoffman.
V = VISION
I = INNOVATION
S = SPEED
T = TECHNOLOGY
A = AUTOMATION
In June of 2008, the Core Laboratory at the Johns Hopkins Bayview Medical Center went live with the new Siemens Dimension VISTA, an integrated chemistry/immunochemistry analyzer.  While searching for a new analyzer, it became evident that the VISTA had all of the functionalities we desired, integrated into one instrument.  With the VISTA having four technologies on board one platform (V-LYTE, Nepholometry, Photometry, and LOCI), we were able to eliminate three analyzers, in addition to the two Hitachi 917s, and consolidate all testing into one workstation.
The advance to VISTA has addressed most of our Chemistry NVA (non-value-added) services and introduced the LEAN concept in the laboratory.  It is no longer necessary to aliquot and walk specimens to other analyzers, reducing pre-analytic time and labor.  We also now enjoy the almost non-existent instrument maintenance, which in the past was time-consuming on the other instruments.  In addition, the VISTA allows for an improved quality control process with quality control and calibrators residing on board the instrument and running pre-programmed quality control at specific times.  This feature eliminated labor-intensive manual reconstitution and other hands-on tasks.    In addition, the VISTA has intuitive abilities to determine reagent needs based on workload information accumulated by the VISTA, over time.   Dilutions, repeats, reflex testing and add-on tests are automated steps based on pre-programed rules, using sample aliquots which are kept on board the VISTA for 2 hours.
EasyLink, the informatics middleware of the system, delivers consistent quality results.  It was adapted to meet the needs of our workflow with its custom rule-writing capability.  When our LIS (Meditech) is down, we have not lost our resulting rules, decreasing repeats, etc., when the LIS comes back on-line.
This change in Chemistry analyzers was a huge undertaking, not without its challenges!  Under the direction of Stefan Riedel, MD, PhD, our Laboratory Director, administrative support from Suzy Nicol, our Lab Manager, and the technical expertise from Siemens, every hurdle was met head-on and resolved.  With consolidation of instrumentation, pre-analytic time has been substantially reduced and we have also been able to reduce analytic time for certain tests.  Expectations are to further reduce turnaround time as we implement autoverification rules.
Judy Jones, H(ASCP)
Supervisor Technical/Operations
Core Laboratory & Central Receiving/Reporting
Department of Pathology
Johns Hopkins Bayview Medical Center