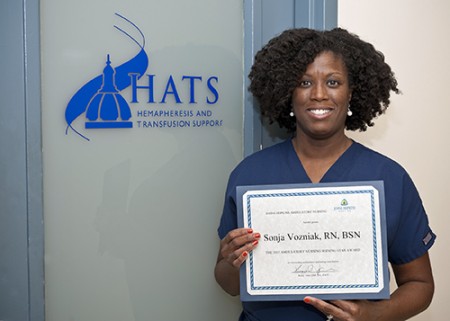 Sonja Vozniak, Nurse Clinician III of Pathology's HATS Division (Hemapheresis And Transfusion Support) was named the recipient of the Hospital's Ambulatory Nursing Shining Star Award. The criteria for the award included clinical excellence in area of practice, clinical expertise to advance the scope of nursing practice, creative approaches to improve quality of care, excellence in a mentorship or preceptor role, and being a shining example of Johns Hopkins Nursing through word, deed, and attitude.
Sonja is seen as an incredible clinical resource for both the nurses and physicians in HATS.   Among her many accomplishments and projects, she recently led the HATS through the implementation of Ambulatory EPIC and the implementation of our new apheresis machine, Spectra Optia. Sonja is currently working on validation of stem cell collection on Spectra Optia, design and patient flow for our new apheresis clinic on Park 1, and training of staff on stem cell collections on Optia. Sonja is a great asset to her peers and is responsible for their training and competencies.   Furthermore, you never see her without a smile on her face and a willingness to help!
Sonja started her nursing careering in the Department of Neurology where she practiced for over 10 years. After a brief hiatus from JHH, she returned in 2005 to work in HATS as an Apheresis RN. She was promoted to her current NCIII position in April 2010. On September 26, 2015, Sonja attended the JHU Shining Star Recognition Dinner with Renay Tyler, the Senior Director of Nursing for Ambulatory Care Services.
We are very grateful for Sonja's valuable contributions, her strong work ethic and cheerful manner, and that Sonja was honored with this award.
Louanne Morell, R.N.
HATS Manager
Department of Pathology