Did you know that the Pathology computer network staff supports over 1,300 desktop PC workstations, 700 printers, and 300 laptops located throughout the East Baltimore campus and the Baltimore metropolitan area, and across the state from the Eastern Shore to Frederick at Johns Hopkins Community Physicians sites?
The Department of Pathology's extensive and diverse patient care, teaching, and research activities demand sophisticated computerization and network connectivity, as well as a group of knowledgeable and highly skilled information technology (IT) staff to provide support 24 hours a day, seven days a week.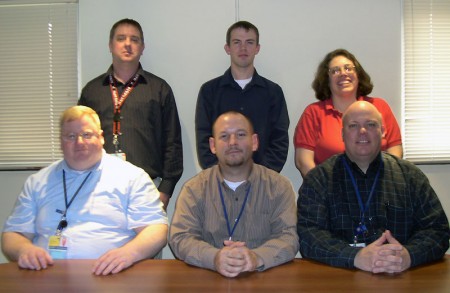 Pathology Network Administrator Mary Lakin and her staff, , are available around the clock — on workdays and holidays — to provide a broad range of services and support to the Department's computer and network users and others.
As many of you know from firsthand experience, Mary and the Pathology local area network (LAN) staff look after the orders, installations, and configurations of new computer hardware and software, they assist users of desktop and mobile devices with hardware, software, and network connectivity problems, and are available to solve problems encountered when using Institutional computer systems such as e-mail, electronic patient record systems, or the SAP timesheet, payroll, or purchasing functions. Furthermore, they are always there to clean up when a virus or other piece of malicious software (malware) finds its way onto someone's workstation or laptop.
Mary's team also performs a key behind-the-scene function: administering the Pathology LAN servers (PathLAN) which are located in the Meyer Basement computer room along with the Pathology Data Systems (PDS) laboratory information system (LIS) servers. The PathLAN's 24 data servers house a total of 25 terabytes of storage (25,000 gigabytes), with nightly data backups that use robotic tape storage systems so that copies of the data from the servers can be taken to an offsite location for safekeeping. To put this amount of data storage in perspective, 25 terabytes would be enough storage for more than 5,000 feature-length high definition (HD) movies, or enough songs from iTunes to play music 24 hours a day for almost 30 years!
The PathLAN data servers, which have file directories for each faculty and staff desktop workstations, are also used to store research data, administrative, human resources and billing data, and patient care data such as document images from the Surgical Pathology, Cytopathology, and Autopsy services, as well as copies of select patient data and document images from the clinical laboratories and the Blood Bank. Some PathLAN servers also work together with the PDS LIS servers to support functions such as digital dictation, and image capture and storage for the Surgical Pathology grossing areas, the Electron Microscopy Laboratory, and other areas.
The PathLAN servers, desktop workstations, printers and other devices constitute a critical infrastructure without which the Department would not be able to function. And Mary Lakin and the PathLAN staff do a stellar job of supporting this very important service.
Martine Uveges
Systems Development Manager
Pathology Data Systems
Robert E. Miller, M .D.
Director, Pathology Informatics Division
Department of Pathology