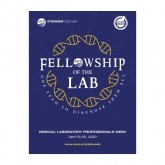 Medical Laboratory Professionals Week, annually held in April, is traditionally celebrated with food, games and other fun activities, as well as participation in a community charity event to "give back." Due to the coronavirus pandemic, this year was a little different. There were far fewer activities, but that did not dampen the giving spirit of our amazing Pathology employees in the charity event!
The Johns Hopkins Pathology food drive for the Maryland Food Bank, held April 19-29, was "virtual" this year so donations could be made directly on the website.  The Food Bank is able to purchase food at a much lower price and in greater quantities than available in grocery stores.
Pathology has participated in this event for many years, but it was especially meaningful this year, given the large number of suddenly unemployed and needy people in Baltimore. We had a lofty goal – to raise $5,000 to purchase food items for the needy in Baltimore. It seemed to be "pie in the sky" – but our final total was a whopping $5,608!  The folks at the Food Bank were absolutely thrilled!
A simple thank you does not seem enough for this incredible outpouring of generosity — and especially during a pandemic. Your donations mean more than you will ever know for needy area families.
Paula Mister
Educational Coordinator
Microbiology Division