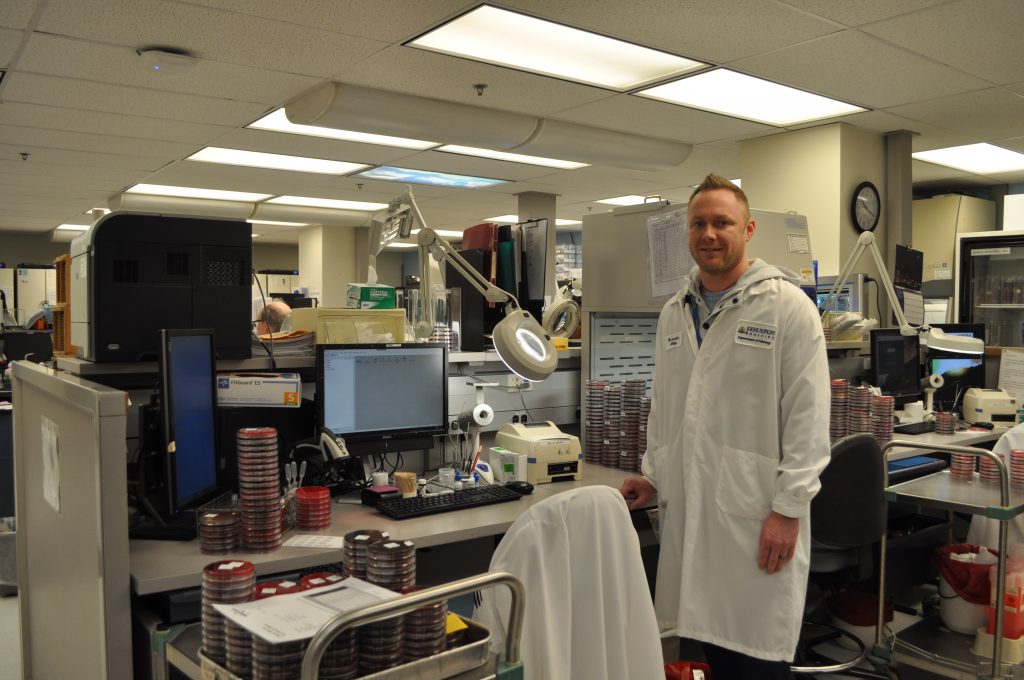 Many people in Pathology already know Brandon Ellis, laboratory manager of the Microbiology Division.
Brandon always had a keen interest in science as a child, and his interest in microbiology began when he was just eleven and watched the movie Outbreak.  It started then and never stopped growing.  Lately with the alarming reports about the novel coronavirus, COVID-19, Brandon is often answering questions not only here at Johns Hopkins, but from family, friends, classmates, and others. Brandon is highly active in the JHM preparedness for COVID-19, and the Micro Lab will begin testing for the virus in 1-2 weeks.
Brandon is a proud graduate of the University of Delaware and holds a B.S. in medical technology (now medical laboratory science).   Go, Blue Hens!   While in college, Brandon worked as a server and a cook, and spent one summer working at the Starbucks roasting and distribution factory in York, Pennsylvania. He says of his Starbuck days, "It was a fun experience and explains my coffee addiction."
Brandon's first day at The Johns Hopkins Hospital Microbiology Lab was in the summer of 2007, just after college graduation when he was hired as a medical laboratory scientist on the evening shift.   He was subsequently promoted to lead, supervisor, and then to manager in May of 2018, when Ame' Maters retired.
The Lab has over 100 faculty, staff, and research personnel — it is a 24/7 operation with employees spread across three shifts. As manager of the Division of Medical Microbiology, Brandon is responsible for managing all areas of the Microbiology Laboratory, including specimen processing, bacteriology, mycology, mycobacteriology, and molecular virology.  He is also a member of the Biocontainment Unit testing team in Microbiology.
Brandon shares, "The field of medical microbiology continues to rapidly evolve. My main goals and future strategies revolve around introducing cutting-edge technology to improve patient care, while simultaneously developing workflows that are more efficient and cost-effective. I also want to increase staff engagement through professional development opportunities and fostering a supportive and fun team environment."
Brandon is pursuing his MBA at Loyola University Maryland and plans to graduate this summer.   When he's not at work or working on his degree, Brandon enjoys hiking, running (adding he never thought he'd say that), gardening, fishing and hunting, cooking, and traveling the globe. He says he was fortunate enough to study for a month in New Zealand for his undergraduate degree and in Chile in March 2019 for his MBA.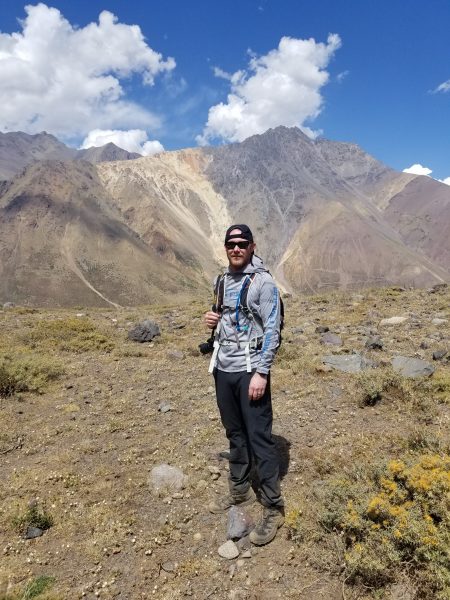 Last fall Dr. Redonda Miller, president of The Johns Hopkins Hospital, took a tour of the Micro Lab led by Brandon, and accompanied by Renee Harris, Microbiology day supervisor, and Al Valentine, Pathology administrator.
Dr. Miller was very interested in the operations and technologies of the Lab and spoke with staff, residents, fellows and faculty.  She spent over an hour in the Lab and told Brandon how much she enjoyed the tour.
Finally, don't miss Brandon and his team's acting skills in this 2012 YouTube Lab Week video!