Without the professionals in Pathology, medicine would stand still.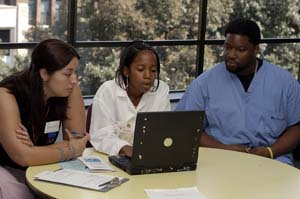 Pathology's Leandra Soto, left, and Dante Trusty with student Tearra Boone, center. 2005
In the clinical arena, over 70% of a patient's medical record is data and interpretations generated by the medical laboratory professionals working in Pathology.
In the research arena, over $45,000,000 in grants/donations are used for research to better diagnose disease and better monitor health.
There's plenty of work to be done and with the average age of a Medical Laboratory Professional hitting the 50 mark, we best find ways to fill in the future.
So in 2004, the Department of Pathology initiated a partnership with the Science Department at Paul Laurence Dunbar High School (DHS) on Orleans Street. It is a partnership under the umbrella of a larger program between Dunbar and Johns Hopkins Institutions. We pledged money and volunteer hours to help enhance the science curriculum and to create programs to capture student interest in healthcare careers in Pathology, which are not widely understood by the public, guidance counselors, nor high school faculty.
The first year was exciting! I began, as the Pathology Coordinator, to get know Ms. Mamie Green, Chair of DHS Science Department, and the ways of city schools. Together, we created the 2005 summer program, "Pathology as a Career in Medicine,"  for 20 students. We learned a lot about teaching medical science modules for 15- to 18-year-olds! Many Pathology staff members used demonstrations like cross-sectioning celery, comparing colored water – "glucose" standards and "patient" test results, and looking at cow's blood under the microscope (human blood isn't safe in high school), to hopefully spark a passion for Pathology. The program also included reading, writing, and math modules with a science twist, as well as a sustaining message that good research is important. When the school year opened in September, we gathered volunteers to mentor 12 seniors' projects for the science fair. The one-to-one mentoring of students to help them think through their projects was a refreshing and rewarding activity for Pathology employees to include in their normal work day. Faculty, residents, supervisors, senior personnel, and technical staff all participated in mentoring, setting up the DHS fair, or judging projects.
The partnership grew the next year. In 2006, Radiology joined in the program. By contributing their own volunteers, funding, knowledge of anatomy and physiology, and passion for the physical sciences, the programs expanded. Charrise Lomax, the coordinator for Radiology, and I asked ourselves, "What do Pathology and Radiology have in common?" The answer was clear, "We both diagnose!"  Thus, the "Diagnostic Detective" series of summer programs began:
2006: Pathology, Radiology, and Research: Diagnostic Detectives of the Human Body [modules explored anatomic systems]
2007: Pathology, Radiology, and Research: Diagnostic Detectives of the Human Body [modules explored cells, tissues, organs, systems]
2008: Pathology, Radiology, and Research: Diagnostic Detectives on the Case for Personalized Medicine [modules explored medical histories, molecular aspects of our disciplines, ethical issues]
2009: Pathology, Radiology, and Research: Diagnostic Detectives in the Mode for Medical Breakthroughs [modules explored historical breakthroughs in Pathology and Radiology as a means to inspire new ideas, critical thinking, and research protocols]
We continued to participate in the science fairs each spring and in school year 2006-2007, and at Ms. Green's request, we adopted the Saturday Program. The Saturday Program for many years had been an opportunity for students interested in science to gather at DHS for activities on Saturdays during the school year. It gave the students structure and goals to accomplish on weekends. Ms. Green saw the opportunity to make this existing program the bridge between summer programs and the science fairs. It also increases our chance to follow students through the years until graduation. We now expect interested, teacher-nominated, incoming 10th graders to register for a summer program, followed by the Saturday Program, followed by participation in the science fairs, and to continue this pattern until graduation. With the help of the Johns Hopkins Human Resources Office of Education & Community Projects and Kerwyn Barbour, the Coordinator for the Hopkins-Dunbar Partnership, we are creating a database to document the journey students in our programs take. Did they graduate? Did they go to college? Are they in health care? Are they headed for one of the many careers in Pathology and Radiology? Will they be doing our work in the future?
The newest addition to the scope of programs happened in 2008-9 when we substantially supported Dunbar's robotics team and they took a top prize at a national competition. Academically, robotics is the hands-on experience of physics. Pathology and Radiology rely heavily on robotics and physics for the diagnostic tools we use; therefore, we hope to inspire students in this area, as well as the biological and chemical sciences.
We are looking for volunteers to participate in these four programs:
1. Pathology's contribution to the Summer Program consists of 1-2 hrs a day for 20 weekdays.
2. Pathology students, employees, faculty, retirees can contribute to the Saturday Program by being mentors, donating supplies or equipment use for projects, or chaperoning field trips.
3. Pathology students, employees, faculty, and retirees can participate in the Dunbar Science Fair by volunteering to set-up the fair or be a judge.
4. Volunteers from Pathology can join the Robotics Team mentors at after-school build sessions and weekend competitions.
Please reply to this blog post or contact chostet2@jhmi.edu for more information.
Thank you,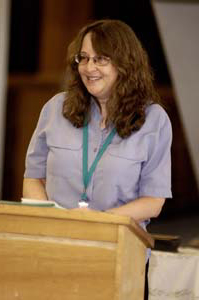 Christine Hostetter, MT(ASCP)
Education and Staff Development Coordinator
Core and Specialty Laboratories
Department of Pathology