The Prenatal Cytogenetics Laboratory in the Division of Molecular Pathology will be making its debut within the upcoming months.   This Lab is located in Room SB202 in the Park Building, under the Emergency Rooms.  Prior to the retirement of its former director, the Prenatal Cytogenetics Laboratory was part of the Department of Gynecology and Obstetrics.    Dr. Cheryl DeScipio, the newly recruited Laboratory Director, joined the Johns Hopkins faculty after serving as Assistant Director of the Cytogenetics Laboratory at New York University Medical Center.  Originally from northeastern Pennsylvania, Dr. DeScipio completed her undergraduate studies at Lehigh University and her Ph.D. in Genetics at Drexel University in Philadelphia.  She then went to Children's Hospital of Philadelphia to complete fellowships in Clinical Cytogenetics and Molecular Genetics, in which she earned board certification from the American Board of Medical Genetics.
Dr. DeScipio is hiring staff and establishing protocols.   Her Lab will provide chromosome analysis and FISH testing of cases from amniocentesis, chorionic villus sampling, products of conception and fetal blood samples.  FISH (Fluorescence in situ Hybridization) is a molecular cytogenetic technique that can detect chromosomal abnormalities that cannot be detected by standard chromosomal analysis.   The Lab will utilize an automated metaphase scanner that will export metaphases to image processing stations for analysis by trained technologists and promises to increase efficiency.
Dr. DeScipio is very, very pleased to announce that Marie Kobayashi and Daniel Saul have joined the Prenatal Cytogenetics Laboratory.
Marie Kobayashi joined the Prenatal Cytogenetics Lab in October as a Senior Cytogenetics Laboratory Technician.   Marie was born in Newport, Rhode Island.   She earned a Bachelor of Arts in Biology from Rhode Island College in Providence, Rhode Island.   After graduation, Marie spent two years in the Peace Corps as a community health promoter in Mozambique.   Upon her return to the U.S., she joined GenPath Laboratory in Massachusetts where she was a cytogenetics laboratory technician.  She then went on to AmeriPath/Quest Diagnostics  in Connecticut where she gained further experience in clinical cytogenetics.  Marie now brings her cytogenetic expertise to the Prenatal Cytogenetics Lab at Johns Hopkins.  Marie's favorite pastime is jumping out of airplanes at 13,000 feet and she recently earned a skydiving license!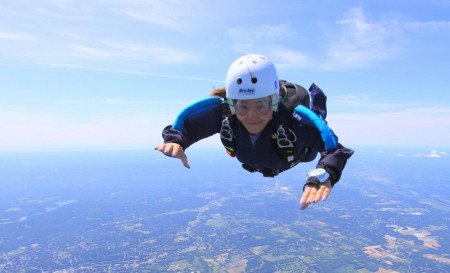 Marie Kobayashi10,000 feet above Connecticut
Daniel Saul rejoined the Prenatal Cytogenetics Lab in December as a Technical Specialist.  Dan was born in Dundalk, Maryland.  He earned a Bachelor of Arts in Biology from McDaniel College (formerly Western Maryland College) in Westminster, Maryland.   After graduation, Dan joined the Prenatal Cytogenetics Laboratory at The Johns Hopkins University in 2002 under its previous directorship, as a Clinical Cytogenetics Technician.   He was promoted to Clinical Laboratory Manager in 2007.   Upon the closing of the Prenatal Cytogenetics Lab in 2008, he was employed by GeneDx in Gaithersburg, Maryland where he was supervisor of Molecular Cytogenetics.   While at GeneDx, Dan led the development of the FISH service to provide necessary confirmation of High Resolution Oligo Microarray findings.   Dan returns to the Prenatal Cytogenetics Lab at Johns Hopkins just over a year later, where his expertise in prenatal cytogenetics and clinical lab management are instrumental in reestablishing this Lab.  Dan enjoys Ravens football and renovating the Locust Point townhouse that he shares with his wife Sarah and their two cats.